Acer Android Netbook Will Be Dual-OS: No Escape From Windows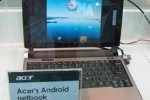 When Acer global vice-president Jim Wong said the company would continue to supply Windows netbooks alongside their new Android netbooks, we didn't expect that to mean dual-booting.  However, much to Linux-lovers dismay (and in fact anybody who wanted to avoid the so-called "Windows tax" of roughly $25 for an XP license), company president JT Wang has now confirmed that at least the first wave of Android netbooks will come with both open-source and Microsoft OS.
The Android/Windows XP dual-boot netbooks are expected to go on sale in Q3 this year, with Wang suggesting that Acer will work closely with carriers to sell these particular models.  If demand for a solely-Android machine is there – from telecoms providers, at least – then Acer will consider dropping their dual-OS strategy.
Wang described the move as "much safer" for Acer, given lack of consumer acceptance for Android at its present developmental stage.  The company is likely to promote Android as a value-added feature for mobile use, given the platform's emphasis on connectivity.