SlashGear Morning Wrap-Up: January 18 2011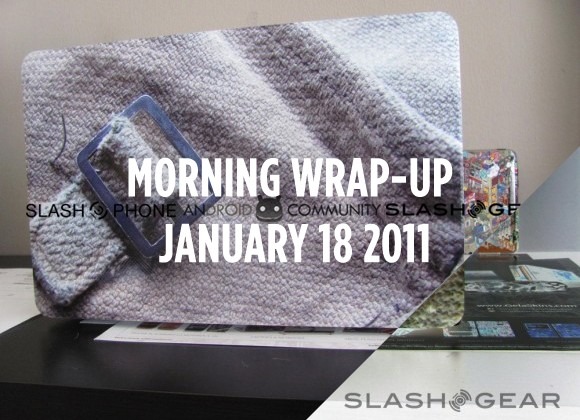 Hoax! Samsung Vibrant 4G Android phone for T-Mobile with Android 2.3 turns out to be Totally Faked! Then no fake! We're having a heated debate on the effects of Consumer Reports hating on Verizon's iPhone 4 – Good News for Android? See then another object ripe for debate: Intel IPAD – pre-dating the iPad by nine years! Then a product that's making people get sick in a different way: Reports of 3DS users feeling ill surface after 3DS showcase in Japan. On the other side of the spectrum, Microsoft speaks with ChevronWP7 team, making them feel mighty healthy for their hacking of Windows Phone 7! Finally, take a peek at a couple reviews you may have missed last night – one for MacBook Air 11-inch and iPod Touch GelaSkins, the other for a lovely orange Lenovo U260 IdeaPad Notebook!
R3 Media Network
Editor's Choice
Consumer Reports Cautious on Verizon iPhone 4 – Good News for Android? [HEAT]
Geek builds a better Nerf gun [KILLER]
SlashPhone
Amazon Offered EVO 4G For Only $99
Android Phone With Disney Theme Heading to Japan
Nokia to Stop Offering Free Music Download For Their New Handsets
CAZE Launch Zero 5 World's Thinnest Case For iPhone 4
Android Community
G-Slate may hit Europe in a model lacking 4G
Acer set to bring Sandy Bridge tablets to market and phase out netbooks
Sprint $10 Premium Data smartphone fee coming Jan 30 2011
Epilepsy.com offers new Android app for people to track condition
Samsung Vibrant 4G for T-Mobile Poses for Photo, Shows Off Android 2.3 [Update]
T-Mobile G2 Now Free Online with 2 Year Contract
ATT Sends Out 4G Email Featuring Motorola Atrix 4G, HTC Inspire 4G, and Samsung Infuse 4G
Consumer Reports Cautious on Verizon iPhone 4 – Good News for Android? [FIGHT]
Google Looking to Hire a Tech Account Manager with NFC experience
SlashGear
Lenovo establishes Mobile Internet & Digital Home team for tablets, phones & more
Samsung passes 2m Smart TV App Store downloads
Nokia E7 Finnish pre-orders open ahead of Feb 2011 delivery
Samsung reportedly buys Liquavista e-paper specialists [Updated]
ASUS Sirocco netbook is Eee PC 1015PW?
Sprint adds $10 Premium Data smartphone fee from Jan 30
TiVo Premiere for iPad remote app now available
Roku adds first cable channel with WealthTV subscription
BenQ unveils pair of sleek new LCDs with the EW2430 and EW2430V
Pentax offers new firmware for K-7 and K-x DSLRs
Nokia N8 DIY Terminal Mode setup gets video demo
AIS unveils new 7-inch HMI panel PC with Atom power
Intel IPAD detailed as chipmaker recalls iPad forerunner [Video]
Silicon Power unveils new 32GB SDHC card
Green House offers up 15.6-inch LCD powered by USB alone
Reports of 3DS users feeling ill surface after 3DS showcase in Japan
Epson unveils new D6150, D6155W, and D6250 projectors
iCar Black Box is perfect for the accident prone
Moog OMG-1 custom synth is twin-iPad, twin-iPod touch and all awesome
Active Media Products Silver Bullet USB drive won't keep werewolves away
Microsoft talks Windows Phone 7 homebrew with ChevronWP7 team
iASUS NT3 throat mic is aimed at drivers of convertible cars
Facebook freeze address & phone sharing as privacy advocates scream
Next Issue Media e-magazine launch imminent with Android tablet focus
Acer Sandy Bridge Android tablets due 1H 2011
12-15m CDMA iPhone 4 shipments predicted for 2011 as China, India & more eye Apple
Plastic Logic secures new funding; 2nd-gen factory due by 2014
Netflix pull "Add to DVD Queue" option from streaming devices
MacBook Air 11-inch GelaSkin Review and Hands-On (with Bonus iPod Touch Review!) [REVIEW]
Lenovo U260 IdeaPad Notebook [REVIEW]
To see more Daily Slash posts, click here: [The Daily Slash] or here: [SlashGear Morning Wrap-Up]