Samsung reportedly buys Liquavista e-paper specialists [Updated]

Samsung has reportedly bought Liquavista, the electrowetting screen specialists whose e-paper displays were poised to take on E Ink and mirasol. Neither company has confirmed the deal, but a translated Dutch job listing suggests that "the organization has a new Liquavista division of Samsung."
Samsung is also reportedly listed as a corporate parent at the Netherlands Chamber of Commerce, though we've been unable to independently verify that fact. [Update: See below] Liquavista last made headlines with a flexible, unbreakable e-paper display, and it seems Samsung has decided it wants that technology for its own products.
Job description (translated):
HR Manager

Partner

EINDHOVEN

HR Manager The position As HR Manager you are contributing to the further development and growth of the organization. Ean of your main tasks in the initial phase is to establish a framework around employment such as pensions. The profile you have HBO / university working and thinking and at least 5 years experience in an all round HR function. You are used to operate in a "sales driven, dynamic and international organization. Also recognize yourself in the following competencies: self pioneer Very flexible Proactive Pragmatic Visionary Energetic Excellent communication skills Excellent command of English spoken and written Willing to occasionally travel abroad Full time available (40 hours) The organization has a new Liquavista division of Samsung. The company is active in the field of display development. The offer Location: Eindhoven Salary: between, ¬ 3800, – and, ¬ 5000, – gross per month, excluding holiday and bonus. Employment: 1 year with prospect of permanent employment. Contact Information Simon Onck 073-7511716 Reference number 5806
Update: eReaders.nl have grabbed a screenshot showing Samsung as the new Liquavista parent company [Thanks Natasja]: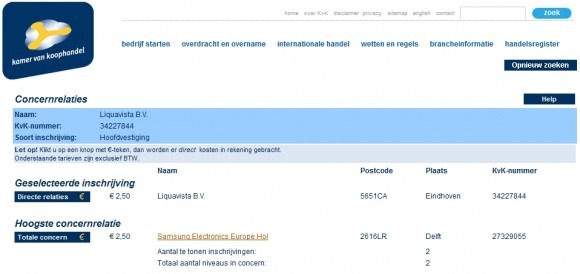 [via The Digital Reader]