Lenovo U260 IdeaPad Notebook Review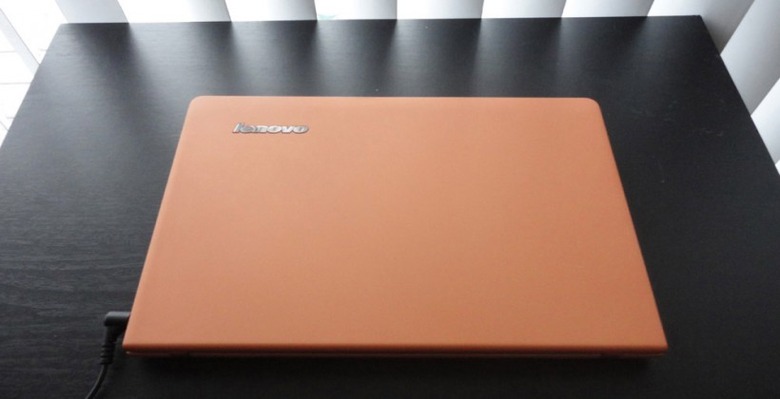 The following is a review of the black and orange Lenovo U260 IdeaPad Windows 7 notebook – a super-comfortable little businessman made for ultra-stylish checkings of online business and perhaps even the playing of some games. The very first thing you'll notice about this laptop is that it is a fantastic shade of orange – this is one of two colors it can be, (the other being Mocha,) but that's not the reason you'll stick around. Nor is the most comfortable experience I've had with a notebook since I first started using MacBooks – use this factoid in your judgement of MY judgement, because it makes me a hard customer to sell when it comes to notebooks outside of the industrial designer brilliance employed by Apple. Note first and foremost that I think Apple's people should talk to Lenovo's people here if they ever plan on moving away from hard plastic and flat metal surfaces.
Hardware
This tiny notebook has a 12.5 inch LCD digital display with 1366 x 768 resolution and a matte finish. It weighs approximately 3 pounds and is 0.7 inches thick. The outer casing is a lovely shade of orange (Clementine Orange, if you'd like to get specific,) one of two colors, the other being Mocha Brown. These colors instantly say a lot about what the notebook is meant for – comfortable computing in a semi-professional environment. That is, if you're in an environment that hates color. If you're working somewhere that appreciates a tiny splash, then yes, this is the notebook for you. This outer casing has an almost-rubbery feel to it, a very similar feel to the inside below the keyboard. The combination of these two makes the notebook seem to already be inside a case, one you would have purchased to make your whole experience nice and, again, comfortable to the touch.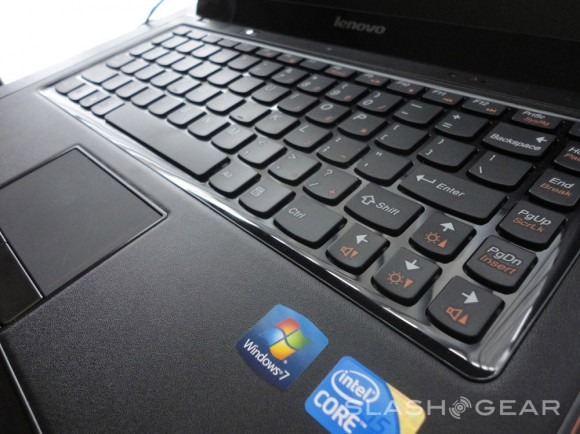 The keyboard is a sort of Chicklet shaped key experience, with a little extra swoop below each key where normally it'd be squared off. It took your humble narrator just a couple minutes to get a completely natural feel for the board before he was tapping away like crazy. The one complaint I have about the keyboard portion of this computer is the far right row. Where I'm used to being able to find backspace, enter, shift, and etc, there's an extra row of keys crammed up the side, the arrow keys down below, part of this row. This might be a big problem for those whose jobs depend on them typing a billion words a minute, but for everyone else, it'll just take a couple days to get used to (if you're used to a standard qwerty keyboard, that is.)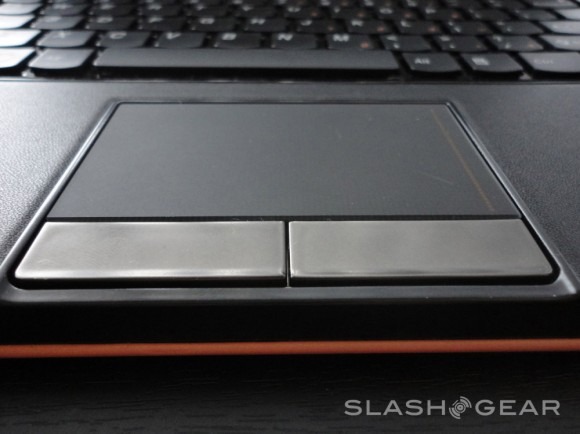 The trackpad is refreshing. Where I found the tappability of the gigantic HP ENVY 17 3D's trackpad to be unbelievably sensitive, this one appears to be right on. What I mean here is that you can both track around with your finger or single/double-click on items with the same pad, there's no need to access the buttons below unless you'd like to drag items around the screen. The buttons are oddly refreshing too, both of them relying on more of a push than a click, if you know what I mean.
[sgbenchmark id=132 show=system]
Inside the machine you'll find a Intel Core i5 processor with 3.8 GB RAM and a 320 GB 5400 rpm hard drive. Graphics are handled by a "Intel HD graphics" graphics card powering a 12.5 inch LCD digital display at 1366 X 768 pixels. Viewing angles are basically perfect left to right, turn a bit darker at approximately 30 degrees up or down. Glare is taken care of by the lovely matte finish on the screen, but you wouldn't have to be worrying about glare on such a small computer anyway, so it's a bit of a moot point. On the other hand, if you live in a one bedroom apartment, maybe you WILL have to worry about glare because you'll use this as your TV. No worries then though, because there isn't any.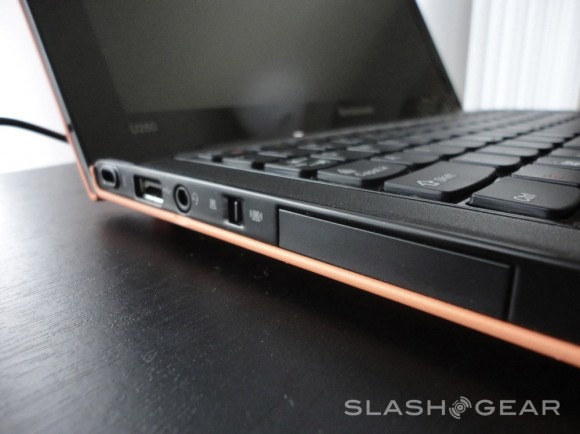 Connectivity includes Wi-Fi 802.11b/g/n and Bluetooth v2.1, the left side containing headphone jack and USB jack as well as a lock port if you plan on bringing this to a convention or something like that.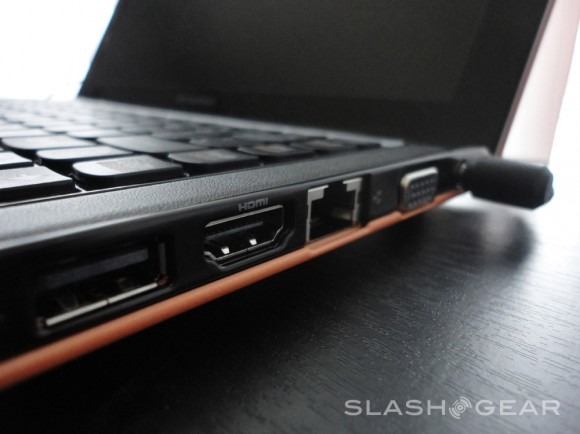 Along the right you'll find an ethernet jack, HDMI, VGA, and USB. There's a lovely integrated web camera up and center above the screen with not quite as good quality as you'd want to be having a meeting in a professional setting, but just fine for a casual user.
For a video of a hands-on experience with this machine, head back to the Lenovo IdeaPad U260 Hands-On and Unboxing post, also done by yours truly.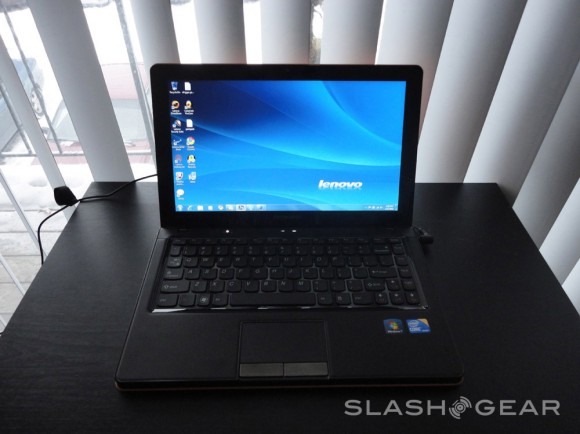 Software
The Lenovo IdeaPad U260 runs Genuine Windows 7 Home Premium (64bit) and includes a surprisingly small amount of bloatware. This list includes Internet Explorer, Internet Explorer (64 bit), Microsoft Office 2010, Windows Anytime Upgrade, WIndows DVD Maker, WIndows Fax and Scan, WIndows Media Center, WIndows Media Player, (honestly do they really have to title all of these "Windows?",) WIndows Update, McAfee virus scan, ooVoo, and a few other things that won't jam up your day too badly. Oh, and Smile Dock! As always, we instantly installed Google Chrome and Firefox, both of which have been working just fine for internet browsing and downloading.
Performance
This machine is made to bring with you on a short trip – definitely not coming with the computing power you'd like to have on an everyday basis, especially if you're in a computer-centric job, this is definitely the one you'll want to bring with when you take that trip to Mobile World Congress 2011. Unless you want to watch a DVD or insert CDs of course. Let's take a peek at the numbers: The Lenovo U260 IdeaPad ended up grabbing a 2147 on Geekbench (a synthetic test of memory and processor performance.) This places it right around the MacBook Air (3.1) which received a 2261, and the Acer Aspire 3810T (which we reviewed in June of 2009) at 2281. Thusly, you wont find this machine winning any computing power contests, but if you're looking for a competitor for the MacBook air, here it is, not quite as bigtime.
[sgbenchmark id=132 show=score]
This machine received Cinebench (v. 11.5) rating of .94fps with 1.25pts on the CPU, so again, not exactly a gigantically majestic gaming and entertainment machine. On the other hand, it works just fine with speed for everyday activities, clicking, tapping, playing videos on online streaming sites, audio's just fine, everything's good enough for a part-time usage machine.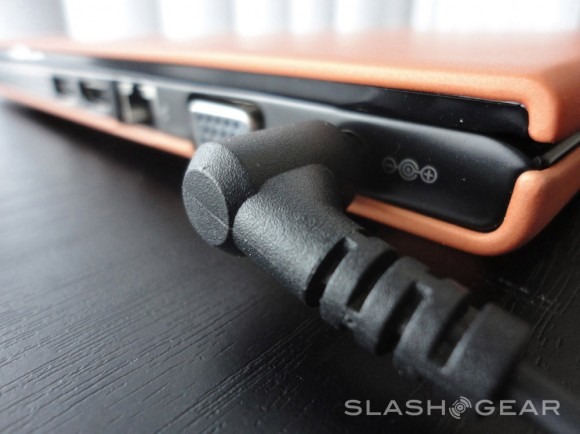 Battery
The battery is not fantastic. It'll last you right around 3 hours doing BASIC tasks – if you're bringing this on a long flight, hope that you get a plugin by your seat. On the other hand, there's basically no heat coming from the machine at any time. Intel's advanced cooling technology really shines clearly here.
Wrap-Up
If you're a Windows sort of person, and want a tiny computer to bring with you on a trip – this is the one. This is exactly what you're going to want. If you plan on being in the field without portable power or a wall plug for hours on end, maybe consider something else. This computer takes into account the fact that Apple is attempting to rock the ultraportable market with their MacBook Air and slams directly into it with a completely reasonably sized (small, but not tiny) notebook with a completely unique feel on the outside and the in. Starting at $899 it appears to me to be right in the correct range for cost. Uniqueness, lack of bloatware, relatively decent experience for how small a computer it is, comfortable physically. Well played, Lenovo.