Moog OMG-1 custom synth is twin-iPad, twin-iPod touch and all awesome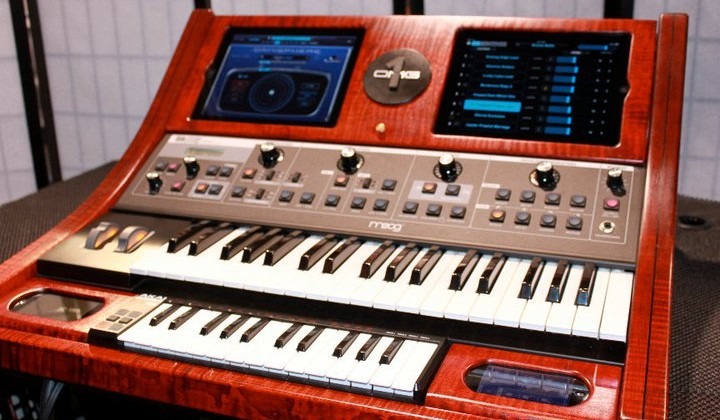 If you're into musical instruments then you've probably heard of Bob Moog, and the Bob Moog Foundation created in the synth maker's honor is doing a solid job continuing his awesome work. The foundation has collaborated with Spectrasonics' Eric Persing to create the OMG-1, a custom, one-of-a-kind synth that pairs a Mac mini with two iPads and two iPod touch PMPs.Video demo after the cut
The setup is running the Moog Little Phatty analog synth, Spectrasonics' Omnisphere software synth, and the new Omni TR iPad app. All of the pieces fit together into a gorgeous, hand-crafted curly maple cabinet, complete with twin keyboards.
The Moog OMG-1 is intended to be a performance instrument, not something hidden away in a studio, and it'll actually be given away as a prize to one lucky winner. The competition kicks off on March 15, with more details to be announced by Spectrasonics
[via Wired; video via SynthMe]
Press Release:
Sneak Peek: Spectrasonics Contest to Benefit Bob Moog Foundation

Bob Moog Foundation Gives Sneak-Peak of Spectrasonics Benefit

Custom Hardware Synth Created by Eric Persing Revealed as Grand Prize

NAMM – Anaheim, CA — January 13, 2011 — The Bob Moog Foundation gave a special presentation at NAMM, announcing a unique collaboration with Eric Persing of Spectrasonics on a fund-raising contest to benefit the foundation. Details of the contest are to be revealed when it begins on March 15th. During the presentation, Persing unveiled the Grand Prize for the benefit contest — a stunning, one-of-a-kind custom "OMG-1" hardware synthesizer he created that integrates the worlds of analog synthesis, computers, software synthesis and the latest multi-touch surfaces into one extraordinary instrument.

The OMG-1 was designed by Persing as a live performance instrument and is not a commercial product — it's truly one-of-a-kind. The state of the art dual manual OMG-1 combines a Moog Little Phatty® analog synthesizer, Spectrasonics' flagship Omnisphere® software synthesizer, a powerful internal Apple Mac Mini computer, dual Apple iPads®, dual iPods®, and Spectrasonics' brand-new Omni TR™ iPad app — all integrated into a beautiful, hand-crafted curly maple cabinet created by American artisan Daniel Auon.

During the special sneak-preview presentation, Michelle Moog-Koussa, Executive Director of the Bob Moog Foundation, and Eric Persing talked about their collaboration and Eric gave a live performance with the OMG-1.

"I'll never forget the first time I played a Minimoog when I was a little kid...it truly changed my life!" says Eric Persing, Founder and Creative Director of Spectrasonics, a leading music software company, "So it's a privilege after all these years to give back to the foundation honoring my hero Bob Moog and keeping the spirit and history of his inventions alive for the next generation. I had a blast designing the OMG-1 with Dan and I can't wait to see who wins it!"

Michelle Moog-Koussa added, "The Bob Moog Foundation is grateful to Eric Persing for creating and sharing this one-of-a-kind innovative instrument. The foundation's mission is to ignite creativity at the intersection of music, science, history and innovation. It is fitting that Eric's OMG-1 does just that. His instrument represents the contemporary convergence of analog and digital, hardware and software. I think Bob would applaud Eric's efforts to transcend boundaries in order to create an instrument with new and unique capabilities."

Complete details about this exciting benefit will be announced by Spectrasonics when the contest begins on March 15th, 2011 (www.spectrasonics.net).