CES 2012 Tablet Round-Up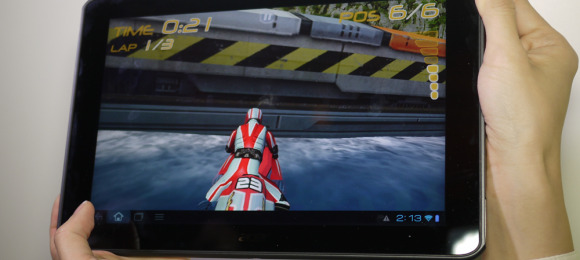 This year's Consumer Electronics Show revealed itself to be the real Ice Cream Sandwich treat for tablets in the Android sector, with one whole load of crap tablets attempting to burst the bubble of the very few high-class units that were or will be soon certified by Google. On the Windows 8 side of things, there were certainly some tablets to be seen, but certainly not to be touched – Windows 8 will be ready later this year, but Microsoft wasn't having it when it came to showing it off fully here at the convention. Then there's oddities galore like the Samsung Galaxy Note, a device we'd seen late 2011, but until now had never had a chance to peek at it on a USA carrier – it's time!
The Galaxy Note is what Samsung is placing in its own category, saying that it's not exactly a tablet, yet not exactly a smartphone either. What it does amount to is a pretty neat little in-between complete with Gingerbread, a built-in stylus, and the promise of Ice Cream Sandwich early on in 2012. There's currently a white as well as a black version, both to be released soon. Another device we've got to look forward to soon is the ASUS Padfone, this device having now gone through a couple of iterations since its first announcement and set to be officially unveiled for release at MWC 2012.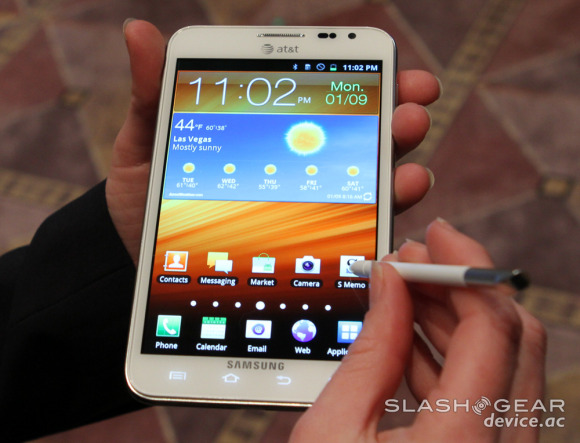 For readers there wasn't one whole heck of a lot of differentiation to be made between the masses, but the Kyobo Mirasol eReader did catch our eye with its unique method of lighting, it's logo reflecting the butterfly-like feature of the display. There was also the Jetbook Color eReader, a CES award winner, whose maker we got to sit down with and have a talk about.
As for the Windows 8 world, groups like Qualcomm and their S4 chip showed off what WILL be possible in just a few weeks or months. We've already also had a look at a developer tablet running Windows 8 inside 2011, but will be looking forward to the full real deal in early 2012.
The team at Acer came to the show swinging, it's early Sunday showing of their newest Android-based Acer Iconia Tab showing us what it means to rock with a fabulously high definition display and the NVIDIA Tegra 3 quad-core chip inside. They also re-showed a slightly less impressive tablet/laptop combo by the name of Iconia Tab W500, this showing us that they've more than likely got better concepts in the works for Windows 8, or we can hope! Toshiba brought with them a couple of slight upgrades from their already released line, one being the smaller version of the Thrive we've already reviewed in the Toshiba Thrive 7, bringing then the lovely thin and fully functional Toshiba Excite x10 as well for a real contender in 2012.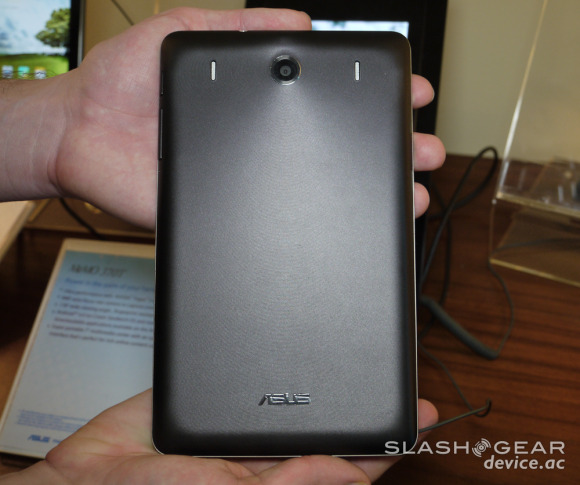 Then it was Asus all the way – bringing the fire with not one, not two, but three new tablets that all had a bump over not only their own previous models, but the competition as well. Not to be mistaken for one-another, Asus brought forth two 7-inch MeMO devices, one designated 171, the other called 370t. The first one, the Asus MeMO 171, is rolling out with a Qualcomm 8260 1.2GHz dual-core processor and Honeycomb, also bringing with it a built-in stylus for note-taking glory. The other device, the Asus MeMO 370t, is the real gem of the show as it's got an NVIDIA Tegra 3 quad-core processor, comes out with Android 4.0 Ice Cream Sandwich, and costs a mere $249. That's an industry changer, if you did not know.
NVIDIA then stole the show again with Asus' upgraded Transformer Prime 700 series, complete with a massive display, updated casing, and a bump in the front-facing camera for fun. NVIDIA showed that the Prime (in either its first or second iteration) was capable of using the Tegra 3 processor to the fullest, running Skyrim via Splashtop, moving on to play the first multiplayer mobile shooter in a brand new upgraded version of Shadowgun for Tegra, and displaying the fact that it will be first with Ice Cream Sandwich, officially.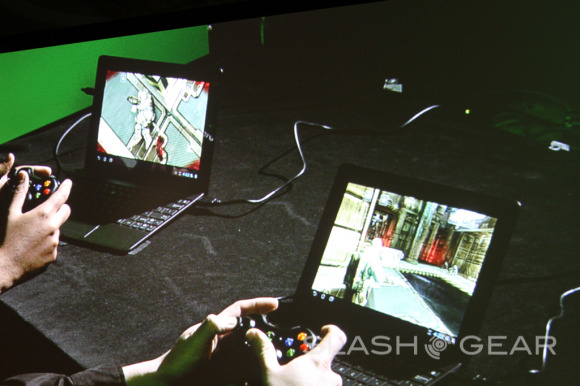 Look like a good showing to you? If you could have any one of these devices in your hands right now, which one would it be? Better yet, when these devices are released to the market, which one are you most likely to buy?
BONUS: Don't forget the Fujitsu Arrows Tablet, complete with waterproofing, and the Pantech Element, an AT&T-bound tiny tablet with waterproofing as well!