AT&T Samsung Galaxy Note LTE in white hands-on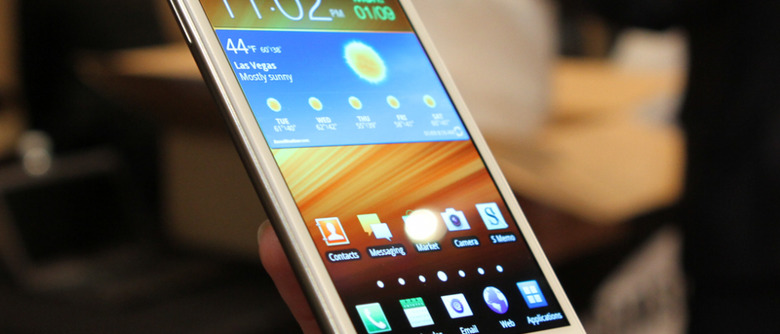 There's certainly no big amount of difference on the inside of this device when you compare it to the black version of the Galaxy Note, also coming to AT&T soon, but the obsession with the white chassis continues, and the white note looks so good, your humble narrator says, that it deserves its own separate hands-on. I say separate because we did get a hands-on earlier this week with the other color for this device, that being a lovely charcoal black front and back, but now it's time to get pearly with a white that accents not only the monster scale of this device, but it's USA-only set of four capacitive buttons below the display.
As you'll notice right away, the capacitive buttons do light up as they do with many Android devices, but here with the white casing it creates an effect to be envied – glowtastic! Then there's the same awesome specifications you've all heard and know: a 5.3-inch Super AMOLED HS display at 1280 x 800 pixels, a Qualcomm Snapdragon 1.5GHz dual-core processor inside, and LTE speeds on AT&T. This device carries its own stylus which works marvelously with the device's own S-Memo application or for whatever other set of pen-positive apps you might desire to use.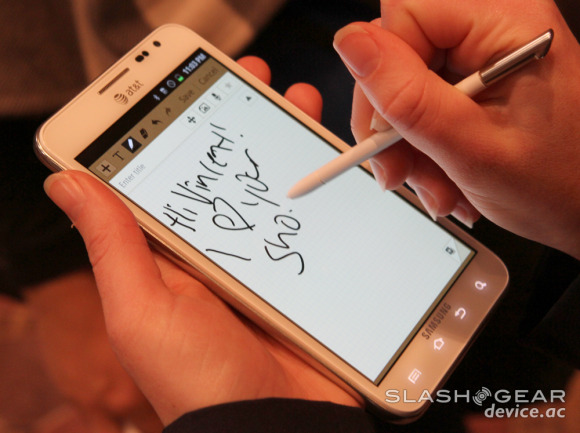 Then there's the fact that we've already reviewed this device – or the international edition, that is, as it was released in a slightly different iteration in late 2011. We've been waiting patiently for the device to drop here in the states since it was first revealed several months ago, and the moment of truth is nearly here – just ever so close that it's difficult not to head down to AT&T right now to camp out. If only I didn't live in the tundra up here in Minnesota. I need that snow-colored Note!