ASUS MeMO 171 hands-on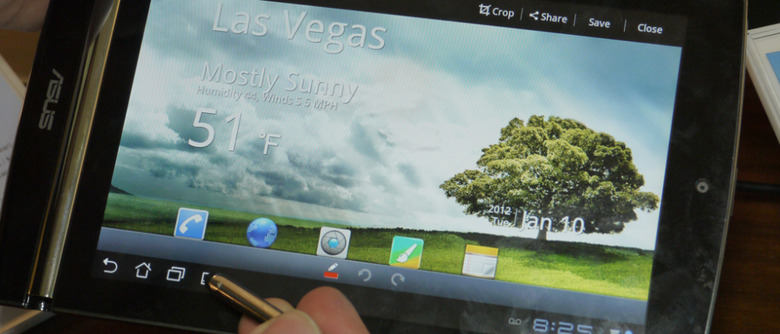 This week there's been some confusion surrounding the two MeMO tablets ASUS has announced for release in the coming months ahead – there's the MeMO 171, the tablet we're about to look at now, it having Android 2.3 Gingerbread and a dual-core processor, and the MeMO 370T, that being the Ice Cream Sandwich tablet with a quad-core processor. This MeMO 171 has been teased several times before, it having a 3D panel in the past, but here we've got the near-final version in-hand: Android 2.3 Gingerbread (upgradable to 4.0 eventually) and a Qualcomm 8260 1.2GHz dual-core processor behind a 7-inch Super IPS+ panel with a cool 178-inch wide viewing angle.
This device has 1GB of low-power DDR2 memory inside and is 400g weight in total – the entire device is 200 x 118 x 12.95 mm and feels nice to hold with smooth sides all around. Storage inside is also eMMC 16GB and comes with 8GB of lifetime ASUS WebStorage. The battery inside is a massive 4400 mAh which ASUS says will give you 8.5 hours of video playback, and the whole device can be used as a mobile phone if you like.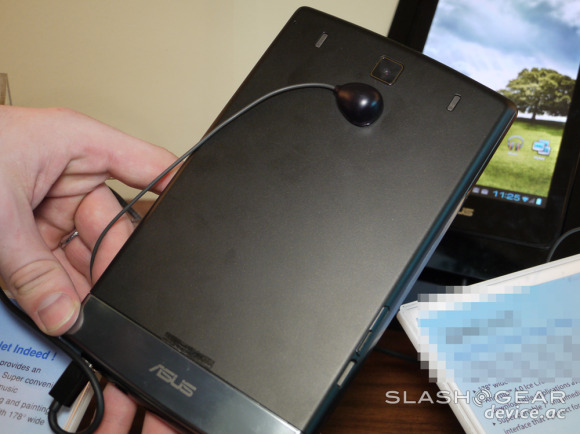 One of the things sitting aside the tablet that we didn't really address in the hands-on video is the MeMIC Bluetooth headset that'll allow you to listen to music, place calls, and make texts when connected to your tablet here with bluetooth. There's also a pen tool that fits in the silver section of the tablet that slides in and out easily, its tip a capacitive compatible nub which works with whatever capacitive device you happen to have with you — best used with the screenshot art button that sits at the bottom of the display near your other Android buttons – this shown in the video as well.
We've got hands-on looks at each of the ASUS tablets revealed and/or re-revealed this week, including but not limited to the two MeMO tablets, Transformer 700 series, and the Padfone – though that's just an eyes-on, to be fair. Check them all out in the timeline below!