Toshiba Thrive 7-inch hands-on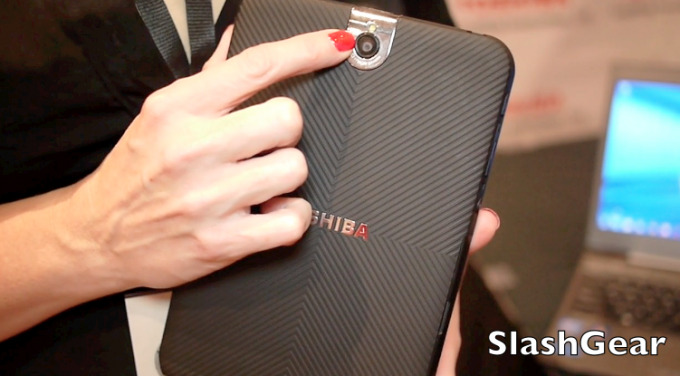 This week we've got the opportunity to take a peek at Toshiba's second Thrive tablet, this one a 7-inch device with many of the same specifications as its 10-inch relative. It's got the same rubbery ridged back and no less than a 5 megapixel camera and a 2 megapixel camera to keep you video chatting and snapping pics galore. This device is set to be not necessarily the next generation device for Toshiba but a companion release for the 10-inch version that came out last year.
You'll be working with an NVIDIA Tegra 2 dual-core processor, wi-fi, and a 1280 x 800 pixel resolution display on the front. That's sharp as heck. Have a peek at the video we've got flipping this tablet around back and forth and whatnot as much as you could possibly want without actually stepping up to Best Buy to check this device out yourself. You've got the ability to access all your favorite Tegra Zone games as well as the most high-powered applications on the market, no problem.
We've got a bit more information on Toshiba items from this show (we're at CES 2012, by the way, if you did not know,) and we've got more content than you can shake a cloud at. Have a peek at our [Toshiba portal], our portal for [CES Live], and our more general portal for [CES 2012] for all announcements.
ALSO this tablet starts at $379 for the 16GB version – get it or explore your options – good luck!