Acer Iconia Tab W500 hands-on shows the laptop tablet that wasn't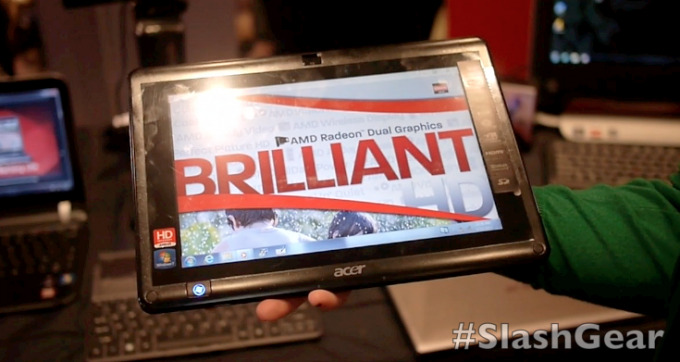 We've seen this device before, it having been on display early last year at Mobile World Congress 2011, but it being here at Pepcom during CES 2012 is more than a little telling for a device that was supposed to be a hit with Windows users throughout most of last year. When it comes to convertible tablets, your humble narrator's favorite device is the Transformer Prime, not least of all because it's able to fold down and be a laptop whenever you decide you want to transport it in such a way, not to mention the fact that it's got a fully functional trackpad to make it a high-class convertible in every aspect of the word – so why is it selling off the shelves while the Iconia Tab W500 remains one of the loneliest tablets in Acer's line of otherwise amazing hardware?
Several odd bits hold this device back from any kind of potential winning it was going to do in this market: first of all, it was launched much, much before Windows 8 came around. With Windows 8 touch-friendly interface right around the corner, tablet makers are taking care to make sure their devices work with this brand new system. This Acer device does have a hearty construction, but the second big folly is that it's got three features in direct opposition to the features most people love about the Transformer Prime: the Tab does not fold down into a laptop, it does not have a trackpad (relying instead on a Lenovo-esque nubbin,) and it's running an operating system that was never meant to be working with a touchscreen.
This device is already out on the market in several sectors for the absolutely ludicrous price of $848 with the keyboard dock included, though you can certainly find it cheaper if you look hard enough. Check out our hands-on video courtesy of Acer, and make sure you note their much more updated line of devices that will, indeed, be sticking with the times as far as working with a more mobile-friendly set of hardware and software. Check out the Acer Iconia Tab 2012 refresh on the Android side of things to see the ideal setup before Windows 8 comes to the consumer market in bulk.