Kyobo Mirasol eReader with Android hands-on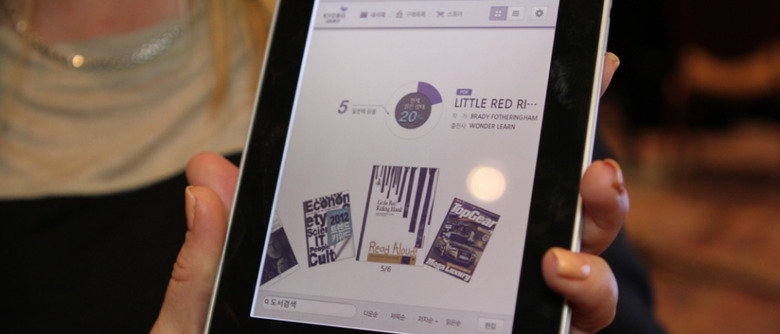 Here at CES 2012 is the Qualcomm Mirasol color e-paper technology. We've seen this before with the Kyobo eReader that is currently available in South Korea, but today we received some hands-on time with it for the first time in the US. This color e-paper technology is delivering unrivaled battery life to eReaders lasting up to 3 weeks while running on Android 2.3 Gingerbread. Check out or hands-on below.
We've been tracking the Mirasol technology for some time and all our coverage is available at the links below. With Mirasol Qualcomm has brought color e-paper technology to eReaders while managing to offer stunning visuals indoors and even better outdoors, while not letting up on battery life.
Qualcomm's color display technology promises color, video-capable e-paper with battery life akin to monochrome E Ink screens. This particular panel is a 5.7-inch, 1024 x 768 display using Qualcomm's front-light technology that uses LEDs to make the eReader usable in darkness, and better in direct sunlight. Being front-lit rather than backlit enables the display to not fight with incoming light sources and instead harness the light to enhance and brighten the on screen image. Refresh rate is a big concern with eReaders and from our hands-on video you can clearly see Qualcomm and Mirasol have made some huge strides to their technology.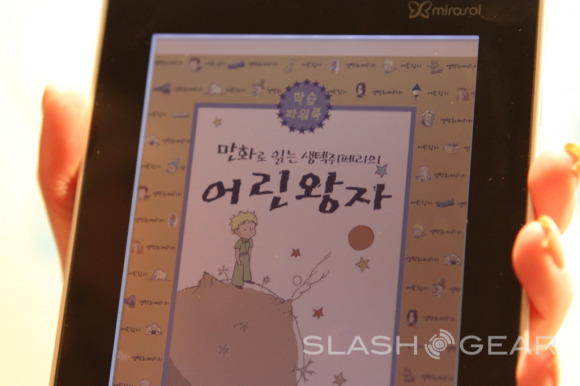 Kyobo, Korea's largest bookseller — offers over 100,000 ebooks for the Mirasol eReader, as well as video education content and many other educational options, integration with social networking services and English text-to-speech support. With magazines for the down-time between study classes and possibly 3 weeks of battery life this will be one interesting eReader. The Kyobo eReader is available already starting at $310 USD in South Korea but finally seeing it here in the US means we could be enjoying this technology in markets here soon.