NVIDIA embraces Ice Cream Sandwich with the Transformer Prime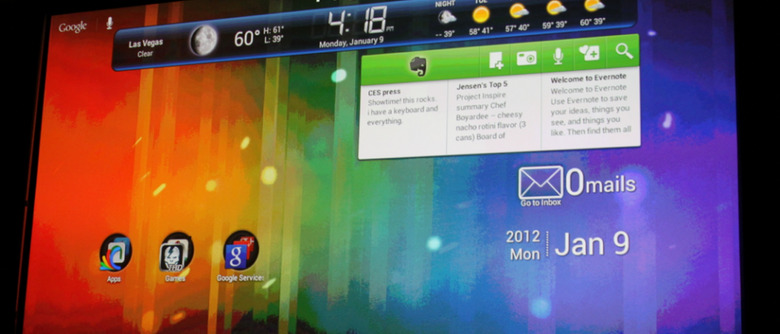 In a fully green-lit environment on the first full day of CES 2012, NVIDIA's Jen-Hsng Huang outlined their 2012 focus, and all was quad-core. The event began with Huang speaking about how they'd be moving through Tablets, a secret additional feature of Tegra 3, and vehicle integration. As tablets are, as evidence shows, the quickest selling device category in mobile history, so too will NVIDIA continue to concentrate on the category for their hero devices.
For the tablets, Huang noted that a big moment in Android was the moment it was revealed that Gingerbread and Honeycomb were combined in Ice Cream Sandwich. All the devices now, he reminds us, are in one single platform. Content developers are who win here, said Huang, a collection of Android devices replacing the separated world of tablets and smartphones cut in two. To show this all off, he brought out an ASUS Transformer Prime with Ice Cream Sandwich running hot. This tablet was then connected to HDMI and projected to a gigantic story-high screen, it showing off some immense high definition.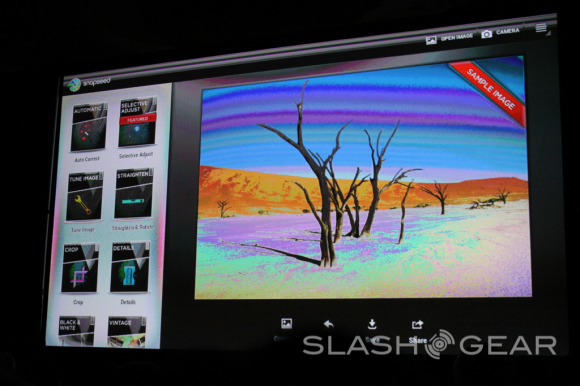 He also broke out an app by the name of Snapseed, it also shown as the "iPad App of the Year" on the big screen. Manuel Wille of Nik Software – the creators of Snapseed – stepped on stage and showed off how their image display and editing software works fabulously well on the Transformer Prime – especially with Ice Cream Sandwich. Purely touch UI, your fingers moving your photos details around without so much as a double thought. Effects are applied in real-time as well, this able to work due to the power of the quad-core processor – effects such as this only able to work on desktop before.
Huang next showed off Riptide GP working with a game controller, full HD and effects once again. This game controller working without a hitch – as we've seen it work in the past as well. Fun times!