Qualcomm S4 chip shows off Windows 8 with LTE speed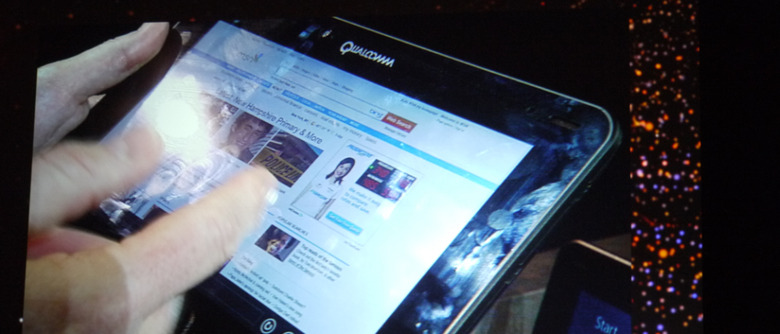 Though it's been no secret that Windows 8 will work with a variety of chipsets in the near future, today we've bore witness to the very first demonstration of Windows 8 running on an ARM processor, Qualcomm's S4 chipset with LTE. Stephen Elop of Nokia stepped on the Qualcomm stage on the second day of CES 2012 speaking on mobile devices especially in the new adopter category, saying that a vast number of people in the world over the next few years will experience the internet for the first time ever through mobile devices. Elop noted that with Qualcomm's Snapdragon chips, Nokia will bring a world of Windows Phone devices to the market, starting with the Lumia line announced for the USA earlier this month and just yesterday – but that's nothing compared to Windows 8.
Paul Jacobs spoke on the rest of their partners as well, saying that their S4 chip will be blasting forth with the Snapdragon S4 processor. What Jacobs showed off in brief was a tablet running Windows 8 with full touch sensitivity running ultra swiftly without so much as a hitch on both the S4 chip and LTE speed. Welcome to the future of tablets? We think so.
We're live at the Qualcomm event here at CES 2012 and you can continue to follow us with the [CES LIVE] portal. Seeya there!