SlashGear Weekly Roundup Video - April 24, 2011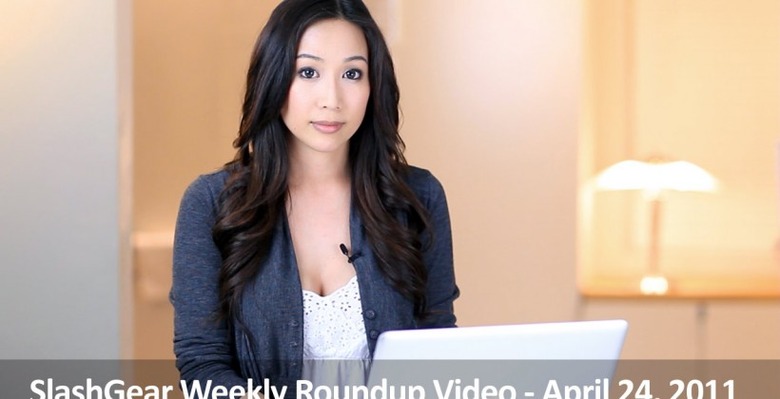 This week's tech news roundup highlights the Apple and Samsung legal battle, our Samsung Galaxy SII extreme unboxing, cloud computing problems for both Amazon and the PlayStation Network, Apple's Q2 earnings, the white iPhone 4, the iPhone 5, and details on various smartphones and tablets including the BlackBerry Playbook, G-Slate, G2x, HTC Flyer, and the Acer Iconia Tab.
[vms f1586614cf2c1ad240b6]
1. Apple suing Samsung
Apple Sues Samsung Over Galaxy Series Phones And Tablets
Samsung counter-sues Apple with 10 patent infringement cases
iPhone / Samsung F700 / Prada Phone Rumors Debunked
2. Samsung Galaxy S II Unboxing
Extreme Unboxing: Samsung Galaxy S II meets Rally Car [Video]
Samsung Galaxy S II Extreme Unboxing Roundup!
Amazon Tablet Built By Samsung Could Arrive By End Of Summer?
4. Amazon Cloud Failure
Amazon Cloud Failure Knocked Out Foursquare, Quora, and Reddit
Amazon Cloud Failure Going On Day Two
5. PlayStation Network Down
PSN down for unknown reasons, Sony investigating
Sony admits PSN hacked: No restore date in sight
6. Apple and Google's race to launch cloud music streaming services
Apple To Release Cloud Music Service Ahead of Google
Google In Talks With Spotify To Power Android Music Service
7. Apple's fiscal Q2 earnings report
Apple's Q2 Sales Results Show 18.65 million iPhones, 4.69 Million iPads, Apparent Growth
Apple's Q2 2011 Earnings Analysis
8. White iPhone 4
White iPhone 4 goes live at Three UK
Three backtracks on white iPhone 4 listing
White iPhone 4 in Europe from April 27 says source
White iPhone 4 In Retail Packaging Picked Up Early At Vodafone UK Store
9. iPhone 5
iPhone 5 a World Phone with GSM/CDMA spills Verizon
Apple Seeding iPhone '4S' Prototype With A5 Chip To Game Developers?
10. BlackBerry PlayBook
A Half-Baked PlayBook is the tip of the Firmware Nightmare
PlayBook sales "far exceeding" XOOM demand says analyst
Verizon Undecided About Carrying BlackBerry PlayBook
Hulu Blocks Support For BlackBerry PlayBook
BlackBerry PlayBook Firmware May Be Lacking, But Getting Updates Fast
11. T-Mobile's LG G-Slate tablet and G2X smartphone
T-Mobile Confirms LG G-Slate To Ship April 20th
T-Mobile G-Slate, G2x and Sidekick 4G arrive in-store
12. ASUS Eee Pad Transformer tablet
ASUS Eee Pad Transformer gets US/Canada release date & pricing
13. HTC Flyer
Best Buy Pre-Sale Of WiFi HTC Flyer To Start April 25th
14. Acer Iconia Tab A500
Featured Columns:
On Stewart Lee and how Twitter ate comedy
Windows Phone: The Next Six Months
Is Anyone Really Surprised the PSP Go Was A Failure?
SlashGear 101: