iPhone / Samsung F700 / Prada Phone Rumors Debunked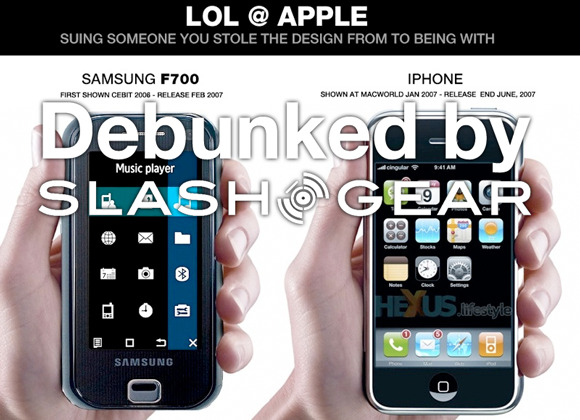 The following image has been circulating the internet for the past few days, resulting in mass hysteria due to the fact that Apple is currently suing the pants off of Samsung for infringing on their copyrights. This image appears to show that the Samsung F700 was first shown at CEBIT 2006 and released in February of 2007. What whoever made the image didn't take the time to do was check their facts and find that although Samsung may have spoken about advancing their cell phone plans previous to 2007, they only showed the F700 design for the first time February 8th, 2007.
First, have a look at the following press release. It lets you know exactly when the F700 was released in early, but not early enough, 2007:
Seoul, February 8th, 2007 – Samsung today announced a new addition to its Ultra portfolio with the introduction of Ultra Smart F700. This revolutionary mobile phone will be showcased at 3GSM World Congress, the largest telecommunications event, next week. The F700 features unrivaled design and brings a superior range of multimedia experiences to consumers.

The Ultra Smart is a part of Samsung's Ultra portfolio which boasts a full touch screen as well as QWERTY key pad. It reflects the recent trend in telecommunications industry of touch screen user interface and, for users who are not yet familiar with a touch-screen-only user interface, it also implements a QWERTY key pad and VibeTonz technology which allows them to feel the buttons accompanied by responsive vibrations. A "Drag and drop" method of touch screen was adopted for easier menu navigation along with music play list control for an expanded multimedia experience. Volume, play lists, brightness of screens as well as other menu control can be controlled utilizing the touch screen.

As speed is becoming crucial for data communications, Samsung has included the latest trends in mobile to the Ultra Smart F700. The Ultra Smart reflects the latest speed of 7.2 Mbps under the High Speed Downlink Packet Access (HSDPA) network. Once the 7.2 Mbps HSDPA network completely deployed, F700 users can download an mp3 song (about 4MB each) in 4.4 seconds. A full HTML browser along with the QWERTY key pad enables easy access to the internet for e-mail and data services. Using the new F700, business and creative professionals are able to view content on a stunning 2.78″ color display. The device features first class entertainment with a top-of-the-line 5 mega-pixel camera with auto focus and Bluetooth. With 7.2 Mbps HSDPA, it makes it easier to watch videos, listen to songs, share high-quality photos, or catch up on email on the move.

"The introduction of our Ultra Smart F700 reflects the needs of today's consumers by including features such as touch screen, enhanced connectivity to mobile internet, and access to an array of multimedia content," said Geesung Choi, President of Samsung's Telecommunications Network Business. "The Ultra Smart F700 is a good example of how mobile phone will evolve in the future. Samsung will focus on bringing products that reflect and pursue our position as a premium leader"
If you take a look at the following post SlashGear at CeBIT: Samsung F700 Hands-On, you'll notice that this is indeed the CeBIT the original sayers were probably speaking about – but it's not 2006, it's 2007. Have a look at our exclusive hands-on video below, and note that this video has been locked down since 2007 per Samsung's request. This video today is unlocked just for this post so that you might see how unprepared the phone was for release at that time. Our intrepid Vincent Nguyen filmed this video at CeBIT in Hanover, Northern Germany again, in March of 2007:
Next we've got a post on when the first images where released of the F700 on iPhonebuzz, one of our many relative sites. This story literally asks if the F700 is "an obvious answer to the iPhone's full screen design." This same month, we found out that the F700 would not be a US release. An interesting bit – the iPhone was for a while (and is sometimes still today) nicknamed the "Jesus Phone" – in September of 2007 the F700 was branded on Vodafone as the Croix, which translated from French to English is "cross." Tinfoil hats!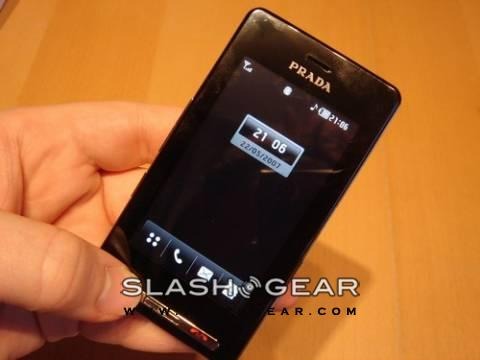 Next, just so we're touching all the bases – the Prada phone. What about that phone, didn't it also come out in 2007? Yes it did, the official info release being January 18th, 2007:
Seoul, Jan 18,2007 — LG Electronics (LG), a pioneer in consumer electronics and mobile phones, and PRADA, one of the world's leading brands in the luxury goods industry , unveil the first completely touch screen mobile phone. The PRADA Phone by LG (KE850) is a real breakthrough in the industry, as it is a unique, sophisticated and elegant mobile phone with the first complete advanced touch interface.

LG and PRADA have worked closely together on every aspect of the product, from handset development to marketing combining the attention to detail and uncompromising quality of PRADA design with the trademark technological innovation of LG mobile.

PRADA's involvement extends beyond exterior aesthetics to the key elements of the user experience such as the advanced touch interface, ring tones, pre-loaded content, mobile phone accessories and the exclusive leather case, inspired by the classic Italian craftsmen tradition.

"We at LG are exceptionally proud of the PRADA Phone by LG" says Dr. Scott Ahn, President & CEO of LG Electronics Mobile Communications Company. He continues, "The two companies have worked together seamlessly towards a truly shared vision, to develop one of the most beautifully stylish handsets the market has ever seen."

Visiting LG Headquarters in Seoul, Korea, Mr. Patrizio Bertelli, President and CEO of PRADA, said: "As we do with ready-to-wear and accessories, we were looking at a break-through. Consistent with our approach, we are not branding an existing product; rather, Miuccia and I have been working with LG to give this new phone a very strong character and unique style, both in its contents and in its design. We, just like our partners at LG, are known for the attention to detail and uncompromising quality of our products. And we find these characteristics in the new mobile phone."

The PRADA Phone by LG introduces the world's first advanced touch interface which eliminates the conventional keypad making the overall usage experience a highly tactile one. An extra wide LCD screen maximizes visual impact, allowing the user to benefit from several key features of the phone, including the 2 megapixel camera featuring Schneider-Kreuznach lens, video player and document viewer capacity. Above all, these features contribute to the phone's beautifully sleek and simplistic appearance.

Glowing icons on the face of the phone disappear when not in use to reveal a pure, un-adulterated black exterior. The phone is ultra thin (just 12 mm), nonetheless it hosts an array of additional multimedia functions, including an MP3 player and a music multitasking function for messaging. It also boasts an external memory slot, allowing the user to increase memory capacity for images, music and film clips.

The PRADA Phone by LG will be available with prices starting from 600 Euros in mobile dealerships as well as selected PRADA stores in the UK, France, Germany and Italy as of late February, 2007, followed by countries in Asia such as Hong Kong, Taiwan, and Singapore from late March, 2007. The Korean version of the phone is scheduled to launch in the second quarter of 2007.
Next, lets talk about the drop date of the iPhone: January 9th, 2007 at Macworld. This is where Steve Jobs initially let loose the announcement that there would be an iPhone. Have a look at our in-person proof on iPhonebuzz and you'll have an epiphany about what's about to happen to Samsung... maybe.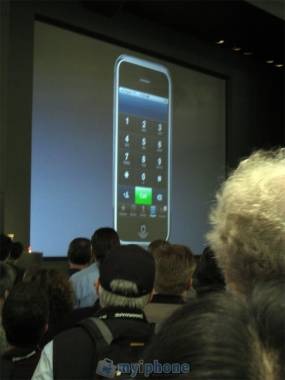 Then there's the following image, a letter from Apple to the FCC requesting that they keep hidden their documents that ended up being for the iPhone – October 12th, 2006: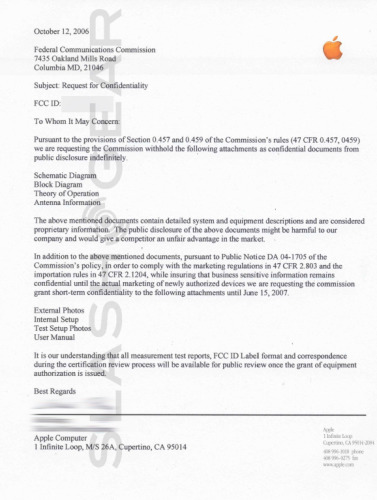 Look definitive enough for you?