White iPhone 4 goes live at Three UK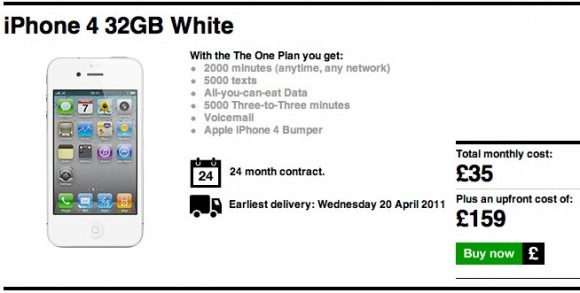 The white iPhone 4 has become something of the thorny unicorn in Apple's side, but it seems the long wait may finally be over. UK carrier Three has just thrown up a product page for the pale smartphone, with the 32GB version priced at £159 ($259) on a £35 per month agreement. According to the product page, the first white iPhone 4 handsets will ship from April 20, or this coming Wednesday.
Although the white iPhone 4 has been listed on Three's general product page for some time now, it has been – and remains – impossible to actually select the smartphone and add it to the basket. That's not the case with this particular deal, however.
According to the page, this particular white iPhone 4 deal is available only until the end of the month, and Three's online support staff confirm that it's authentic and not a mistake. Other rumors have suggested that Apple intends to launch the white iPhone 4 generally on April 26 2011.
[via Recombu]