T-Mobile G-Slate Review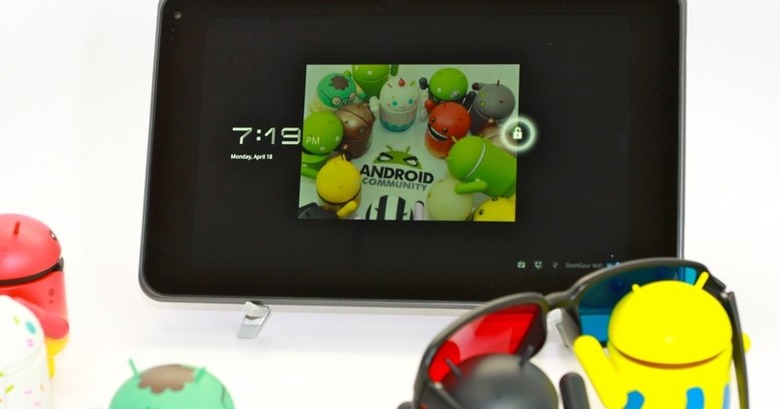 2011 may be the year of the tablet, but so far only one Android 3.0 Honeycomb (review) example has managed to reach the market. Motorola's XOOM was criticized for launching perhaps before Honeycomb was quite ready; now the T-Mobile G-Slate by LG is making its own play, with the dual hope that 3D photography and an 8.9-inch screen will be enough to carve a niche against the iPad 2. Is Honeycomb's second hurrah the cry of victory or a dying gasp? Check out the full SlashGear review after the cut to find out.
Hardware
LG hasn't strayed too far from Motorola's example when it comes to the G-Slate's core specifications. At its heart is NVIDIA's 1GHz dual-core Tegra 2 processor, paired with 32GB of integrated storage. The 8.9-inch display runs at 1280 x 800, making it more pixel-dense than the XOOM, though it lacks the pop and super-broad viewing angles of an IPS display as on the iPad 2. There's WiFi b/g/n, Bluetooth, GPS and HSPA+ 4G connectivity built in. Unlike the XOOM, the Verizon version of which only supports 3G at present, the G-Slate offers 4G support out of the box, though whether that adds up to high speed browsing depends on T-Mobile's coverage.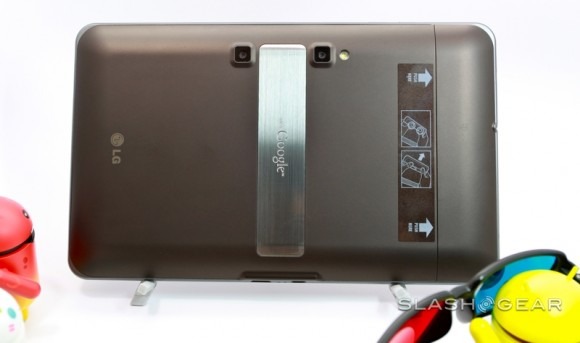 At 9.6 x 5.88 x 0.5 inches and 22 oz. the G-Slate is narrower, lighter and a little shorter than the XOOM, though no thinner (the Motorola is 9.8 x 6.6 x 0.5 inches and 28.5 oz.). It's possible to hold it with one hand, but the widescreen-aspect display makes for a long, narrow tablet that soon gets tiring, especially if – as much of Honeycomb is intended for – you hold it in landscape orientation. Build construction is solid if a little uninspiring: sturdy plastic rather than the aluminum of the iPad 2.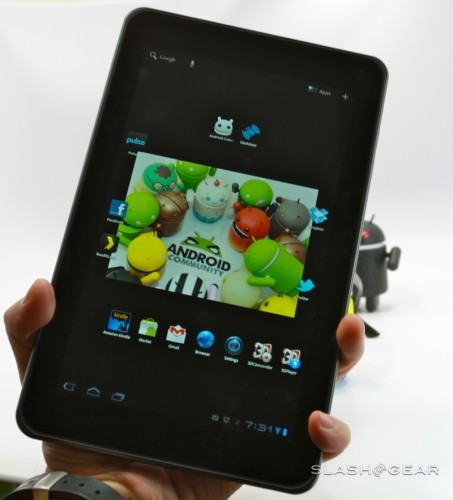 On the front is a 2-megapixel camera for video calls, while a dual 5-megapixel camera array on the back – with a single LED flash – supports 3D photography and video capture. In-between the two lenses there's a flip-out metal kickstand, useful for propping the tablet up for video playback (though generally not at the right angle for standalone 3D recording). We often found ourselves smudging the rear lenses when holding the G-Slate in portrait orientation. Ports include microUSB and HDMI on the bottom edge, as well as contact points for the optional docking station, and a 3.5mm headphone jack on the left edge. Volume controls and a power/standby button are the only physical keys to be found.
Software
The screen may be a little smaller than that of the XOOM, but the Honeycomb is shows is just the same. As with Motorola, LG has left the Android 3.0 experience untouched, so you get the usual 3D-effect homescreen, tablet-scale email and calendar apps, tabbed browsing and more. We've reviewed Android 3.0 Honeycomb in full here.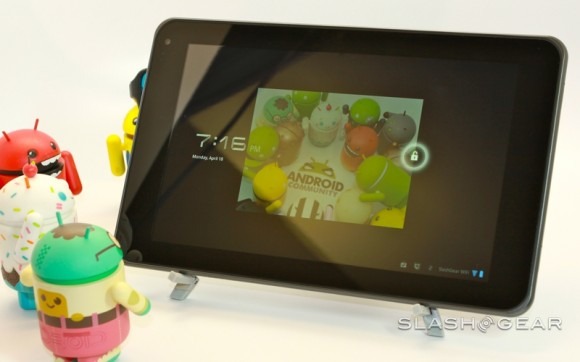 T-Mobile installs a handful of apps itself, however, including a copy of Need for Speed Shift HD. The EA game uses the G-Slate's accelerometer and gyroscope for control, and works much as we've seen before on the XOOM. There's also T-Mobile TV, for on-demand news, sports, TV episodes and kids' content; that offers a 30 day trial of the "premium" package, with the free offering being limited to some basic news and sports, and some shows for your children. Unfortunately, despite being perhaps the most obvious use for the G-Slate's HDMI output, T-Mobile TV is the one app that can't be mirrored in that way.
Finally, there's Zinio Reader, for digital magazines, and a shortcut to Flash Player 10.2. Adobe's software doesn't actually come preloaded, instead there's a link on the homescreen that takes you to Flash Player 10.2 in the Android Market.
The range of Honeycomb-specific apps in the Android Market is still relatively minimal, especially compared to what's on offer for the iPad. We're expecting to see a push by Google for Honeycomb development at Google I/O, but for now much of the software is intended for smartphone-scale devices and scales accordingly.
Performance
With the same underlying processor, the G-Slate's performance is pretty much on a par with what we saw from the Motorola XOOM. That basically means a reasonably swift tablet experience with a few frustrating lag-points. The G-Slate lacks the silky page transitions and animations of the iPad 2, but is still capable of admirable speed nonetheless. Need For Speed Shift HD is a good example of what NVIDIA's chip is capable of, and plugged in via HDMI to a big-screen TV it's a great gaming experience.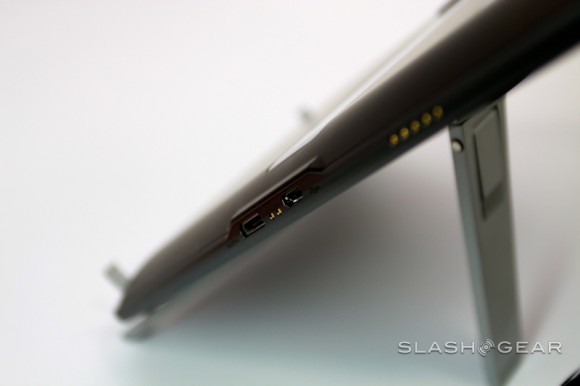 Camera and 3D
Like the LG Optimus 3D, the G-Slate taps into the current buzz around 3D with out-of-the-box support for three-dimensional graphics. Unlike its smartphone sibling, however, it's not quite as slick an experience. The LG tablet has a twin camera array on the back, capable of shooting 3D stills and video, but lacks the glasses-free 3D display of the phone; instead you get a pair of anaglyph 3D glasses – the red/cyan sort – and a special playback mode.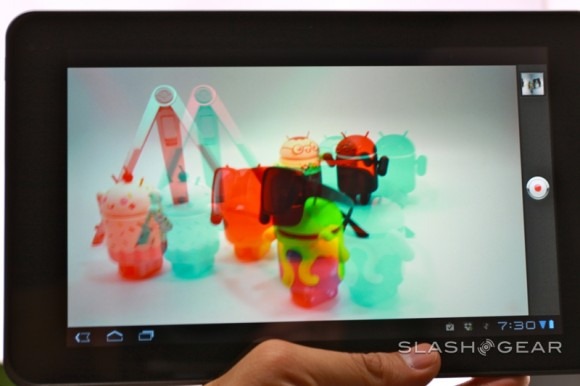 In fact, the G-Slate supports two different 3D playback systems: used alone or with a regular TV, it's anaglyph only, but with a proper 3D TV you can switch to side-by-side mode. That allows you to use the special 3D glasses that came with your 3D TV to enjoy the content, without the color effects of the red/cyan specs. You can find out more about the different types of 3D in our SlashGear 101 feature on the technology.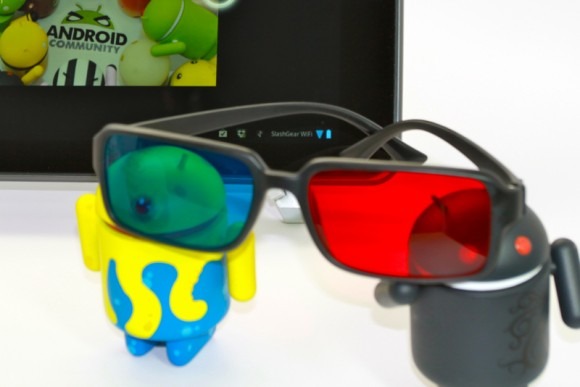 Still photos are solid if nothing to write home about, benefiting from as much natural light as you can give them. Indoors, the single LED flash is underwhelming, and there's plenty of noise in low-light conditions. Video can be shot in 2D or 3D, though only at up to 720p HD resolution, and works well, though there's some tearing with faster movements. Viewed in anaglyph mode, it feels gimmicky, the color balance affected by the red/cyan glasses. "Proper" side-by-side 3D is more successful: we plugged the G-Slate into a Samsung 3D HDTV, and the results proved surprisingly good considering it was a tablet camera. Nonetheless, we're not convinced that 3D filming is something that most people will do more than try a few times and then ignore.
T-Mobile G-Slate 2D recording samples
T-Mobile G-Slate 3D recording samples
Battery and Accessories
Despite being smaller than the XOOM, the G-Slate's battery is almost as large: 6400 mAh versus 6500 mAh. That adds up to a solid day's use or, as is probably more likely for most G-Slate owners, a few days casual use between recharges. We managed 9-10 hours on a full battery, a little shorter than what the iPad 2 offers but still a good showing.
T-Mobile's retail package is relatively minimal, with an AC adapter, USB cable and a single pair of 3D glasses in the box. Pricing for the docking cradle – which has an HDMI port, USB and power – is yet to be confirmed.
Pricing and Value
T-Mobile is offering the G-Slate both with and without a two-year agreement: if you don't mind a data plan, you can get the 8.9-inch slate for $529.99, while the off-contract price is $749.99. Three postpaid monthly plans are available, ranging from $29.99 for 200MB, $49.99 for 5GB or $84.99 for 10GB. If you're already a T-Mobile voice or mobile broadband customer then those plans drop to $23.99, $39.99 and $67.99 respectively.
Each plan includes WiFi sharing for up to five devices at no extra cost, along with unlimited T-Mobile WiFi Hotspot use. On the 200MB plan, overage is charged at $0.10 per MB; on the 5GB and 10GB plans, there are no overage fees but T-Mobile will throttle data speeds and throughput should you exceed your allowance. Alternatively, there are three prepaid mobile broadband plans, either $10 for a 100MB week pass, $30 for a 300MB month pass, or $50 for a 1GB month pass.
The obvious point of comparison is the iPad 2, the 32GB WiFi + 3G version of which goes for $729. That's $21 less than the off-contract G-Slate, and AT&T and Verizon's no-commitment data plans are more generous than T-Mobile's too. As for the XOOM, Verizon's tablet is more expensive upfront – $599.99 on contract or $799.99 off – but can be used with cheaper data plans. Overall, if you opt for the subsidized upfront price, the cheapest G-Slate is $1,250 (assuming you're not an existing customer) while the cheapest XOOM is $1,080. Still, you can't share the XOOM's 3G connection with the mobile hotspot app.
Wrap-Up
In a way it's difficult to criticize LG for its decision to put 3D into the G-Slate. We're constantly asking manufacturers to think about how they'll differentiate their tablets from the iPad, and 3D recording is obviously LG's push to do just that. Still, at the same time we can't help but wonder whether dropping one of those rear cameras might have scraped a little off the unsubsidized price overall.
T-Mobile's role is a little more frustrating. Compared to the data plans offered by both Verizon and AT&T (on the XOOM or iPad 2) the G-Slate's packages look over-priced, even if you take into account bundled mobile hotspot service. Honeycomb's remaining rough edges and lackluster app availability could more easily be overlooked if the G-Slate undercut Apple's tablet; without that, the price becomes another stick, which will be used against the tablet.
If you're already set up with a 3D TV, have a hankering to record 3D video, but only the budget for either a new tablet or a new 3D camcorder, the G-Slate does tick both boxes. If you're not especially bothered by 3D, however, it's harder to justify, and we're not entirely convinced by LG's arguments that the 8.9-inch screen slots the G-Slate into a "perfect middle ground" between 7- and 10-inches. Samsung's Galaxy Tab 8.9 is also on the near horizon, and while it will lack integrated 3G at first, that also has allowed the company to undercut the WiFi-only iPad 2. With no WiFi-only version of the G-Slate on offer, the $750 of the contract-free LG tablet feels like a lot to pay for 3D optics and a 3G modem you're not going to use, versus the $569 of the 32GB Samsung.
Honeycomb still falls short of being mass-market ready, though it's certainly full of promise. As Google has shown with its smartphone iterations of Android, it has no intention of standing still and allowing iOS to dominate the market. The G-Slate makes – with things like Flash Player support out of the box – a better first-impression than the XOOM managed, but it still lacks the general appeal of the iPad 2. A few solid firmware updates could address that, but it will take T-Mobile chiseling away at the G-Slate's price before we could wholeheartedly recommend the tablet.
Related: Google Android 3.0 Honyecomb Review
[vms 1db6506eca0b37ce6ec8]