SlashGear Week in Review- Week 5 2011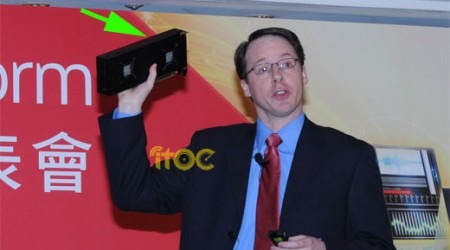 Welcome to this week's edition of the SlashGear Week in Review! If you are a PC hardware geek an AMD spokesman causally showed off an unannounced video card on Monday called the HD 6990. The card has dual GPUs and should be very fast. We heard a bit of early detail on the PSP2 from Nikkei that claimed the new portable would have an OLED touchscreen, 3G and a new CPU. That would make for a very impressive portable indeed.
NVIDIA will be sampling its new Tegra 3 T30/AP30 mobile quad core processors by the end of 2011. These things will bring a whole new breed of portable devices and more with loads of power. One of the coolest DIY projects I saw last week was the pedal-powered snowplow that a guy built. He used a couple old bikes and some wood to build the plow that appears to work pretty well.
The 10 billionth app was downloaded last weekend and Apple called the person who made the download to give the $10k gift card price that was offered. The catch was that the winner hung up on them. Luckily for her an Apple rep called again and she ended up with her gift. Samsung conducted a strange experiment early in the week where they launched a bunch of paper airplanes in space. They launched 200 paper planes from 36,500 meters above Berlin and each plane had a card with a text message that the folks who found it could enter online for others to read.
The Verizon iPhone 4 will cost the off-contract user $50 more on Verizon that it does on AT&T. The upside is that that extra $50 should let you talk without your call dropping if you hold your face wrong. The Acer Aspire One E100 Android netbook turned up this week and the thing dual boots Android and Windows. The netbook has a 10.1-inchscreen and is your basic netbook.
Notion Ink issued an update for the Adam tablet that was bricking some of the tablets that installed the update. The update was later pulled and only a few users were affected. It was confirmed this week that Verizon will offer a $30 unlimited data plan for the iPhone 4. The catch is that it's a limited time offer and will go back to the normal tiered plan after a while.
NVIDIA unveiled a new video card this week called the GeForce GTX 560 Ti. The card promises to be 46% faster than the Radeon HD 6950 that is already on the market and the new GTX 560 Ti sells for about $250. Ben Heck took a flashlight with a crank, a USB charger, and some geek mojo to create a cool kinetic charger. The charger puts power into the battery of your phone as you turn the crank.
The tiny Compulab Trim Slice nettop turned up this week with Tegra 2 inside for desktop PC use. This thing would make a really good HTPC; it looks more like a memory card reader than a computer to me. Details on several new Samsung smartphones turned up this week including the Samsung Galaxy Ace, Fit, Gio, and Mini. The Ace is the coolest of them all with a 3.5-inch screen, 800MHz processor and more.
The HTC Facebook phone that we keep hearing about has been tipped to land at MWC next month. The phone will reportedly use the Facebook color scheme, branding, and push the Facebook news feed. An awesome 12-foot long DIY LED matrix display turned up mid-week. The thing is really cool and uses 512 blue LEDs to show your text message.
A Verizon BlackBerry outage rolled on mid-week and to start with the blame was placed on an update by Verizon. Apparently the outage spanned a number of states and users that were affected only received email in batches an hour or so apart. The Sony Xperia Play was the subject of a pre-release preview video this week. This is the PlayStation phone and the thing looks really cool.
Thursday the Sony PlayStation Suite and PS Store for Android devices landed. The store is for Android 2.3 and up devices and has a lot of cool games for mobile gamers to download and enjoy. The Sony NGP "Next Generation Portable" went official this week. The device is the PSP2 we have been hearing about for a while and has an ARM Cortex A9 processor, 5-inch OLED screen, and a lot more. This should be one seriously cool portable game console.
A "secret" AT&T unlimited data plan is available to keep iPhone users from migrating to Verizon. One user is claiming that when he called AT&T and threatened to go to Verizon they moved him to an unlimited data plan. Hulu is reportedly in talks within the video streaming site to change from a free offering that it is right now to a virtual cable operator where we would all have to pay to use the streaming service.
Scosche shipped its new version of the flipSYNC called the flipSYNC II this week. It is available for USB charging devices and Apple gear for about $20 and the new version has a larger USB plug. The dorkiest iPad accessory ever turned up late in the week called the Assero Defender. It's like one of those reverse backpacks parents use to carry babies, but the Defender is for your iPad.
Details for pre-orders of the Verizon iPhone 4 were offered Thursday. Verizon is going for AT&T's throat and is offering some big discounts if you trade in an AT&T iPhone. A 16GB iPhone 4 from AT&T will get you $280 off your Verizon iPhone. Thursday we heard that the Sony NGP console would come in both 3G and WiFi only versions. That is good news since many people have no desire for 3G if they will only use it in the house.
The FCC posted up the teardown pics of the Notion Ink Adam Friday. The Adam the FCC had used what appear to be handmade connections leading some to wonder about build quality. We know the specs on the Sony NPG, but we still don't know the price. Some speculation has been that the console might cost around $600. Sony has said the NGP won't be $599, but still hasn't offered pricing yet.
Microsoft is reportedly working towards 16-core Atom processors. The 16-core Atom would apparently be an alternative to traditional CPUs inside servers. Thanks for reading this week's edition, see you next time!