Compulab Trim Slice puts Tegra 2 in ultra-compact desktop PC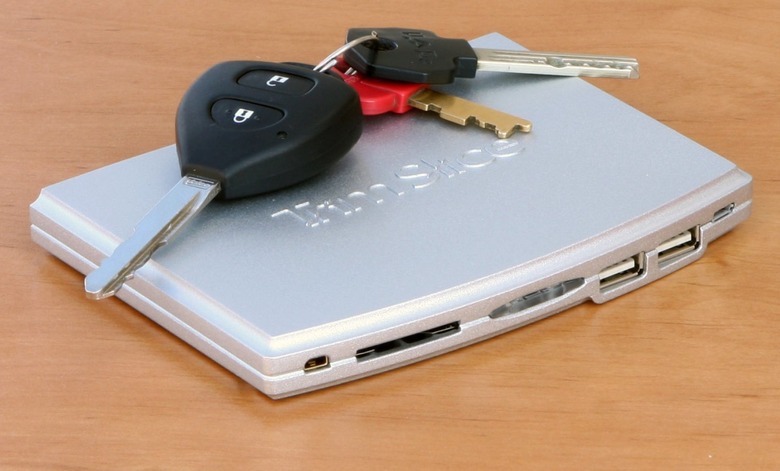 We've got Tegra 2 in tablets and Tegra 2 in phones; why not Tegra 2 in a desktop computer? That's just what the Compulab Trim Slice offers, a super-compact desktop – only slightly larger than a 2.5-inch HDD – which nonetheless offers both HDMI and Dual-Link DVI ports for twin displays, 1GB of RAM, WiFi b/g/n and gigabit ethernet in a fanless metal chassis.
There's also Bluetooth, a full-sized SDHC slot and a microSDHC slot, up to 64GB of SATA SSD storage and S/PDIF digital audio. Other ports include four USB 2.0, one USB Device port and a serial port; Compulab say that more than one OS will be preinstalled out of the box, though don't actually specify which platforms that will include.
Not bad for something measuring just 5.1 x 3.7 x 0.6 inches. Pricing is yet to be confirmed, but Compulab expects the Trim Slice to be "priced higher than a streamer, but lower than a tablet" when it goes on sale in April.
[via TGSpot]
Press Release:
CompuLab is Introducing Trim-Slice – the first NVIDIA® TegraTM 2 based desktop

Haifa, Israel – 24-Jan-11 – CompuLab is introducing Trim-Slice – a miniature desktop computer powered by NVIDIA Tegra 2. With 0.6" thick all-metal housing, Trim-Slice is CompuLab's smallest and most energy-efficient computer to-date.

NVIDIA Tegra 2 integrates a 1 GHz dual-core ARM Cortex A9 and an ultra-low power GeForce GPU onto the same chip, making it the most powerful ARM based system-on-chip available today.

"Trim-Slice is designed to unleash the full potential of NVIDIA Tegra 2" said Irad Stavi, Director of Business Development at CompuLab. "Trim-Slice feeds the Tegra 2 with all the ingredients for supporting high performance CPU: 1 GB RAM, SATA SSD and dual SDHC for storage and GbE networking. Users can experience the outstanding multimedia capabilities of the Tegra 2 through full-HD HDMI, dual-head display and 5.1 channels digital audio."

"CompuLab demonstrated many times over its expertise in power-efficient system design." said Igor Vaisbein, Trim-Slice Project Manager at CompuLab. "The ultra-low power of NVIDIA Tegra 2 enabled designing Trim-Slice into a miniature form-factor with unprecedentedly low-power envelope while providing rich multimedia capabilities and PC-like user experience".

High performance, low-power, rich I/O and miniature rugged design, position Trim-Slice as an attractive solution for a variety of applications – media player, IPTV, infotainment system, signage, gaming or even desktop replacement to name a few.

Trim-Slice differs from most other ARM based solutions by being a commercially available open platform for software developers.

"The software eco-system on ARM is evolving quickly" said Mike Rapoport, Director of SW Development at CompuLab. "The open-source community and ISVs need an ARM development platform that is versatile, open and powerful. Trim-Slice meets that by incorporating PC-like performance, memory, storage, display, I/O and networking in an open platform that allows installation of any supported OS and application. CompuLab will offer more than one OS working on Trim-Slice out-of-the-box."

CompuLab will cooperate with ISVs that select Trim-Slice as a reference platform.

Specifications

• CPU: NVIDIA® TegraTM 2 Dual Core ARM Cortex A9 1GHz with integrated ultra-low power GeForce GPU

• Memory: 1 GB DDR2-800

• Storage :

o Full size SD (SDHC)

o Micro SD (SDHC)

o SATA SSD (up to 64GB)

• Networking:

o 1 GbE

o WiFi 802.11n + BT

• Display :HDMI 1.3 full-HD + DVI (dual head)

• Audio: Stereo line-out, line-in, 5.1 digital S/PDIF

• Video in: PAL/NTSC

• I/O:

o 4 USB2 ports (480 MBps)

o 1 USB device

o RS232 Serial port

• Extension: JTAG, 2 UARTs, SPI

• Housing: Fanless all-metal nickel-plated die-cast

• Dimensions: 130mm x 95mm x 15mm – 5.1" x 3.7" x 0.6"

• Power: 8-16V DC, 3W average

Availability

CompuLab expects to start accepting orders from Trim-Slice in April. "Trim-Slice pricing is yet to be finalized" said Mr. Stavi. "It will be priced hig¬her than a streamer, but lower than a tablet".

Trim-Slice is guaranteed for long term availability of 5 years. It will be available in several configurations and will be offered to OEMs looking to re-brand the product.

About CompuLab

CompuLab is a leading designer and manufacturer of embedded computing products since 1992. CompuLab's fit-PC line of miniature, fanless PCs – introduced in 2007 – positioned CompuLab as an industry leader in the field of miniature, fanless industrial PCs. CompuLab headquarters are located in Haifa, Israel with offices in St. Petersburg, FL.