NVIDIA Tegra 3 T30/AP30 mobile quadcore SoC sampling by end of 2011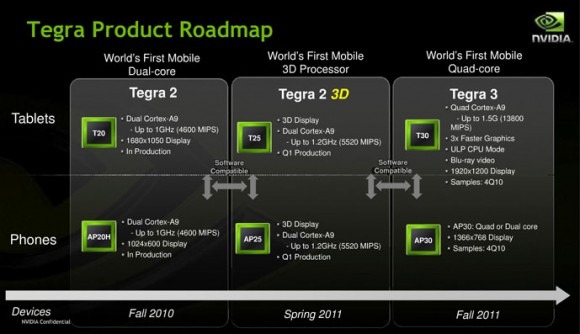 It's not just a Tegra 2 3D chip we can expect later this year; the remainder of NVIDIA's leaked roadmap for 2011 has emerged, courtesy of Bright Side of News, and it seems the company plans to begin sampling Tegra 3 in Q4. The new processor will be the world's first mobile quad-core chip, packing up to four 1.5GHz Cortex-A9 cores in the T30 SoC for tablets.
Tegra 3 will pack 3x faster graphics than Tegra 2, and be capable of driving a 1920 x 1200 display. That opens up the possibility of super-high pixel density tablets when paired with a suitable display panel. There's also Blu-ray video support and NVIDIA's ULP CPU mode for "ultra-low power" consumption.
The NVIDIA AP30, meanwhile, will be targeted at smartphones, and offer either dual- or quad-core SoCs capable of driving 1366 x 768 displays. The company expects both chips to sample in Q4 2011, which suggests commercial products using the T30/AP30 in early 2012 and which are software compatible with previous chips.
[Thanks Andy and Joey!]