NVIDIA Launching 'Tegra 2 3D' Processors, Coming to Handsets this Spring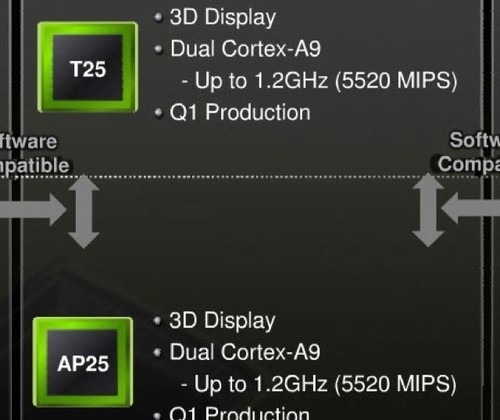 NVIDIA was a huge player in the mobile arena at this year's CES. Their dual-core Tegra 2 processors that will be included in this year's upcoming "super phones" are expected to completely change the mobile processing market, and now it seems that they are planning a "Tegra 2 3D" chip that will start shipping this Spring.
According to a leaked slide meant for the Mobile World Congress presentation, the Tegra 2 3D will be clocked at 1.2GHz and will be based on a Dual Cortex A9. According to this slide, NVIDIA will start production this quarter with units ready for devices in Spring of this year.
This is a bold, yet understandable, move for the company as all of the world's focus seems to be shifting to 3D display technology. The chip is said to be powerful enough to power a Master Image TN-LCD display using cell parallax which would allow the mobile device to create a 3D effect, similar to Nintendo's 3DS.
Looks like we will have a lot of impressive 3D-ready mobile devices set for the second half of 2011!
[Via TechEye]