SlashGear Week in Review - Week 30 2009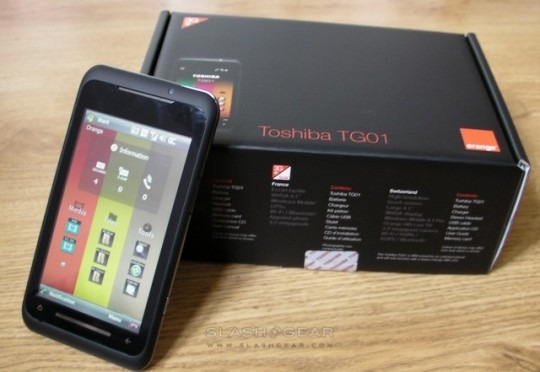 Well another week has come and gone as time steadily marches on and like every other week here on SlashGear, it has been a busy one. Poor old Toshiba took the old adage "if you can't beat them, join them" seriously on Monday and announced that it would be launching its own Blu-ray player by the end of 2009. That had to be hard to swallow for the execs who bet it all on HD DVD only to be defeated by Blu-ray. Also on Monday the slick HP Mini 5101 netbooks tipped up starting from $399. I'm not convinced we need another netbook on the market right now personally.
Anyone with even the simplest of home theaters today probably has several remote controls lying around. If you do I am betting you are probably the only one capable of working the system in your house. A cool universal remote called the MX-5000 with a haptic touchscreen was unveiled that supports Wi-Fi and RF communication. Sounds cool right up until you get to the part where the price is going to be $1,500. I'll take a Harmony One thank you. Early this week HP also debuted a new ProBook 4310s notebook that starts at $779.The machine has some nice options and specifications for those looking for more power than a netbook has to offer.
Windows Mobile 6.5.1 ROM was demoed on video this week and the new mobile OS has been tweaked to support touch screens, something we can agree is needed today. Intel launched some very nice new SSDs this week that are cheaper and have better performance than its previous SSDs. A new SSD with 320GB of storage is set to debut at the end of July according to some rumblings we heard. Yeah, it will be expensive.
We got our hot little hands on the Orange Toshiba TG01 for a full review this week. The handset has a nice big screen and runs the Snapdragon platform. In the end the TG01 is hard to live with by our estimations until some fixes are issued. The coolest surge protector ever tipped up Tuesday from TRC called the ElectraShield. The protector is an in-line device that fits between the AC cord and the boxy power supply of your notebook.
Sadly a Foxconn employee committed suicide this week after losing a prototype 4G Apple iPhone. Reports say the employee jumped from his apartment window after being physically abused and illegally detailed by investigators from Hon Hai — Foxconn's majority stockholder. On a more positive note, the Plastic Logic eReader will be powered by Barnes & Noble. The bookseller will be the exclusive provider for content on the reader when it launches.
LG announced an odd netbook this week called the Xnote Mini X120 in partnership with Levi's. The netbook has a lid with an image of the back pocket of a pair of jeans on it and it comes with a denim cover. It's a very odd product tie in to me. Intel's Core i5 750, i7 860, and i7 870 CPUs may be coming on September 6 according to information we found. The parts will have a price tag of up to $562.
WiMax hit Las Vegas this week and brought the Samsung Mondi with it. Clearwire still has a long way to go before it has service in enough areas to support the nations 4G jones and the Mondi itself is said to be not that great. Intel debuted speedy 34nm X25-M SSDs this week with capacity up to 160GB and prices for lots of 1,000 of $440.
We also got our hands on the dead sexy HTC Hero early this week for a full review. I want this device so badly; too bad I am stuck with AT&T. In the end we reckon Android has come of age with the HTC Hero. Apple posted profits this week that will make other computer makers green with envy. Despite the gloomy economy globally, the firm had the best non-holiday quarter ever with $1.23 billion in profits.
We gave the T-Mobile myTouch 3G a through video unboxing this week. It's a tough job being a professional geek, but someone has to do it. The Samsung S9110 watch phone will hit France soon and is called the world's thinnest watch phone. You can finally live up your Dick Tracey fantasies without looking like you are wearing that massive 80's calculator watch you had as a kid. That persistently rumored Apple tablet/netbook has a new update to its rumor wagon that has it launching this holiday season with a Verizon data subsidiary.
Microsoft insiders say that a new Xbox 360 with the Project Natal motion sensing tech will be offered in the second half of 2010. Microsoft says the tech will also come in Windows as well. Wednesday had a video hands on of a couple new Blackberry Storm 2 prototypes being unveiled. The prototype devices were said to be early versions and newer versions are supposed to be floating around already. Plastic Logic announced Wednesday that its coming eReader would connect to the AT&T 3G network and offer integrated Wi-Fi.
Intel announced Thursday that it would appeal the massive $1.45 billion fine that was levied against it by EU regulators. Intel said it would pay the fine and the massive charge drove it to a loss for the quarter. Dell finally got a bit of sense this week when it came to its sexy Adamo ultraportable. The firm cut the price of the sleek little machine by up to $500. Ford may be hurting with car sales at all time lows, but it has unveiled a slick new mobile office for its F-150 that connects to the Internet via Sprint EVDO technology.
Renders supposedly of the HTC Leo were first seen this week and the device could be the Touch HD successor. The phone runs Windows Mobile 6.5 and looks like it will be a nifty mobile. Sprint started selling the Palm Pre online this week. I hardly think anyone really wants a Pre has been holding out until they could buy it online. Walmart announced a new laptop from Compaq selling for a bargain price of $298. The coolest part is the machine isn't a netbook; it's a full notebook with 3GB of RAM, 160GB of storage, a 15.6-inch screen, a 2.10GHz AMD Sempron and NVIDIA 8200M graphics.
I have had my hands on a few pico projectors since they first started to hit the market and the biggest problem with most of them is low resolution. The CTO of Syndiant said Thursday that pico projectors with 1080p resolution would be available in the next three years. I hope they are brighter as well. The Garmin/Asus nuvifone G60 and M20 will hit Taiwan this month and early next month. The devices are set to come to the U.S. sometime later this year.
Palm and Apple are having a bit of tug-o-war over the ability to synchronize the Pre to iTunes. Last week Apple killed the sync capability of the Pre with an update and Friday Palm fixed the Pre's sync capability. We can bet that another Apple update is coming soon to kill the new update ability. One of the things that I have long disliked about portable mice is that they offer little in the way of sensitivity. Razer fixed that pet peeve this week when it announced the new Orochi Bluetooth gaming mouse. The mouse has 4000dpi resolution and is ambidextrous all for $79.99.
Sony announced three new Blu-ray devices Friday, two of which hold 400 Blu-ray or DVD films and the third packs Wi-Fi into a single disc player. Friday we posted a review of the Gigabyte Booktop M1022 netbook. The netbook has a slick dock and while it costs a bit more than its rivals, it's one step above them in quality and flexibility. Acer debuted some new notebooks this week in its TravelMate Timeline series. The new machines are the 3810T, 4810T, and 5810T. The machines range in price up to about $993.
Well, that's it for another week in review. I'll see you next week at the same geek time, same geek channel!