Walmart $298 Compaq laptop: who needs a netbook?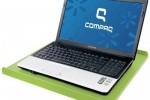 If there's one thing this dour economy is good for, it's pushing down prices.  Walmart have just announced that they'll be offering a $298 notebook, the Compaq Presario CQ60-419WM, complete with a 160GB hard-drive and 3GB of RAM, from July 26th at 8am.  The promotion is part of the retailer's back-to-school sale, and they're unsurprisingly warning that stocks will be limited.
In fact some adverts apparently suggest that bricks & mortar Walmart stores will have just ten of the laptops in stock, although it will also be available online.  The particular machine has a 2.10GHz AMD Sempron processor, NVIDIA GeForce 8200M graphics and a DVD burner, together with WiFi b/g and a 15.6-inch 1366 x 768 display.
To be fair, you're not going to be doing much gaming on such a machine, but if you can get to the front of the queue then you could pick up a basic bargain.  Make sure to check out the size, though; according to the official spec sheet the dimensions are listed as "CHINA", and that's a pretty big country.  For the rest of Walmart's deals, check the press release below. 
Press Release:
Walmart Increases Assortment of Affordable Laptops with Performance for Back to School

Retailer Introduces First Ever $298 Compaq Notebook with 3 GB Memory this Weekend

BENTONVILLE, Ark. (July 23, 2009) – With student needs rapidly changing and affordability a top priority, Walmart (NYSE: WMT) is making a commitment this summer to provide a wider variety of laptops at unprecedented savings. Building its assortment around student needs and budgets, Walmart worked closely with trusted brands such as HP, Dell, Acer and Toshiba to deliver new products holding not just great value in price but high quality, performance, and variety.

Shoppers will find notebooks and netbooks under $300, new accessories, and units with entertainment features, long-lasting batteries, lighter weights and more colors this year. In addition, Walmart will introduce items with market-leading prices starting this weekend.

"We know all students need solutions that integrate work, entertainment and portability," said Gary Severson, senior vice president, Entertainment, Walmart U.S. "Our increased assortment delivers more targeted offerings from great brands at dramatically affordable prices."

· Starting July 26: $298 Compaq Presario Notebook*

For the first time, a 3 GB memory laptop from a well-known brand has ventured below $300. The Compaq Presario CQ60-419WM offers great functionality with a 160 GB hard drive, CD and DVD drive, and Windows Vista pre-loaded in the notebook for the unprecedented price only at Walmart of $298. This price event begins 8 am July 26 in all stores and on Walmart.com while supplies last.

· Also Available July 26: $548 Acer 8-hour battery laptop

Perfect for the mobile student who has a full day of classes, Walmart will lower the price of this popular long-lasting Acer unit by $50. Pre-loaded with Windows Vista Home Premium (qualified for free Windows 7 upgrade), the Acer 15.6 inch AS5810-4657 All Day Computing Laptop with Intel ULV SU2700 has a 3 GB memory, 320 GB hard drive and an eight-hour battery. Its Intel Display Power Savings Technology reduces backlighting with minimal visual impact. Engaging the Acer PowerSmart key and other advanced settings makes this unit up to 40% more efficient than the typical laptop.

· August Additions: More Netbooks, Laptops

The new ultra-portable 10.1 inch HP Mini 110-131NR netbook arrives in stores in early August. This small and light netbook is ideal for the connected student who loves browsing the Internet, enjoying multimedia and chatting on-the-go.

For the entertainment guru, Walmart will introduce in mid-August a 17-inch screen Toshiba L355-18.3 with 3 GB memory and 250 GB hard drive great for work, movie watching and PC gaming. Also in mid-August, Dell will bring to Walmart stores its 4 GB memory, 500 GB hard drive notebook at great savings. (Prices on all to be announced.)

· In stores and Online Now: Personality, Size and Color

Currently Walmart offers the small and mighty 12.1 inch HP dv2 notebook fully loaded with a powerful 4 GB memory and 500 GB hard drive at $698.

This month Walmart also introduced a new colorful assortment of the Dell Inspiron 1545 Laptop at $398 in black, blue, pink, red, purple and aqua to match Walmart's back to college color pallet for dorm room décor. The notebook also qualifies for a free Windows 7 upgrade this fall.

Available in a variety of colors, matching computer accessories in stores include:

· Western Digital 250 GB hard drive ($60) – Available in black, blue, pink and red

· Logitech V220 Cordless Optical Mouse ($25) – Available in black, blue, pink and red

· Logitech LS-11 Stereo Speaker System ($19 each) – Available in blue or pink

· Sandisk 4 GB flash drive ($12) – Available in blue, pink, red, aqua, orange and green

In addition Walmart aims to add more value to the overall purchase extending savings on necessary components and accessories, such as the Kodak All-in-One color printer for $89, Linksys wireless Router under $54 and $19 laptop podiums in various colors.

· Walmart.com varieties and bundles

Walmart.com offers more than 200 notebook and desktop computers, with a wide variety of choices in bold, bright colors and the added savings of free shipping with Site to Store. Some of the most popular computers only available online include:

o Red Dell Mini 10 inch netbook (4 additional colors only available online) – starting at $348

o Dell laptop bundles (1545 Inspiron with 6 additional exclusive colors with optional bundle selections such as printer, laptop case, mouse, speakers, flash drive, external hard drive and more – starting at $598.

o Acer netbooks from pink, blue, white, red, and black at $298.

o Red computer accessory bundle with Logitech speakers and wireless mouse, and Sandisk flash drive. Mix or match from 6 colors – starting at $50.

For the buyer searching mostly for the ideal entertainment laptop, Walmart.com has the HP 17 inch Pavilion dv7-1261wm entertainment laptop available at the rollback price of $848. Also a strong entertainment and workhorse laptop, the sophisticated looking Toshiba 17 inch Satellite P305D-S8900 laptop PC with ATI Radeon graphics and Harman/Kardon virtual surround sound system is $698 and ideal for casual gamers and entertainment enthusiasts looking to replace a desktop computer.

Walmart advises, when looking for a laptop for gaming and entertainment consider a large bright widescreen display which enhances movies, music, and gaming, as well as a powerful processor, DVD player, a large hard drive to store media and generous memory.

Easy Pick-up at Walmart

To lighten the load on shipping, students can use Walmart's Site-to-Store pick-up for their consumer electronics and dorm room accessory needs by sending their orders made at Walmart.com directly to the Walmart near their school, with no shipping charges.

* Prices and availability may vary in AL, HI, OK, WI and at Walmart.com