Plastic Logic to use AT&T 3G network for ebook reader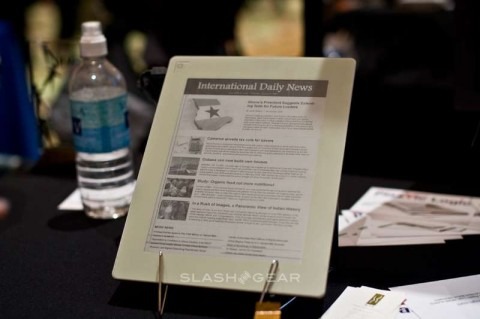 Hot on the heels of Plastic Logic's "exclusive eBookstore" deal with Barnes & Noble comes word that the ebook reader will use AT&T's wireless network.  Full details of the deal are unknown, though Plastic Logic have confirmed that the device will also be able to get online via its integrated WiFi connection.
Rival carrier Sprint has a similar contract with Amazon for their Kindle, though it's unclear right now whether the end-user will see the same result.  Amazon charge a relatively high initial price for the Kindle, after which point there are no monthly subscription fees no matter how many books are downloaded.  AT&T, meanwhile, are describing the Plastic Logic deal as "a great revenue opportunity", a quote which could be interpreted as that the ebook reader will come with some form of service charge for mobile use.
That might mean Plastic Logic owners – who will not only be able to access Barnes & Noble ebooks but newspapers, magazines and periodicals – face some sort of fee if they make use of the integrated 3G connection.  It's unknown whether AT&T will be making its network of WiFi hotspots available either, as it does for iPhone users, nor if the Plastic Logic reader will support internet access or messaging.  The device is still expected to launch early in 2010, price unknown.
Press Release:
PLASTIC LOGIC EREADER WILL WIRELESSLY CONNECT USING AT&T 3G NETWORK

eReader Built for Mobile Business Professionals to Debut in 2010

MOUNTAIN VIEW, CA, JULY 22, 2009 – Plastic Logic announced today that AT&T's* 3G network will provide the mobile broadband connection for the Plastic Logic Reader, the eReader created for mobile business professionals, when it launches in 2010.

The Plastic Logic Reader, which is also Wi-Fi enabled, is the ideal companion for busy, on-the-go business professionals who want to keep up to date on key information and who need to read and review multiple documents throughout the day. The Plastic Logic device is about the size of an 8.5 x 11 inch pad of paper, less than a ¼ inch thick and weighs less than many print magazines. The innovative eReader features the largest screen in the industry and an intuitive touch screen user interface.

"We're extremely proud to be able to offer the Plastic Logic Reader with the nation's fastest 3G network through AT&T. This alliance is a pillar in our strategy to provide mobile business professionals with a device that delivers a great reading experience, and is fully connected through 3G and Wi-Fi to deliver easy access to digital content," said Richard Archuleta, CEO of Plastic Logic.

The Plastic Logic Reader is unique among its competitors due to its plastic display, which is based on the company's revolutionary plastic electronics technology. The eReader features the first ever, commercial high-quality plastic display and an outstanding E Ink reading experience. Its battery lasts days, instead of hours. Designed specifically with mobile business users in mind, the Plastic Logic Reader will connect its users with their desired business and professional newspapers, books, periodicals and magazine content and will support the document formats business users need, including PDF, Word, PowerPoint, and Excel documents.

"The Plastic Logic Reader is an impressive device and we look forward to providing the wireless connectivity that will keep business professionals connected to the news, information and entertainment they desire while on the go," said Glenn Lurie, president-Emerging Devices and Resale, AT&T Mobility and Consumer Markets. "There is tremendous market potential for electronic reading devices and we look forward to powering this revolutionary device with the nation's fastest 3G network."

Users will be able to connect to content and download it wirelessly through AT&T's 3G network, which offers the best wireless coverage worldwide. Built on the GSM family of technologies, the de facto wireless world standard, AT&T's 3G wireless network brings enormous economies of scale to electronic manufacturers who are eager to cost-effectively incorporate wireless technology in specialty devices. AT&T devices work in more than 200 countries and regions. AT&T is also the nation's largest Wi-Fi provider, with more than 20,000 hotspots in the United States and more than 90,000 hotspots globally in 89 countries through roaming agreements.

Financial terms of the deal have not been disclosed.

Pricing and availability of the Plastic Logic Reader will be announced when the product begins shipping in early 2010.