Palm restore iTunes sync for Pre with webOS 1.1.0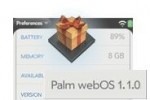 Palm have released their latest update for Pre, webOS 1.1.0, and along with increased speed and various UI tweaks they've also addressed one of the more contentious issues from the past month: iTunes synchronization.  After Apple seemingly purposefully blocked the Pre from using iTunes in their 8.2.1 update midway through the month, webOS 1.1.0 "resolves an issue preventing media sync from working with latest version of iTunes (8.2.1)."
Elsewhere, users are reporting a smoother overall feel of webOS and its menus, while Palm are saying that email – including push-email and GMail IMAP folders – is being handled better; that includes more accurate unread message counts, and quicker updates.  There's also a new gesture in the browser, used to move forward through webpages ("make a short swipe left to right in the gesture area"), and Wikipedia mobile is prioritized over the full webpage.
There's also better synchronization between Facebook friends and entries in the Pre's Contacts app, and emoticons are displayed properly.  The full list of changes is available here.
[via MyPre]