Samsung S9110 watch-phone hits France this month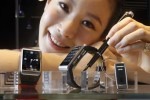 Samsung have officially announced their touchscreen watch phone, the S9110, set to hit the market a month ahead of LG's GD910.  The Samsung S9110 is just 11.98mm thick, making it officially the world's thinnest such device, and has a 1.76-inch scratch-proof touchscreen and stainless steel body.
There's also Bluetooth 2.1, Outlook synchronization and an MP3 player, together with a speakerphone and voice recognition.  However full specifications for the touchscreen device, such as which wireless bands it supports, battery runtimes and whether it has a front-facing camera, like the GD910, for video calls, are unknown.
What we do know is that it will be €450 ($639) when it arrives in France later this month.  LG are yet to confirm pricing for their GD910 watch phone, which is set to launch on Orange UK in August, though earlier rumors have pegged it at around around £1,000 ($1,621).
[via Engadget]