Ford F-150 "mobile office" with Sprint EVDO launched [Video]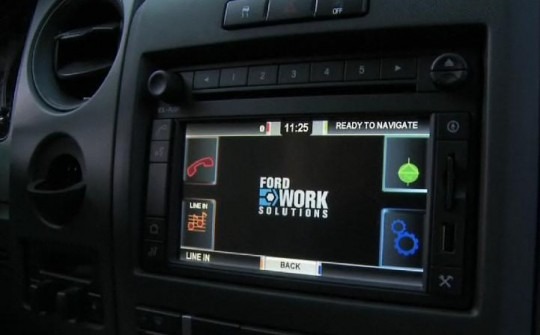 Ford and Sprint have joined forces to offer F-150 truck buyers, together with other models from the manufacturer's commercial range, an in-dash computer with integrated EVDO Rev.A connectivity.  The Ford Work Solutions (FWS) system consists of a double-DIN head unit with touchscreen, 4GB of flash storage, Bluetooth and a Sprint data connection, and can be used to either work on local or remote files, browse the internet, get turn-by-turn directions via Garmin software or print via a Bluetooth-enabled printer.Video demo after the cut
The technology is on show in an F-150 demo vehicle which is touring the US over the next few months.   It uses software from LogMeIn for remote computer access, together with Microsoft Auto software; the hardware is by Magneti Marelli and has a 6.5-inch touchscreen, wireless keyboard with trackpad, USB port and SD card slot.
There's also hands-free Bluetooth support for calls and text messaging, together with real-time traffic updates and POI search for the Garmin PND app courtesy of Sprint's EVDO Rev.A connection.  No word on how much the system will cost; it doesn't seem to be available to specify on Ford's online configurator as yet.
[vms 0fcacce3976bf7c08af5]
Press Release:
Sprint-Branded Ford F-150 Provides Hands-On Experience with Broadband-Enabled Mobile Office

Customers at special venues can "test drive" an F-150 truck's in-dash computer, featuring Ford Work Solutions productivity tools and fast Internet connectivity via the Sprint Mobile Broadband Network

OVERLAND PARK, Kan.–(BUSINESS WIRE)–Jul. 22, 2009– Field personnel are getting a chance to see for themselves that a truck can be both a brawny work vehicle and a brainy Internet-connected mobile office that helps them operate faster and more efficiently virtually wherever the job happens to be.

As part of its involvement with Ford Motor Company's Ford Work Solutions product offering announced earlier this year, Sprint (NYSE:S) is taking a Ford F-150 truck on the road, equipped with a full suite of Ford Work Solutions (FWS) applications. Sprint is inviting field workers, construction professionals and others at conventions, trade shows and other events nationwide to personally experience the F-150's Internet-connected FWS productivity tools.

Emblazoned with the Sprint brand and connected to the speedy Sprint Mobile Broadband Network, the vehicle provides a first-hand demonstration of Ford Work Solutions. Event attendees can climb into the cab and see for themselves how America's most dependable 3G network* and the F-150's in-dash computer combine to bring fast Internet connections and a host of data applications right to the job site or customer location. This one-two computer and network punch allows organizations to perform a variety of mission-critical tasks remotely. Some examples include:

Field service and construction industries can confirm "change orders" to modify a "work order" or "job estimate," avoiding lengthy delays and keeping the job on schedule. Additionally, with the available Bluetooth® printer, the customer can review and authorize the "change order" on the spot with a written confirmation.

Engineers and project managers can review and edit graphically rich blueprints and schematics while inside the truck.

Sub-contractors, suppliers and customers can collaborate in real time to review project planning documents and website portals.

Utilities and oil and gas crews in the field gain real time, high bandwidth access to work orders, safety and compliance data and asset management.

Sprint's F-150 with the FWS mobile office has appeared this year at the ITS-Michigan convention and at other Sprint-sponsored events. The truck will roll into other conventions, trade shows and Sprint marketing events in the months ahead. An identical F-150 is now available for customers to experience at the Sprint World Headquarters Executive Briefing Center in Overland Park, Kansas.

"There's nothing like a personal hands-on experience to bring home the value of a mobile office supported by fast Internet connections. When you operate the in-dash computer yourself, you immediately understand how comprehensive, intuitive and productivity-enhancing mobile solutions can be," said John Dupree, vice president – Enterprise and Federal, Sprint.

In addition to the F-150, the in-dash computer with Internet connectivity is available on 2009 Ford F-Series and E-Series vehicles, and on the 2010 Ford Transit Connect vehicle.

"Ford Work Solutions delivers a complete range of mobile office features via a powerful in-dash computer combined with Sprint's robust high-speed mobile broadband which has allowed us to deliver an unprecedented productivity solution for field work forces," said Ed Pleet, Ford Work Solutions product and business development manager.

Through its unmatched Nextel Direct Connect® push-to-talk service, rugged devices and other technology, Sprint has developed and maintained its leadership in Field Work Force solutions by understanding that effective Field Work Force management requires constant coordination of crews, fleets, suppliers, project managers, engineers and field service teams – often in harsh conditions and always on tight timelines.

Ford Work Solutions can also be experienced at http://www.fordworksolutions.com, which features a video demonstration of the in-dash computer.