NVIDIA Editor's Day 2013 Wrap-up: G-Sync, 4K, and gaming's blurred lines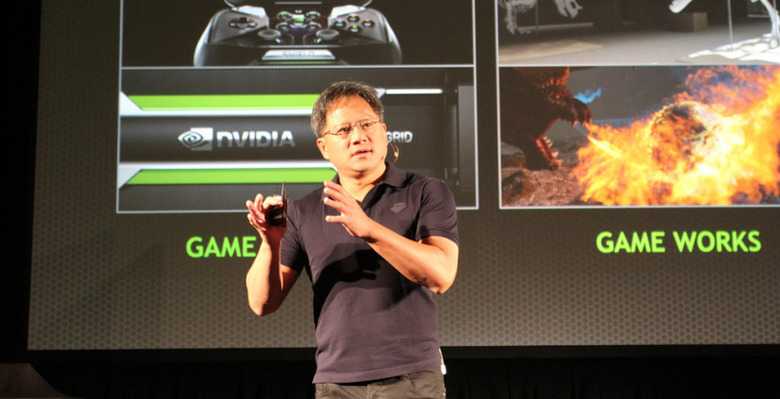 Though the event continues to be called "Editor's Day", this week we had an extended stay with NVIDIA in Montreal, learning about the company's newest in gaming development and hardware innovation. The biggest news of the event was surely the unveiling of G-Sync, a hardware module made by NVIDIA to be planted in the backs of high-end gaming monitors, making their functions slave to GeForce GTX graphics cards, but that wasn't the only big push made by the company for industry. Also making appearances were NVIDIA SHIELD, development initiatives through GameWorks, and some of the biggest names in game development today.
Make no mistake – this NVIDIA event was all about gaming. While NVIDIA does indeed delve into other worlds with their graphics processing abilities, this event stuck to the point, emphasizing the importance of this category of users by starting the conversation with suggestion that the amount of gamers in the world is double that of the population of the United States.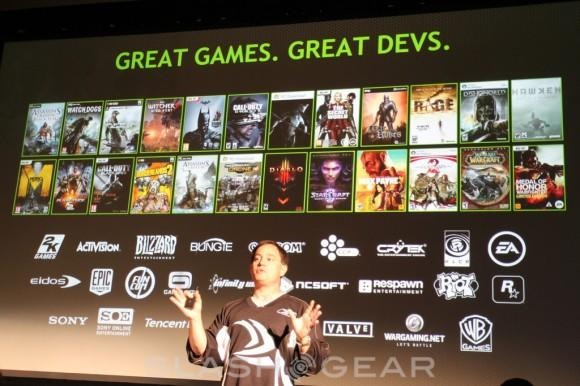 To attach to the gaming universe at the source, NVIDIA is big into working with developers. They re-emphasized this point with the branding of their developer involvement initiatives – all under one roof – as GameWorks. With GameWorks, every kind of developer from Android to Linux to Ubuntu and back again can make use of technologies created by NVIDIA in the many graphics and physics environments involved in creating high-powered games.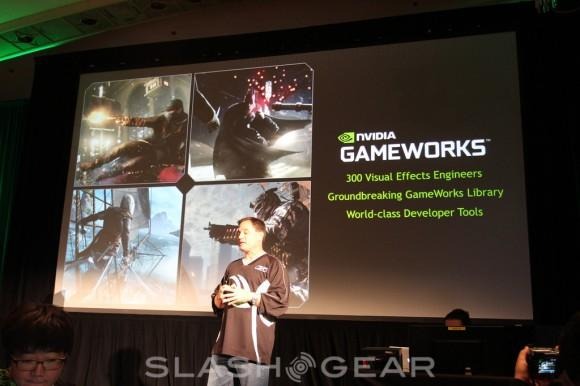 NVIDIA took special care to outline GameWorks' newest systems: Flame Works for fire and smoke, FLEX for water and fabric, and GI Works for shadows. Of course that's an over-simplification of the whole collection – the real in-depth action is much better seen than read.
Above you'll find the likes of Flame Works, complete with a heavy-duty dragon blowing some real volumetric fire at a sphere. Below you're witnessing just a small portion of the full gamut of abilities FLEX will afford developers for the PhysX universe. Imagine the gushing flow of in-game blood after this ...or more water balloons, if that's more your speed.
One of the more impressive demonstrations of realism we've seen from NVIDIA this year has been a bit of software called Faceworks. They brought this fellow called "Digital Ira" out again, tearing him apart at the frames to prove the versatility of the GameWorks system. We saw this fellow appear on Ubuntu then work in real-time on a next-generation NVIDIA Tegra SoC.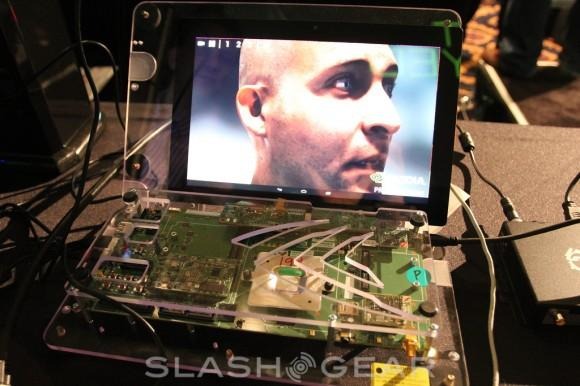 Faceworks working on the Tegra mobile processor code-named Project Logan is of particular significance because this demonstration was originally created to show off the power of the highest-end graphics cards made by NVIDIA in the GeForce GTX Titan. Here we've got it working on a system-on-chip made for tomorrow's Android and Windows mobile devices.
NVIDIA GameWorks was detailed as a system that worked with some of gaming's titans, including (but not limited to) Ubisoft, WB Games, Valve, and Bungie. For Bungie, we got a taste of how optimization of graphics was done with NVIDIA on Destiny, a game for next-generation gaming consoles – on the subject of this game coming to the PC, we've gotten a firm "no comment".
For WB Games, we saw some Batman: Arkham Origins in an early build up on the big screen. Here we were allowed a new glimpse of gameplay and NVIDIA optimizations with PhysX, seeing detail in everything from turbulence in angry weather conditions and live-rendered snow (with actual footprints) to the newest in realistic flow in fabric on Batman's cape.
The folks at Ubisoft came bringing a demonstration of Watch Dogs so early in nature that we weren't allowed to film it. You can get a full-on description of what you'll be rolling with in gameplay when the game is released, on the other hand, as no embargo was put on describing what Watch Dogs gameplay we saw from top to bottom – rest easy knowing it was fantastically immersive and visually deep.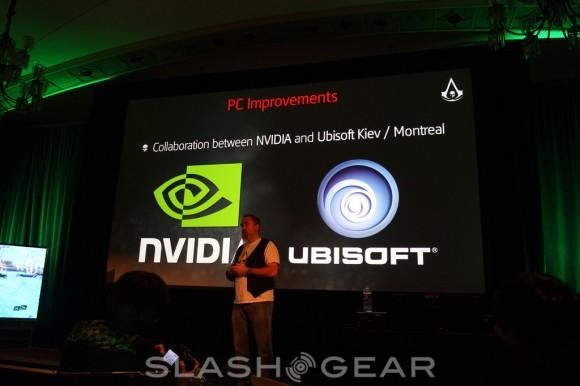 A team at Ubisoft much closer to final game market release let us in on the ins and outs of NVIDIA work with Assassin's Creed 4: Black Flag that we certainly were able to capture, on the other hand, and in 4K resolution no less. Having a go at the game in near-final release mode, we got to play Assassin's Creed 4: Black Flag on an LG 4K television with a larger-than-reasonable screen size to boot.
While we didn't hear a whole lot more than a brief interlude on what NVIDIA was doing to roll around in space with the developers of Star Citizen, we did get the opportunity to play Star Citizen in 4K on that same massive LG television. This game is one of a variety of very early releases being shown by NVIDIA in an effort to show advanced graphics and physics abilities afforded developers by NVIDIA GameWorks – with more on the way, of course.
To make full use of the monitors we use for gaming every day, NVIDIA let it be known that they'd be making a hardware innovation in the monitors themselves. Introducing the G-Sync hardware module, NVIDIA suggested that V-Sync would be a thing of the past. Never again would stutters and tearing in games be a problem for developers or gamers.
On the second of two detail-filled days, the introduction of the hardware and technology behind this new system had NVIDIA CEO Jen-Hsun Huang himself take the stage. The appearance of the boss underscored the importance of not only the technology being presented here, but the entire event's unique significance for the company.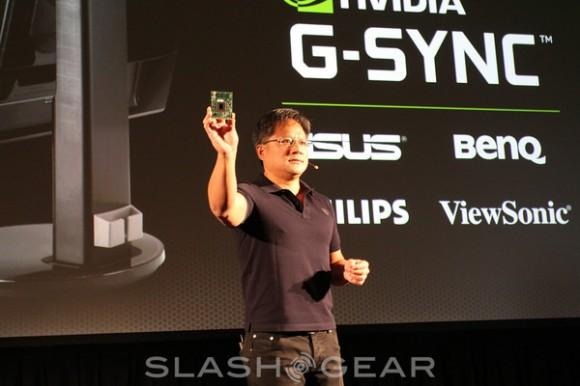 We got the opportunity to see the G-Sync module in action as well. With a demo showing a non-G-Sync monitor of the same build as a G-Sync-toting monitor sitting beside it, NVIDIA demonstrated the powerful improvements in store for users of this next-generation hardware solution. In one G-Sync eyes-on opportunity we saw a pendulum swinging back and forth (complete with screen tearing and jutters on the normal display and a smooth picture for G-Sync.) In another, we saw Tomb Raider showing of a spinning environment with similar results.
Three of the biggest names in the history of gaming and game development were called onstage to speak about G-Sync as well. If the appearance of Jen-Hsun Huang meant this was a big event, the appearance of these three creators, (with one or more of them notoriously opposed to travel for anything but the biggest events), meant NVIDIA wanted this event to resonate without a doubt.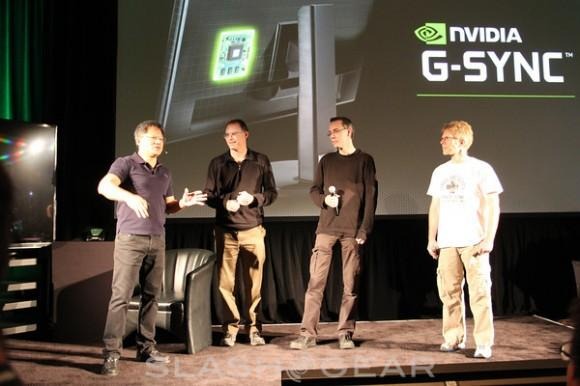 The idea that these three fellows were important to the editors and affiliates present at NVIDIA's event was particularly apparent when they were introduced — a mass of camera-toting fanboys rushing in to capture their heroes up close.
Once onstage, John D Carmack, co-founder of id Software and CTO at Oculus VR (with the Oculus Rift), Tim Sweeney, founder of Epic Games, and Johan Andersson, Technical Director of Frostbite at EA DICE each spoke on how NVIDIA's G-Sync was important in relatively general terms. They went on to do a full Q and A session where they were prodded for info on their opinions of current and future technology. Each of them was asked early on where they thought the gaming industry was headed, answering from their own unique perspective in kind.
Jen-Hsun Huang also re-entered the room with an epic show of power partway through this session, taking a microphone and, saying he had a plane to catch, took the moment to thank the three gaming history-makers for appearing at the event. He went so far as to suggest that "you not only made this event, you made our year", making no mistake about how appreciative he and the rest of NVIDIA were to have them all in the same room together, and to speak on NVIDIA technology, no less.
These three luminaries – as NVIDIA spoke of them – were also asked to comment on Valve's current project SteamOS. They each made clear that, while they had varying opinions of the Steam store when it first arrived on the scene, they'd since been convinced of Valve's ability to "play the long game" and win at it.
In other words, they each ended up agreeing – more or less – on the idea that SteamOS would be a success. They suggested that SteamOS would indeed play a big part in the immediate future of the greater gaming universe and succeed – not necessarily immediately, but at some point down the road (that long road they mentioned Valve being so good at navigating).
NVIDIA had also spoken briefly about SteamOS earlier in the presentation, affirming the fact that GameWorks tools for development for SteamOS would be "available from day one" for the system. Valve showed favor with NVIDIA last month when they unveiled the first collection of demo Steam Machine units for playtesters: each of them working with an NVIDIA GeForce GTX graphics card inside.
Taking the opportunity continue talk on the instant-optimization system known as the GeForce Experience, NVIDIA made official the release of ShadowPlay, a screen-recording function for GeForce GTX-toting machines. This system was introduced to us earlier this year in an early preview mode, and here nearer the end of the 12-month period we'll be seeing ShadowPlay ready to roll out with Twitch game streaming functionality.
Another machine working with Twitch – though not quite with instant streaming to the network quite yet – is NVIDIA SHIELD (have a peek at our NVIDIA SHIELD full review while you're at it). This device continues to be a centerpiece in NVIDIA's efforts to blur the line between mobile and desktop gaming, and here with a newly-branded "GameStream" ability, SHIELD was shown to be a contender in the living room as well.
Though we'd been able to connect a Bluetooth controller to NVIDIA SHIELD to remotely control it (ironically, since it is in itself a controller), and connect it to a television with mini-HDMI, before this week this setup was only working for Android games. With the newest in SHIELD's GameStream collection of streaming abilities, Console Mode was delivered.
With Console Mode, the top of SHIELD is able to be folded down (closed) while the device acts as conduit between two worlds. In a hands-on experience with SHIELD's Console Mode, we found that PC Streaming works here now instead of only on the handheld by itself, allowing the user to stream games from a PC in the same wireless network to SHIELD and straight through HDMI to a large-screen TV, controlled remotely with a Bluetooth gamepad.
NVIDIA also mentioned again the possibility of streaming games over the web in the same manner Netflix streams video, but did not go into heavy detail with their own efforts. They did, once again, mention the possibility of NVIDIA GRID hardware playing a big part in this effort.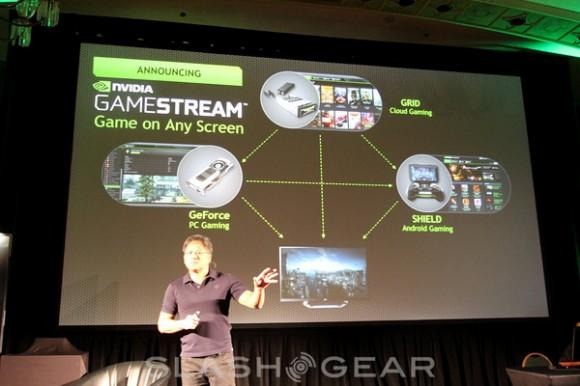 As it is with any official NVIDIA gaming event of note, NVIDIA showed off – but refrained from detailing – a new graphics card as well. This piece of hardware is known as the NVIDIA GeForce GTX 780 ti, and it'll be what NVIDIA describes as a "high-end enthusiast" GPU, ready for release inside November – likely released alongside the drop of the newest Assassin's Creed.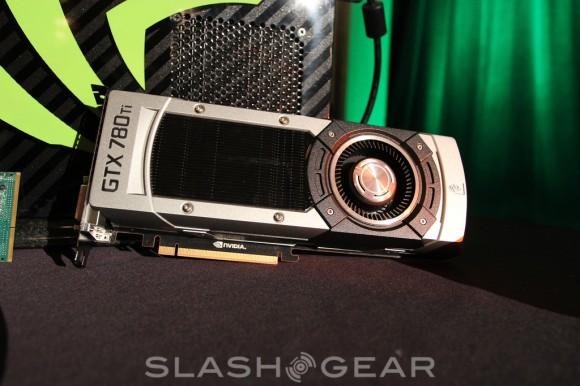 And thus it was that this year's NVIDIA Editor's Day came to a close – it's worth noting that this was the first in a long line of Editor's Day events held by NVIDIA that wasn't under strict NDA, the entirety of it appearing with no restrictions (other than a few rare "do not video record" moments) for instant press coverage. This may very well be a trend with NVIDIA and the rest of the companies that invite journalists to such events, so stay tuned for an interesting rest of the year on into 2014, without a doubt!
You'll be able to continue following along with SlashGear's coverage of NVIDIA through our NVIDIA tag portal well on into the future. Hitting the GeForce tag portal or our extensive Tegra hub will bring you much more specific coverage from a desktop gaming or mobile angle – have at it!