NVIDIA Geforce streaming hits Twitch at 60fps with Shadowplay this month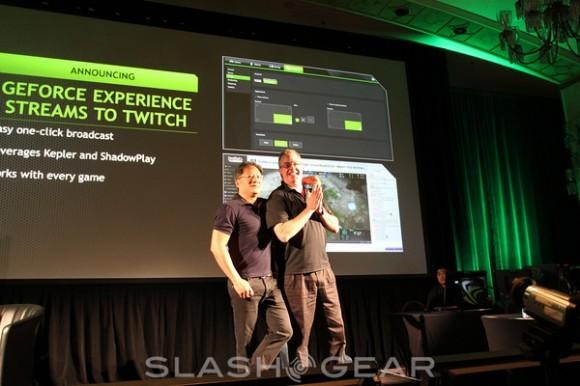 The feature inside NVIDIA GeForce Experience known as Shadowplay has been announced as appearing for the public on the 28th of October – this announcement has been made alongside word that the GeForce Experience will allow direct streaming to Twitch. This push has been made at NVIDIA's Montreal event this week, amid talk of new NVIDIA SHIELD abilities with streaming called GameStream – readying the world for streaming from NVIDIA GRID, while we're at it. Here with integration with Twitch, users will be able to make their entire gaming experience public – instantly – and at 1080p and at 60fps as they do so.
The experience known as ShadowPlay was announced earlier this year – we got a good look at it this May. It's coming to PCs near you by the end of this month. It's effectively the top-notch screen recorder made by NVIDIA for GeForce-powered machines – optimized, that is.
The audience at NVIDIA's gaming event this week also got a live demonstration of what it looks like to stream directly to Twitch. This demonstration – even though the room was full of wireless signals galore – played out with 2 seconds of lag, at average. Nearly right on the point. This was done with the wi-fi provided by the hotel the presentation was made in in Montreal, Canada.
Stick around for more NVIDIA action throughout the day – in SlashGear's NVIDIA tag portal, you'll find information on 4K resolution gaming, NVIDIA optimizations of games from top to bottom, and everything in-between. We're expecting a whole lot more in hands-on demonstrations and up-close views of the games from our next generation, as well!