Jen-Hsun Huang stepped on stage this week at GTC 2013 with words on the GPU, the graphics processing engine that NVIDIA uses to push the envelope in many, many more ways than one. Five features were announced as coming on through the conference: breakthroughs in computer graphics, updates on development, a roadmap update for NVIDIA, an update on remote graphics, and a brand new product announcement. While we're expecting this conference to hold quite a bit of news on computing outside the mobile world with Tegra, there's certainly going to be some amazing Android-based excellence coming on too.
Wave Works: Real-time Ocean Simulation action with TITAN
Beginning this show with TITAN – the GeForce GTX GPU we're about to have hands-on time with in the very near future here on SlashGear – some interactive ocean experimentation was shown. Straight away we saw a ship shown on a large screen, real-time water being pushed up against the craft as heavy waves came up and crashed against it. With 20,000 sensors in-place (virtually), this demonstration showed how with NVIDIA GPU power, we'll be able to test the ability of ships in the future to withstand a beat-down.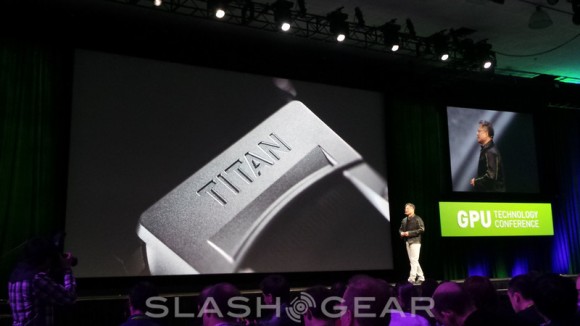 If we didn't know better, we'd have to guess that this demonstration of the ship was real – this demonstration was called Wave Works, and was a Beaufort-Scale Real-Time Ocean rendering. Absolutely gorgeous.
UPDATE: (above video) fast forward till about 8 minutes in to see the action begin – real-time ocean simulation action!
Face Works
Also included was a show of what the company calls Kepler Dawn. This lovely fairy was the work of many, many years of work on the creation of a very real human form. Attempting to escape the so-called "Uncanny Valley", Huang let us know that they were close, but weren't quite there yet with this first show. The "Uncanny Valley" is a place where realistic animations get creepy – incase you didn't know – this happening between an obviously animated creature and a real human being.
A new technology called Face Works was introduced, letting a system that before NVIDIA got to it was 32GB to be pushed into 400 MB. Here we've seen NVIDIA's Titan GPU turning an animated face look real. For those of you that aren't able to see this face move in real-time yet, hear this: it's impossibly realistic. If Star Wars is going to feature Harrison Ford, Carrie Fisher, and Mark Hammil, they'll use Face Works to make it work.
UPDATE – here we go, have your mind blown right this minute!
Stick out the full conference with us here on SlashGear as we cover the entirety of the show, front to back. Have a look at our GTC 2013 tag portal for more information and stay tuned for more amazing rendering beastliness!