NVIDIA SHIELD GameStream hands-on with Console Mode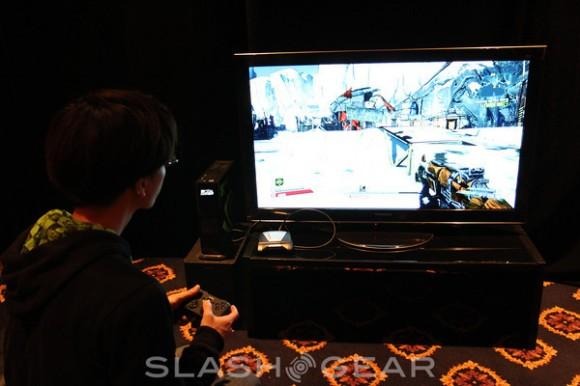 A compelling use-case for NVIDIA's SHIELD device has appeared this week at the company's gaming week in Montreal: Console Mode. While we've seen this sort of ability working before, this version works with the branded functionality GameStream, the all-encompassing term for streaming content to and from SHIELD. With this push, NVIDIA SHIELD will be streaming a PC game from a GeForce GTX-toting PC (with the top closed, even), while a Bluetooth controller is connected to control the machine and the content is run out to a big-screen TV via HDMI.
What's also interesting about this situation is the fact that on-stage the folks at NVIDIA used the same Nyko PlayPad Pro as we saw earlier this year at E3 2013. There we saw the setup nearly the same – using a Bluetooth controller while SHIELD was connected to a TV with HDMI. There it was only Android – not that this is a bad thing, but here this week we're seeing the system work with STEAM, too.
With streaming gaming from the NVIDIA collection of pre-set games for NVIDIA SHIELD PC Streaming – GameStream, that is – as well as everything from Steam, SHIELD once again leaps forward with functionality. The use-case today has the gaming handheld effectively replace the Steam Machine before it's released – the streaming bit, anyway. You'll still need a PC in this case, while the Steam Machine is a desktop computer unto itself.
We've seen the likes of PC Streaming on its own – even in Beta mode, it's been more than ready to roll in the wild. Now we're on the cusp of not only PC streaming, but doing so then out to HDMI. The current build of NVIDIA SHIELD doesn't allow simultaneous PC Streaming and streaming out – this build allows PC streaming TO the device, then out via HDMI. We'll see more on this update soon.
Have a peek at this demo and stay tuned as we continue to investigate and demonstrate the abilities of NVIDIA SHIELD – be sure to have a peek at our original full NVIDIA SHIELD review as well. Then head down the rabbit hole with SlashGear's NVIDIA Tag portal for more information from the source all day long – and to the NVIDIA Tegra Hub for Tegra-specific content too, of course.