NVIDIA SHIELD as mini game console: hands-on with Nyko PlayPad Pro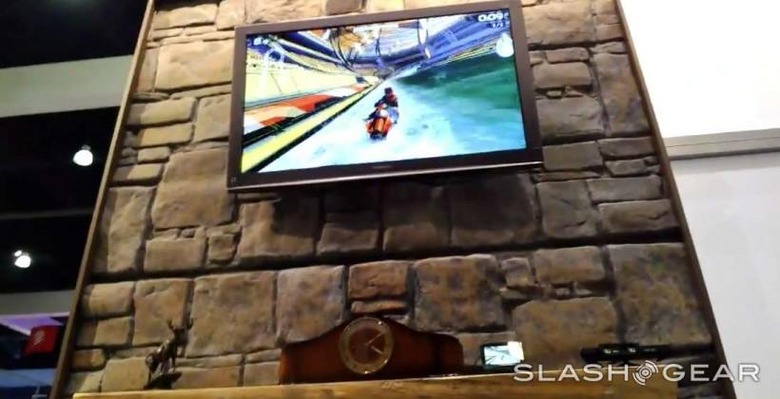 The folks at Nyko have made a surprise one-two hit today with a variety of accessories that are aimed in the public eye directly at such next-generation devices as NVIDIA SHIELD. What we're seeing right here is the functionality described in our first presentation of their new SHIELD dock, but without the dock. Here we've got NVIDIA's SHIELD working as a miniature Android-based game console attached to an HDTV with a Nyko PlayPad Pro as a controller connected with Bluetooth.
What's going on here?
What you're seeing here is the device known as SHIELD, made by NVIDIA, acting the same as a PlayStation or Xbox would, playing games on a television through an HDMI cord. The first thing that makes this setup odd and awesome is the fact that SHIELD is intended to be used as a controller in and of itself.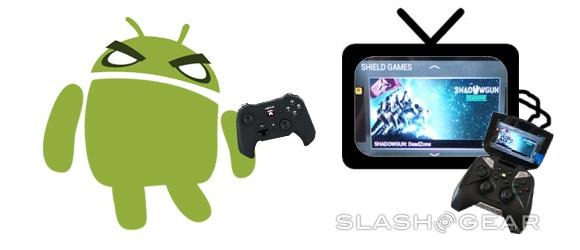 SHIELD has HDMI output, and can be used AS the controller while you're playing these games if you've got a long enough HDMI cord. While it's been discussed before – as far back as SHIELD's inception – here Nyko shows the final production model working like a charm with a bluetooth controller allowing remote play.
Nyko SHIELD Dock
Nyko's SHIELD Dock was the product that sparked talk of this functionality once more earlier today – though we're getting the same results here with a microUSB cord plugged into SHIELD and the wall for power and an HDMI cord plugged into SHIELD and the TV anyway. With Nyko's SHIELD dock, the dock will be the thing plugged in both of these ways, while SHIELD will just have to be dropped in and plugged – just a bit easier.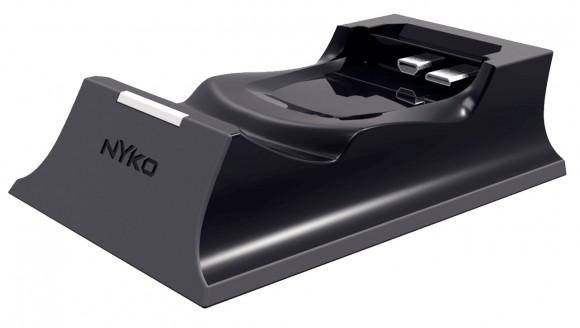 The dock and the rest of the accessories pushed by Nyko today have been suggested to be launching at the same time as NVIDIA SHIELD itself – pricing and in-store information will be coming closer to the drop.
SHIELD extended
NVIDIA's SHIELD device can be used in a variety of ways for your home gaming pleasure. Working with the HDMI cord is one way to get what's on SHIELD's display up to a much larger screen, while with Miracast (and NVIDIA's official high-five of Miracast), SHIELD will one day (soon, we hope) be able to stream games to the big screen.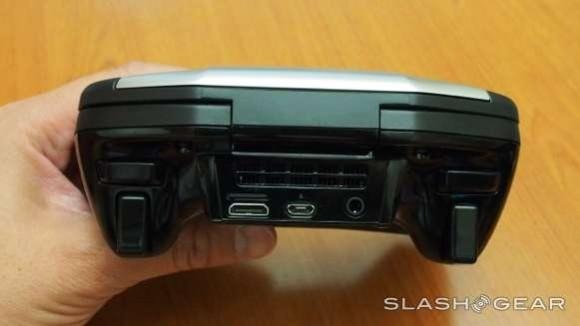 At the moment, SHIELD is able to stream video and photos from the standard Android gallery to a Miracast-friendly TV or TV box (as spoken of earlier this year with the adoption of Miracast standard technology with Android 4.2.
SHIELD is able work as its own unit, playing games on its own built-in screen, of course, and it's got the (BETA) ability to stream games FROM a GeForce GTX-toting gaming PC via Wi-Fi. You'll be able to see some PC streaming action in the video below while you continue to dive down the SHIELD rabbit hole in the Pre-order rally boost post from earlier this year, and keep your eyes on Nyko – they're going big with SHIELD!