Star Citizen hands-on with 4K: rolling in space on pre-release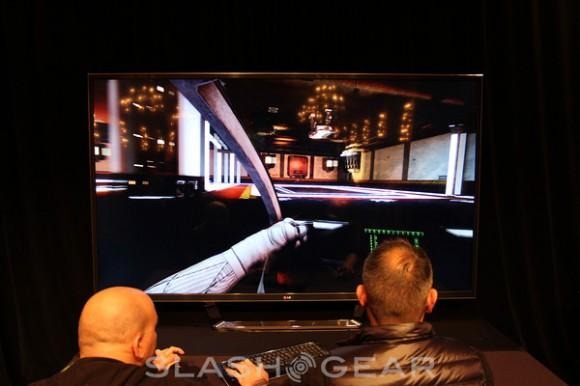 In what's essentially a very, very early build of Star Citizen here at NVIDIA's Montreal 2013 event, we've gotten the opportunity to get up-close and hands-on with the likes of 4K output. This game isn't out on the market yet – it's still rolling in funding cash, in fact, having just reached a $23 million dollar point this week. We've found this game rolling out on a massively powerful dual-card (NVIDIA GeForce GTX Titans, as it were) gaming build from Maingear – the same we saw yesterday kicking out the jams with Assassin's Creed 4: Black Flag. Here we're also seeing some fabulous NVIDIA-pushed next-generation development taking full effect as well.
Yesterday we saw Star Citizen onscreen amongst the headliner developers mentioned by NVIDIA working with the company's newly-rebranded GameWorks program. This game works with NVIDIA optimizations in DX11, Tessellation, PhysX, HBAO+, PhysX, TXAA, and a whole lot of kicks in the nearly-real pants. These kicks come in the form of particles, clothing, depth of field, and one whole heck of a lot of turbulence.
While this isn't (apparently) the first time this game has ever been shown off to the press in 4K, it is the first time it's running (for the press) with a machine that's fully up to the task of making it look fabulous in 4K resolution. The beast of an LG 84LM9600 4K television is paired with a build toting Titan that makes the game run smooth. Not smooth as possible, of course – that distinction belongs to the newly christened king in NVIDIA's G-Sync module – but smooth nonetheless.
Have a peek at the demo and let us know if you'd like to see more of this action in the immediate future. We can't promise it'll be affordable, but we can promise it'll be here soon – the hardware, that is, and the software optimizations – not necessarily the game. Also have a peek at our NVIDIA tag portal for more action from the whole event series this week!