The Best Super Bowl 2023 Car Commercials (And Who You Won't See)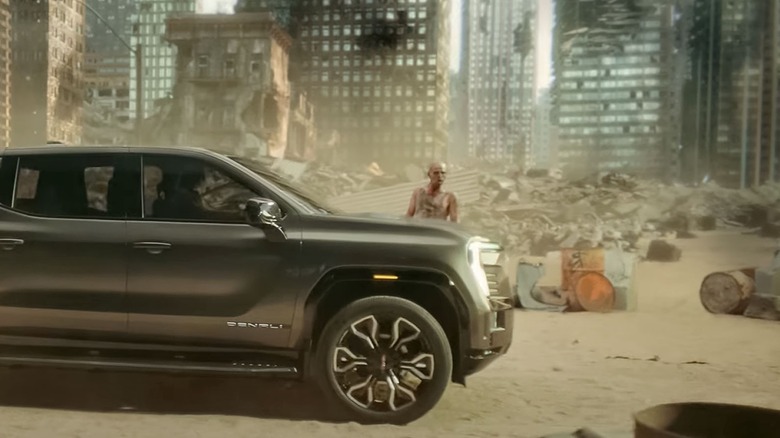 GM
It may be the biggest game in America's football season, but not everyone watches the Super Bowl for the game itself. Some people, perhaps surprisingly, tune in to watch the commercials. But Super Bowl commercials aren't exactly like the ads you rush to skip past while you're waiting for a YouTube video to play, or the badly acted dealership ads you get on local TV — they're in a whole league of their own. 
According to Front Office Sports, just securing a 30-second slot during one of the game's breaks will cost a staggering $7 million, which is $500,000 more than last year and close to a 50% increase on what it cost in 2017. With millions already gone on the spot itself, advertisers tend not to hold back when it comes to their ad's production values. 
Expect Hollywood blockbuster-level budgets, big-name stars, and wackier premises than you usually see in a half-minute TV spot. Car manufacturers are some of the biggest spenders, and last year was no different. Hollywood A-listers Arnold Schwarzenegger and Salma Hayek took on the role of Greek Gods to push the BMW iX. Mike Myers revived Dr. Evil, one of his most iconic characters, to star in an ad for GM. And Jim's Dad from American Pie (who also plays Dan Levy's dad on Schitt's Creek and in real life) showed up in a Nissan. So what can we expect this year? Well, if early reports are any indication, it could be far quieter than usual.
Who's In: GM is teaming with a streaming giant
GM has confirmed it is again running a couple of ads this year, following on from an ad starring comedian Will Ferrel in 2021, and another comedian, Mike Myers, in 2022. Ferrel is back this year, starring in both 15-second spots GM has produced. Both cars are focusing on GM's electric range, and this year's campaign also sees GM partnering up with streaming giant Netflix. 
In the first ad, the former "Saturday Night Live" star is seen driving a GMC Denali through the dusty ruins of a post-apocalyptic city. Ferrell pulls up and asks a bald, emaciated, zombie for directions, only to be met with groans. In the second short clip, Ferrell is in the back of a Chevy Blazer — throwing a profound statement, "In a way, we all wear masks," at the gas-masked driver. The ad is obviously parodying South Korean thriller series Squid Game.
The partnership between GM and Netflix will extend beyond the Super Bowl, with numerous GM electric vehicles set to appear in various Netflix series this year. Vehicles including the Chevrolet Bolt EUV, GMC HUMMER EV Pickup, and Cadillac LYRIQ will crop up in several popular shows like "Love is Blind," "Queer Eye," and "Unstable." GM Global Chief Marketing Officer Deborah Wahl referenced the partnership, speaking about the need to create a "storytelling culture" around EVs and saying: "Netflix is a great partner because of the company's compelling storytelling, commitment to sustainability and track record of sparking conversations that shape cultural trends. We are united in creating a better, more sustainable future for our world as we bring everybody in on EVs."
Who's In: Uber has recruited rap royalty
Not all vehicle-based Super Bowl ads are there to sell cars. Some, like the ad put out by ridesharing service Uber, is designed to temporarily get you into a vehicle you don't actually own. The ad itself is based on the old cliche of centering the ad on the planning of another ad we'll never actually see. 
In it, the team from Uber is seen at a table opposite legendary rapper P. Diddy. Diddy, who was formerly known as Puff Daddy, Sean Combs, remains silent for the majority of the commercial. Instead, a member of his team speaks for him. Initially, this team member says "Diddy don't do jingles," as the team requests a "song" to help advertise the company's new Uber One service. In the end, it turns out Diddy is happy to do a "hit" which you can listen to on February 12 — the same day as the Super Bowl.
So what is it advertising? Uber has a new subscription service that seems to roll Uber Eats in with a 5% discount on services, priority when it comes to assigning rides and deliveries, and other bonuses and offers regular people don't see. You'll also receive $5 in "Uber Cash" if the company's estimate on when your ride will arrive is wrong. The service costs $9.99 per month or $99.99 a year if you opt for the annual subscription.
Who's In: Kia's Binky Dad is on a rescue mission
Kia, whose previous commercials include space-based babies, a robotic Miss USA, and nine years later a robotic dog, is back with its fourteenth Super Bowl commercial this year. The automaker had plenty to choose from this year, and most of it fits the family theme for its "Binky Dad" commercial in 2023. One option was the Sportage Hybrid, which offers great fuel economy and plenty of room inside for a growing brood and their lost comfort items. Then you have the Kia Niro — which comes in full electric and Plug-In hybrid variants — alongside a staggeringly economical standard hybrid version. 
However it's the 2023 Telluride X Pro SUV that's the focus of Kia's commercial this time. Paired with "Gonna Fly Now" – probably better known as the theme from "Rocky" — the 60 second spot sees one dad and his SUV go hunting for his kid's missing pacifier. 
Unusually, Kia isn't just expecting Super Bowl viewers to watch the ad on their TV. Instead the automaker has come up with three alternate endings to this year's spot, which will be released on TikTok. 
Who's In: Stellantis has two ads for 2023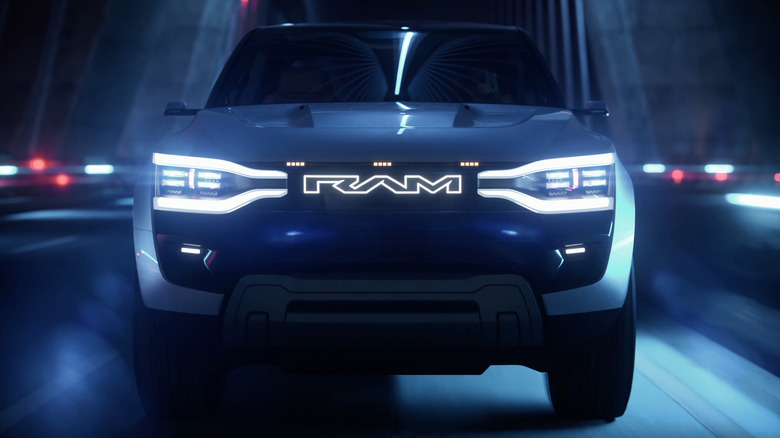 Ram
Stellantis is going big at the Super Bowl 2023, with not one but two different commercials set to feature at this year's show. The first will focus on Jeep, a 60-second spot that we're told to expect at the two-minute break of the second quarter. Later on in the game, there'll be a Ram commercial — also lasting a minute — at the beginning of the fourth quarter.
Exactly what those two ads will cover, Stellantis is playing coy on. It's not unreasonable to guess that electrification could be on the agenda, however. Jeep's Wrangler Willys 4xe will take an iconic nameplate off-roading in near-silence, thanks to its plug-in hybrid drivetrain, while Ram has its fully-electric pickup on the roadmap. That's not due until 2024, but it hasn't stopped the Ram 1500 Revolution BEV Concept from previewing just what we might expect, and a flashy Super Bowl commercial would be an obvious showcase for an equally flashy truck. 
Who's Out: Toyota says it's all about the timing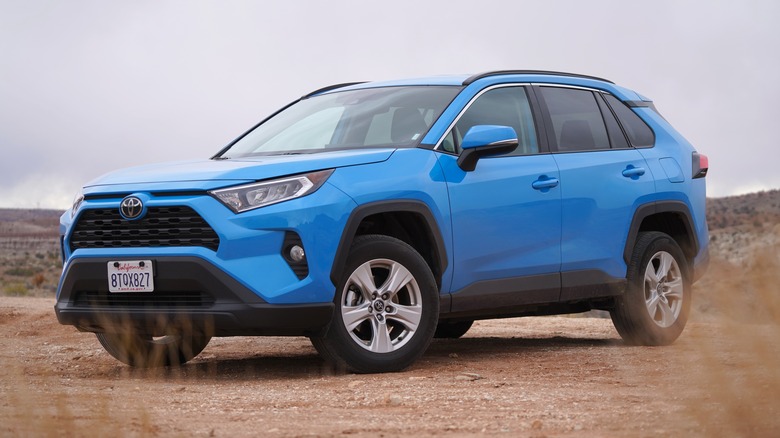 Gabe Shakour/Shutterstock
Japanese giant Toyota is opting not to splash out on a Super Bowl commercial this year. The Prius and RAV4 manufacturer has also given a clear reason for its absence: the timing just isn't right. In a statement, a Toyota representative said: "Toyota will not advertise in the 2023 Big Game. Every year we evaluate this advertising opportunity to support upcoming product launches or key Toyota moments. This year's timing did not align for our brand."
The statement makes sense as Toyota doesn't really have too many exciting things to shout about at this moment in time. There's the 2023 GR Corolla, but that's a niche vehicle with a somewhat limited run. You don't spend tens of millions of dollars advertising something only a certain number of people can buy. Especially when the people interested in it are already likely to know about it. 
The rebirth of the Toyota Crown in the U.S. market may have been worth a push, but that was announced over six months ago so the time has passed. This is the first time the Japanese company has opted not to run a Super Bowl commercial since 2017 (via Auto News), so it will likely be back next year when it has more material to work with.
Who's Out: Carmax, Carvana, and Vroom have all opted out
Vroom's 2022 Super Bowl advertisement is shown above. Used car sales companies Carmax, Carvana, and Vroom have all confirmed they won't be bothering with Super Bowl commercials this year. While the companies haven't given an exact reason, it's likely related to the tremendous downturn the used car market has seen in recent months. 
Global events like the coronavirus pandemic and semiconductor shortage resulted in a drop in vehicle manufacturing in recent years. As a result, the used car market experienced a significant boom — with some used vehicles selling for more than their new equivalent's MSRP.
However, the market has since cooled considerably — and dealers are feeling the pinch as a result. Carvana in particular is a good example. It's a company so dedicated to extravagant gimmicks that it created a functioning multi-story used car vending machine. Buyers would be given a massive coin they could put into the machine, and their new (used) car would be taken from its glass box high in the sky and brought to them as they watched. However, the good times seem to be over. 
The company is posting massive losses and is in significant debt, and instead of predicting a comeback, Analysts are debating how long the company can actually survive. Things aren't much better for other large companies in the used car business, like Carmax and Vroom, so it's easy to see why they might be swerving an expensive Super Bowl ad this year.
Who's Out: Nissan confirm a Super Bowl ad isn't incoming
Above you'll see Nissan's Super Bowl ad from the year 2022. 
Nissan has confirmed to SlashGear that it won't have an ad playing at this year's Super Bowl. Beyond that confirmation, no official statement has been issued. As with other manufacturers in a similar position, it may simply be a case of Nissan not having a vehicle or feature close to release that warrants spending what can easily amount to eight figures on a 30-second ad spot. Or they might just believe they did enough last year.
The Japanese carmaker put a lot into last year's ad. Alongside a pretty basic one for the 2023 Arya was the minute-long masterpiece the Z Coupe got. It had a more notable cast than the majority of last year's movie releases, with Eugene Levy, Catherine O'Hara, Brie Larson, Danai Gurira, and David Bautista all cramming into a minute-long spot. 
It started with Levy playing the calm, fatherly, and slightly dry character he's usually cast as, but ended with him sporting an uncharacteristically long haircut and ramping off a car that looked like it had been towed from the set of Mad Max: Fury Road. There were also a couple of car chases, some explosions, a fair bit of CGI, and a movie premiere. In short, it was what you expect from a Super Bowl ad. Basically, a cliched '80s action movie boiled down and condensed into a few seconds.
Who's Out: BMW isn't bothering this year
Above you'll see BMW's Super Bowl advertisement from the year 2022.
BMW has confirmed to SlashGear that it has no intention of running a Super Bowl ad this year. The company hasn't made a statement on the matter beyond that, but it's easy enough to guess why they haven't bothered. Like many similar companies, BMW sees its future as all-electric. So the lack of a 2023 Super Bowl ad could be related to the fact the company is between EV generations after the announcement of the i4 eDrive35 last year. As things stand, BMW is unlikely to make a song or dance about anything until its Neue Klasse platform is ready, and that's not going to be the case until 2025. BMW's Neue Klasse first made its debut in the 1960s, but it's being relaunched as the foundation on which the company intends to build its electric future. There is also a suggestion that some of the models could be hydrogen-powered, which would be something interesting and unique enough to make a fuss about.
The Bavarian manufacturer is no stranger to the Super Bowl's ad breaks — and its previous entries include last year's ad, which featured Hollywood stars Arnold Schwarzenegger and Salma Hayek. It also reflected the company's focus on electric vehicles, as it featured the all-electric BMW iX M60.
Who's Out: Polestar isn't airing an ad this time
Above you'll see the advertisement released by Polestar for the 2022 Super Bowl.
In a statement to SlashGear, a Polestar spokesperson confirmed that "Polestar will not be airing a commercial during the Superbowl this year." Last year saw the Swedish/Chinese electric vehicle manufacturer debut an ad for the creatively titled Polestar 2. The Polestar 3 isn't due until next year, so that may be when we see the company take up another Super Bowl ad spot.
2022's Super Bowl ad for the Polestar 2 was pretty bland — aside from a subtle dig at Elon Musk. The Tesla owner's space-based ambitions were referenced a few words into the bullet point list that made up Polestar's ad. To be honest, the whole thing needed more car chases, helicopters, and recognizable faces. If you haven't got all of that, you may as well do what Polestar has decided to do this time around and not bother.