2023 Kia Sportage Hybrid Review: Going The Distance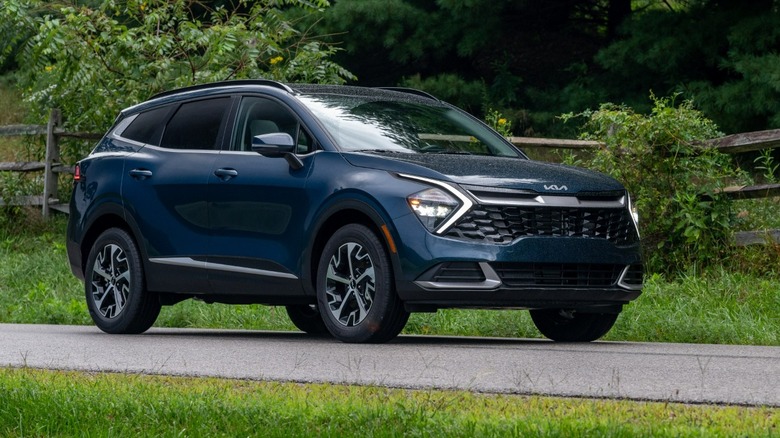 Chris Tonn/SlashGear
As much as enthusiasts decry the crossoverization of American highways, there's little likelihood of the lifted wagons disappearing from our roads any time soon. There's no disputing, for example, the relative ease in entry and egress — especially when wrangling infants and small children. As crossovers are generally larger and heavier than the sedans they've replaced, however, fuel economy tends to suffer. Where a midsized sedan might average well over 30 mpg, a conventional cute-ute might struggle to manage 25 mpg. That adds up to a noticeable difference each time you stop at the pump.
Mercifully, the wonder that is hybrid technology is trickling up from subcompacts into larger, more mainstream vehicles. While eye-popping EPA figures may not be appearing on the window sticker of these bigger cars, a significant improvement in economy can make things just that bit better. One of the latest salvos in the hybrid crossover war is this 2023 Kia Sportage Hybrid, capable of (when properly equipped) an estimated 43mpg. For basically any car, that's impressive. For a crossover with plenty of comfort, though, it's a game changer.
Fuel Economy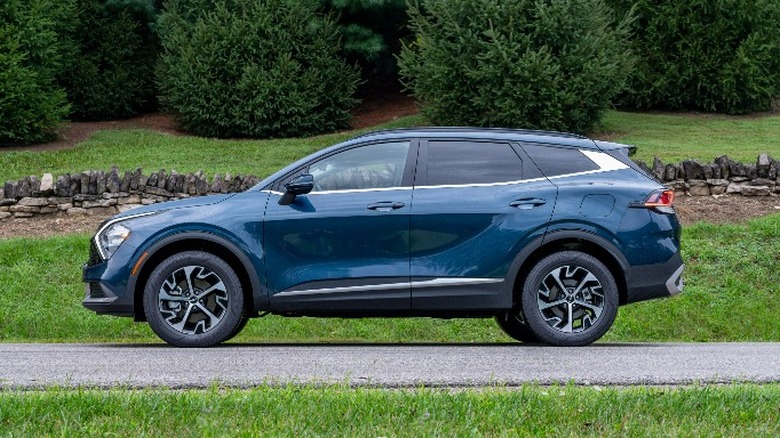 Chris Tonn/SlashGear
Nota bene my caveat above: "when properly equipped." Adding all-wheel drive to the Sportage Hybrid dings the EPA-rated fuel economy down to 38mpg. Still a solid figure, but not quite the mythical over-forty number that sets hearts a-flutter. Still, nothing short of full-throttle racing (of which I did precisely zero since this is, you know, a family crossover) seemed to affect the consumption. That 38mpg figure seems accurate to me, and should lead to roughly 500 miles of range should you choose to stretch both that 13.7-gallon fuel tank and your bladder.
It's worth noting that this isn't the only electrified Sportage that Kia has to offer. As well as this mild-hybrid, there's also the 2023 Sportage Plug-In Hybrid, which has a larger battery and can drive — in theory — up to 32 miles in an electric-only mode. It starts at $38,490 (plus destination), compared to the $27,290 (plus destination) starting price of this Sportage Hybrid. 
Interior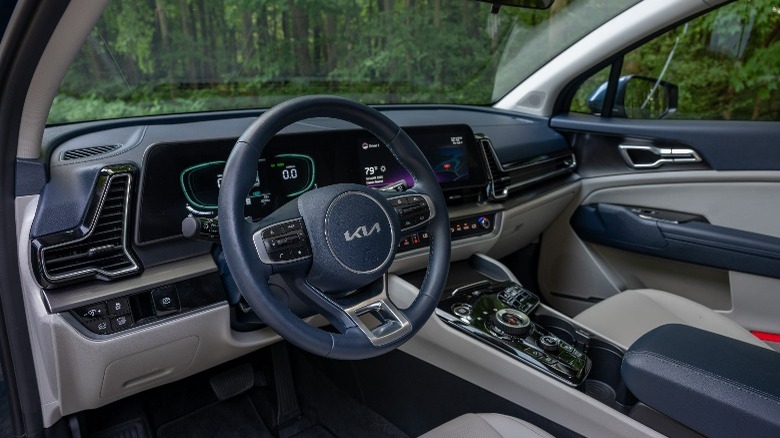 Chris Tonn/SlashGear
Saying that, the difference narrows as you start to match the well-equipped PHEV's features sheet. My test vehicle is a 2023 Sportage Hybrid EX AWD, coming in at $33,860 after destination fees. The EX trim adds a number of features to the standard LX package, most notably 18" alloy wheels, heated outside mirrors, blind-spot assist, rear cross-traffic assist, a 12.3" touchscreen with navigation, a heated steering wheel, power driver's seat, and a wireless phone charging pad.
Beyond these, my tester was fitted with the EX Premium package. For $1,500, it adds a panoramic sunroof, LED interior lighting, a power liftgate, and illuminated vanity mirrors.
Should the Big Gulp not summon you from the seat too quickly, the interior of the Sportage Hybrid is a lovely place to spend some time. Leg, head, and shoulder room front and rear are stellar; Kia proudly notes that the 41.3 inches of rear legroom is more commodious than vehicles in the next class size up from a number of competitors. Cargo capacity, even with the rear seats occupied, is similarly excellent with 39.5 cubic feet of space.
Classy Style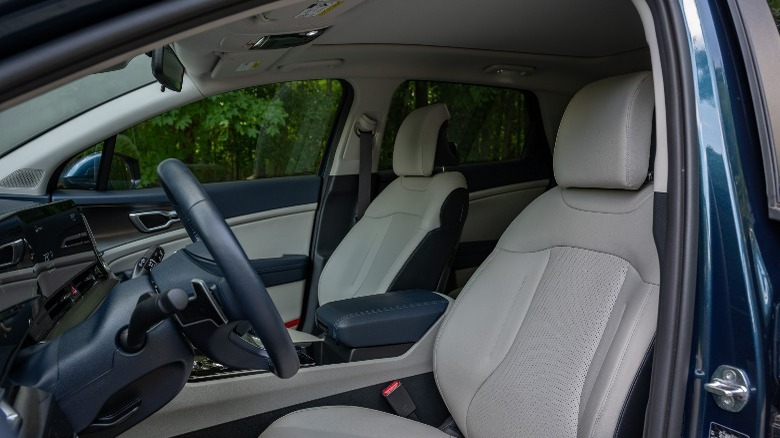 Chris Tonn/SlashGear
The interior is even handsome enough, with off-while leather-like material lining the seats and lower half of the interior, contrasting with a handsome deep blue top half reminding me (in a good way) of the late and lamented Mercury Villager Nautica edition minivan. 
Kia refers to the seating material as animal-free leather: an odd way of saying vinyl, if you ask me, but somewhat less appalling to the linguist deep within than the affectation known as "vegan" leather. I suppose if we can call the vegetable-based burger (which this definitely-not-a-vegan honestly kinda likes) an Impossible Burger, perhaps we should call this Improbable Leather? It feels good to the touch, at least, and it probably will wear a bit better than a traditional hide over the years. The seats are pleasant for a long drive, though I'd appreciate a bit more lateral support in the hips.
Knobs and Buttons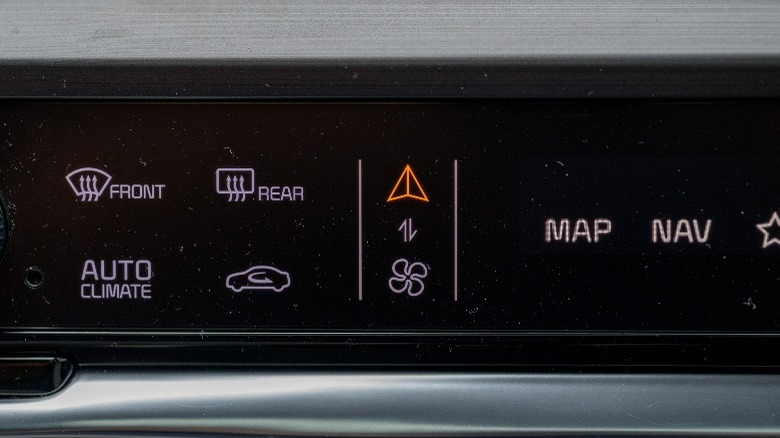 Chris Tonn/SlashGear
I was all set to launch yet another diatribe against the epidemic of volume knob deletion creeping across the auto industry. Happily, I stumbled upon a pictogram on the control panel with which I was unfamiliar. This touch-sensitive button toggles the controls between those for managing climate and those for audio and navigation. 
Ignore, for a moment, the dust that inevitably appears on any glossy surface, and note these nifty dual-purpose knobs. When toggled to HVAC, the knobs will allow for adjustment of the dual-zone climate control.
A swift press flips them over to audio/nav, meanwhile, allowing for easy volume and tuning control using the same pair of knobs. While I'd prefer dedicated controls that don't rely on a button that has no tactile indication, this is better than any number of knob deletions that have been plaguing new cars for a few years now.
Cruisin'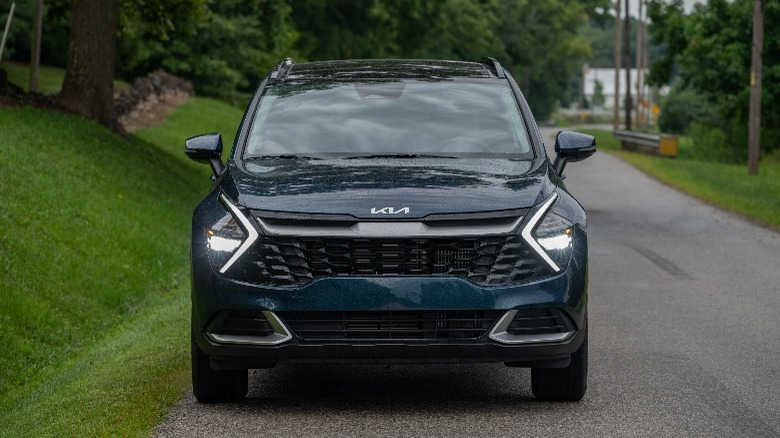 Chris Tonn/SlashGear
One weird thing I noticed, while driving on the interstate, was a strange pulsing sensation from the drivetrain when cruise control was activated in the 70mph range. It feels as if the powertrain can't decide whether to be using electric or gasoline propulsion, so it toggles back and forth. A workable solution for some is to consider setting the cruise at a higher speed, but I live in Ohio, a place where famed journalist Brock Yates suggested might have the death penalty for speeding. The pulsing did seem to settle down around 75mph, but I felt it imprudent to risk orphaning my children by testing this higher speed for long.
At first, I thought the adaptive cruise control might be encountering and accounting for traffic; however, my tester wasn't equipped with what Kia calls Highway Driving Assist, a mixture of adaptive cruise and lane-keeping. It takes a step up to the SX Prestige trim ($36,190 plus destination fees) to add adaptive cruise control to the Sportage Hybrid. 
It's a big step from the $27,290 LX trim to add that single feature that I so appreciate and, at $32,645 plus destination as tested on this EX AWD trim, I'd have hoped HDA would have been fitted as standard. Alas, we are long past the days of one-off options — imagine fitting adaptive cruise on a car with wind-up windows, an AM-only radio, and a three-speed column-shifted manual — so we have to play with the options packages we are offered.
Comfortably unremarkable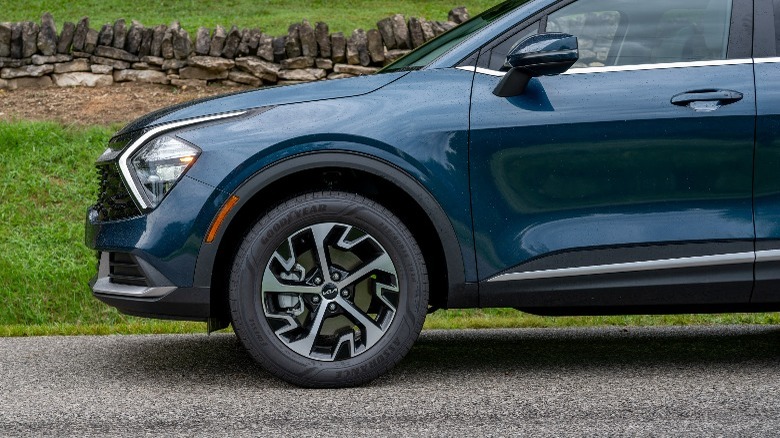 Chris Tonn/SlashGear
Time behind the wheel of the Kia Sportage hybrid is quite unremarkable. It's comfortable, quiet, and powerful enough for most any driving situation. Surface irregularities are dispatched with a minimum of fuss, though a bit of tire noise came seeping through the cabin. It's as good as anything at this price point, however: it's hard to find much improvement in interior isolation without stepping into a premium vehicle like the stablemate Genesis.
The styling of the Sportage Hybrid is generally handsome, though a few features stand out and might be a little polarizing. The corporate Tiger Nose grille floats above a lower grille of textured black plastic with geometric shapes radiating out from the center. Flanking that feature is a pair of boomerang-shaped LED strips for the daytime running lamps. It's jarring at first glance, but within a few days of encountering the new fascia, it blends away into background noise. The front end of the Sportage will never be on display as an example of fine art at some tony museum, but neither will it cause children to run shrieking into the bosoms of their mothers. It's just there, and that's probably all one can ask from a midsized crossover.
Out back, the only truly distinctive feature is a touch of concavity to the panel of the hatch, leading into a truncated duckbill spoiler of sorts that delineates the upper and lower halves. Here, I feel Kia designers have done a nice job creating a bit of corporate design language unity with the more dramatically styled EV6: the cross-body taillamp feature on Kia's flagship EV is subtly echoed here.
2022 Kia Sportage Hybrid Verdict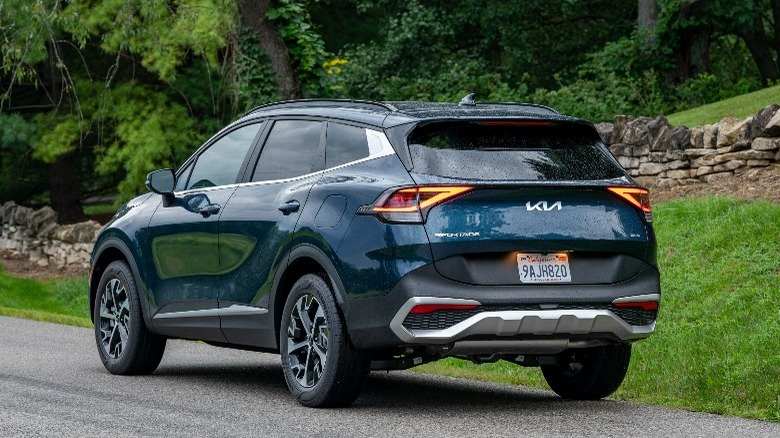 Chris Tonn/SlashGear
Were I in the market, I'd be seriously considering looking for the entry-level LX trim package. Roughly $28k delivered gives a front-drive crossover with plenty of room and 43 mpg combined. I'm cheap, and I don't like to buy fuel; I'd gladly eschew a number of nice-to-have features such as a heated steering wheel and wireless charging. In my area, AWD isn't critical and I'd manage navigation with my smartphone and Android Auto.
Sadly for the Sportage Hybrid, the biggest predator is arguably found in the same showroom. The Sportage Plug-In Hybrid has its 34 miles of all-electric range to boast about — assuming you have the facilities to charge up its battery – and the cost of that zero-emissions driving is around $5,000 more than this conventional hybrid for a similarly-equipped vehicle (and gets you all-wheel drive as standard). Either way, though, it's hard to go wrong with the 2023 Kia Sportage Hybrid, a handsome package with comfort and economy to spare.