2023 Kia Niro First Drive: Three Electric Flavors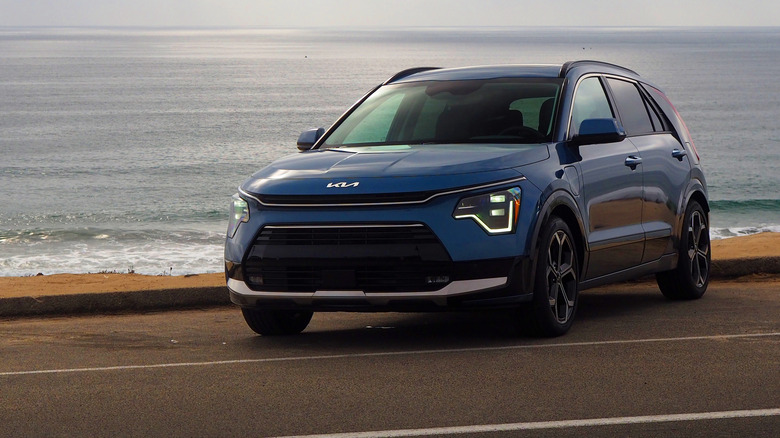 Chris Davies/SlashGear
With the focus on fully-electric vehicles, you'd be forgiven for thinking the 2023 Kia Niro is a little indecisive with its trio of drivetrain options. Then again, while automakers may be looking ahead to entirely zero-emission sales in under a decade, that's not to say today's drivers are ready — or indeed able — to cut out gasoline entirely yet. On that front, offering the new Niro as a hybrid, a plug-in hybrid, and a full-electric makes a whole lot of sense.
Kia, clearly, is no stranger to EVs. The old Niro was electrified, the new EV6 has been winning over skeptics left, right, and center, and the Soul EV arguably defined the small, cheap BEV category back in 2014. Where the hamsters were happy with a hatchback, though, today's drivers have different priorities, regardless of whether they're burning through gas or electrons. Question is, has the 2023 Niro done enough to keep pace with those changes?
Designed to stand out - priced not to break the bank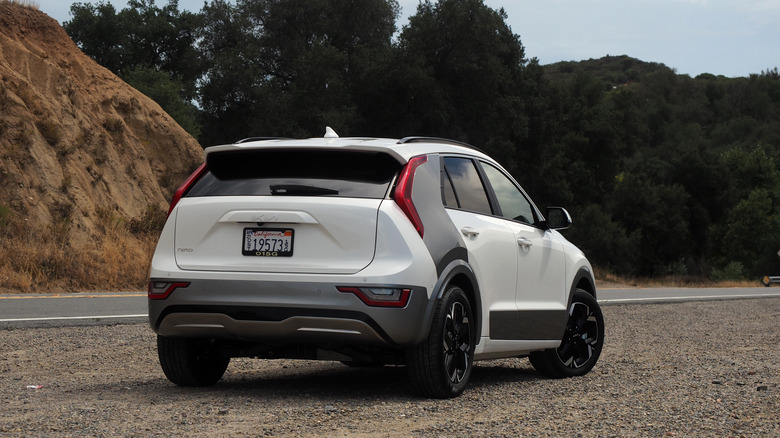 Chris Davies/SlashGear
Kia's aesthetics this time around seem more divisive than I expected. It's the wide D-pillar which appears to be causing the most controversy, something the automaker clearly decided to lean into by giving it a contrast finish. I happen to think it works well as a silver highlight to an otherwise white car, but the darker version does leave the Niro looking a little stretched behind the rear doors.
According to Kia, this is a compact crossover, though I feel like that's more fashionable branding than anything else. Certainly, the Niro feels like — and boasts the flexibility of — a slightly raised hatchback, with 22.8 cu-ft of cargo space behind the rear seats, and 63.7 cu-ft with them dropped. That's decent for the segment.
The 2023 Niro HEV LX starts at $26,490 (plus $1,295 destination), while the EX is $29,090, and the SX is $32,490. The 2023 Niro PHEV EX starts at $33,740, while the SX Touring is $39,490, both plus destination. Pricing of the fully-electric model is still to be announced.
An unexpectedly well-equipped cabin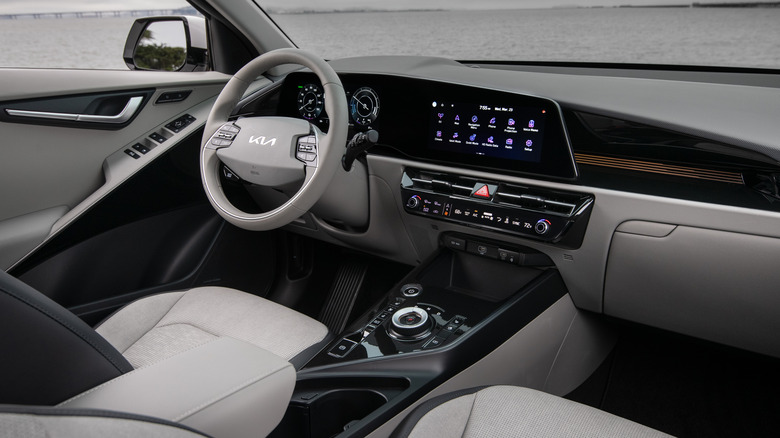 Kia
Inside, Kia's cabin takes a significant leap forward compared to the old Niro. It's spacious and neatly designed, borrowing styling elements from Kia's more expensive models even if some of the materials are a little cheaper. I'm not a fan of gloss black plastic, which shows fingerprints and smudges, but the swooping dash binnacle and chunky-but-not-oversized steering wheel feel more premium than the price might suggest.
All but the base LX trim — itself only offered on the Niro HEV — have a 10.25-inch center touchscreen. Clever use of blacked-out glass leave the car looking like it has a second such panel for the driver's instrumentation; in fact, it's just a cunningly dressed-up 4.3-inch screen, which Kia uses particularly well. Android Auto and Apple CarPlay are standard, and Kia's infotainment interface is sober in its UI but generally easy to navigate. There's no shortage of USB ports, either, including some neatly integrated into the sides of the front seats.
Less welcome is Kia's switchable HVAC/infotainment control panel. Depending on which you toggle between, a different set of touch-sensitive buttons show up across the center console. Frankly, it feels like there was already space to just have both, though on the upside all trims get dual-zone climate control.
The 2023 Niro HEV is the affordable mild-hybrid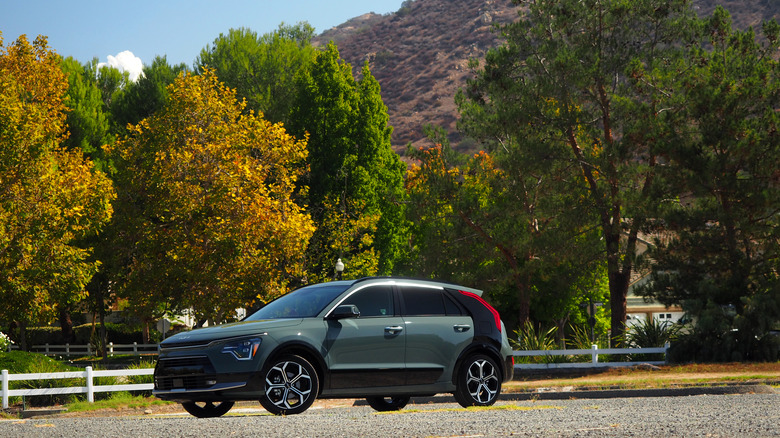 Chris Davies/SlashGear
Almost certain to be most affordable of the three variants — Kia has not confirmed pricing for the all-electric Niro at time of publication, but BEVs are typically more expensive given the current cost of the battery packs — the mild-hybrid Niro HEV is actually unexpectedly charming. It combines a 1.6-liter gas engine with an electric motor and a compact battery pack, designed to be recharged using excess power and during braking. As with all mild-hybrids, there's no way to externally charge the battery, such as by plugging it into a home garage charger.
Kia says you get 139 horsepower and 195 lb-ft of torque in total, but the headline figure is the fuel economy: a whopping 53 mpg on the combined cycle. That's considerably more than anything else in its class, the automaker points out, though given it insists the 2023 Niro is a compact crossover that means rivals like Toyota's RAV4 hybrid and Honda's CR-V hybrid.
On the road, for the most part the HEV drivetrain is refined and unobtrusive. Nobody is going to mistake this front-wheel drive Niro as a sporty model, but acceleration is perfectly adequate with a squirt of power as you pick up through urban traffic. The 6-speed dual-clutch gearbox generally does a good impression of a more typical, slushy auto box; only the odd, noisy objection as it kicks down when you hit the gas could be described as objectionable.
The 2023 Niro EV is the fully-electric version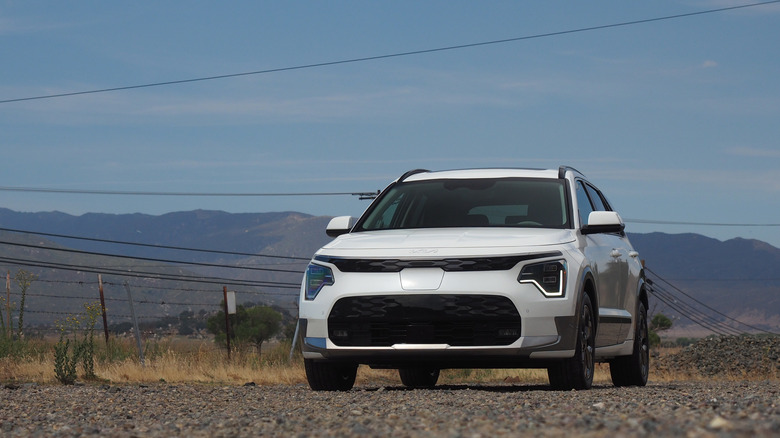 Chris Davies/SlashGear
The 2023 Niro EV, meanwhile, takes a different tack. Out goes the gas engine, and in its place is a single electric motor delivering 201 horsepower and 188 lb-ft of torque to the front wheels. A 64.8 kWh battery promises 253 miles of driving range, making the Niro EV pretty much directly comparable with the similarly-FWD Chevrolet Bolt EUV (which is rated for 247 miles). Unlike the Chevy, though, Kia will let you add an optional heat pump to the Niro EV, which promises to improve range in cold conditions. It'll support up to 85 kW DC fast charging.
Pricing hasn't been confirmed yet, but it'll undoubtedly come in at under Kia's EV6 which currently starts at $41,400. Just how much remains to be seen, and Kia will need to get the number right, too: not least because the Niro EV won't be eligible for the US federal tax incentive for electric vehicles.
The Niro EV is spritely and flexible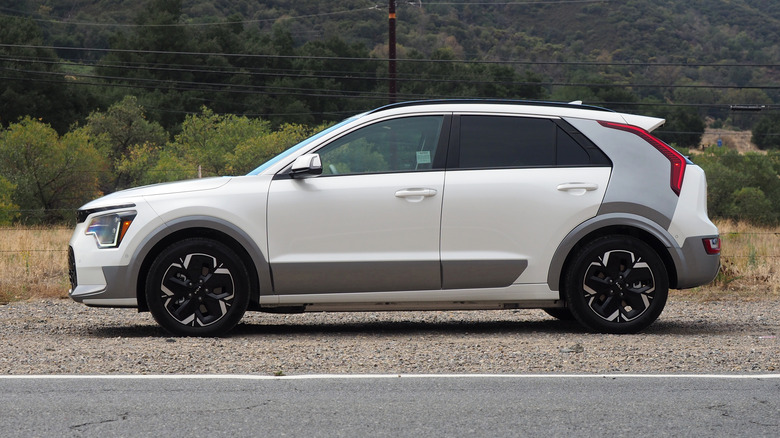 Chris Davies/SlashGear
That's the downside; the upside is that this is a fun and playful little EV. Torque may be down compared to the mild-hybrid, but given it all arrives from the get-go the Niro EV feels more urgent and eager. It carries its weight well, too, though the combination of FWD and height means handling through corners isn't as rewarding as an AWD EV might be. All the same, for the target audience here, this is absolutely spot-on, and it's my favorite of the Niro trio.
Kia's extras sweeten the deal. Unlike the Nissan Ariya, the Nira EV manages to find room for a frunk, or front trunk; it's not exactly huge, but it's enough to store a portable charging cable. An adapter, meanwhile, adds a 110V outlet to the Niro EV"s charge port in the front grille, allowing you to power multiple devices (for a killer tailgating party, a campsite with creature comforts, or just keeping key appliances going during an outage) from the Kia's battery. Sadly there's no full vehicle-to-home bidirectional power support, however.
The 2023 Niro PHEV promises the best of both worlds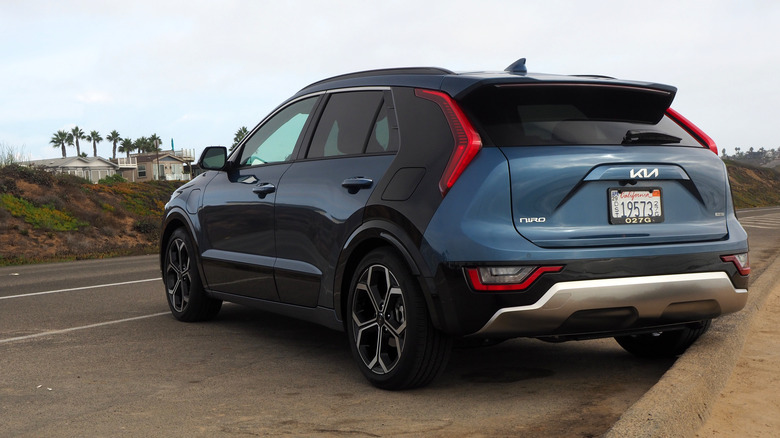 Chris Davies/SlashGear
On paper, the 2023 Niro PHEV should offer the best of both worlds. Combining a 1.6-liter gas engine with an electric motor, plus a 11.1 kWh battery that Kia says should do 33 miles on a charge. That's not only a useful 7 miles more than the old Niro PHEV, but it also nudges the new plug-in hybrid into qualifying for the California carpool lane.
In practice, though, the recipe doesn't quite gel as adroitly as the other two drivetrains. The Niro PHEV feels heavier and less nimble than the mild-hybrid, and lacks the instant punch of the fully-electric version. It has the same, 6-speed dual clutch transmission as the Niro HEV, but on a — admittedly relatively short — test drive it seemed to end up interrupting noisily more often, perhaps because it kicked down more frequently.
It's not bad — honestly, none of the new Niro are — but it's definitely my least favorite of the three. Kia will offer a Niro PHEV Touring trim for the first time, as it does with the HEV, complete with 18-inch wheels, gloss black cladding and extra exterior trim, a sunroof, and other extras. The PHEV still manages to keep its 33 mile electric rating, though, despite the changes.
Active safety tech is generous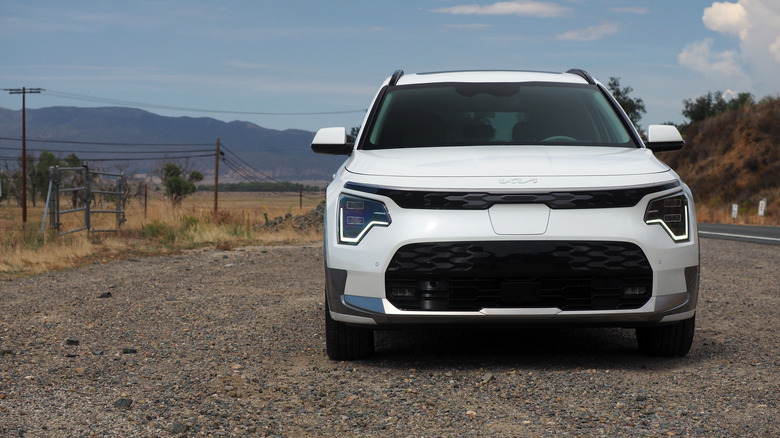 Chris Davies/SlashGear
Though the drivetrains may be different, some features are common between the Niro versions. Forward collision avoidance, blind spot warnings and avoidance, lane-keep assist, lane departure warnings, lane following assist, and rear cross traffic collision avoidance are all standard, and that's impressive on a sub-$30k car. EX trim and above get smart cruise control and reverse parking sensors.
Highway Driving Assist is optional, and I'm still a fan of Kia's system. It's hands-on adaptive cruise and lane-keeping, not hands-off, but its contributions feel natural and intuitive. I wish I could say the same for the over-intrusive lane-keeping assistance, however, which not only tries to get involved too frequently, but is also difficult to turn off as it requires digging into the settings menus. 
Options this time around include a power liftgate — which wasn't available on the last-gen Niro — forward parking assistance, and vegan leather seats on certain trims. EX trim and above get heated front seats; SX trim and above throws in front seat ventilation, too. You can also have a head-up display this time.
2023 Kia Niro verdict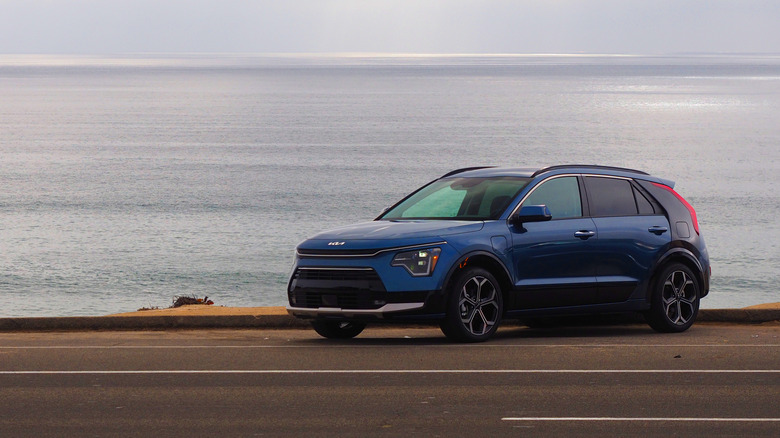 Chris Davies/SlashGear
It's no stretch to say that Kia — and, more broadly, its siblings Hyundai and Genesis — is on a roll right now. Aggressive pricing, ambitious tech, and eye-catching design conspire to leave most rivals looking stale, expensive, or both. What's impressive is how well that approach has translated to electrified vehicles, too.
No, the 2023 Niro isn't going to set any speed records, nor wow passengers with wildly excessive acceleration. Instead each of the three drivetrain options offer a cohesive and undeniably appealing riff on how electrification can improve the driving experience, regardless of your own current comfort levels and readiness.
Of the three, the mild-hybrid Niro is probably the least melodramatic but could have the most impact: Kia, indeed, expects it to account for two-thirds of model sales. Given fluctuating gas prices, the ability to drive 588 miles on a single tank not only makes financial sense, but sounds pretty darn convenient, too. Just how compelling the 2023 Niro EV turns out to be will depend largely on its price tag, but it's hard to argue with Kia's three-prong strategy here.