2023 Nissan Ariya First Drive: The Electric Car For Gas Switchers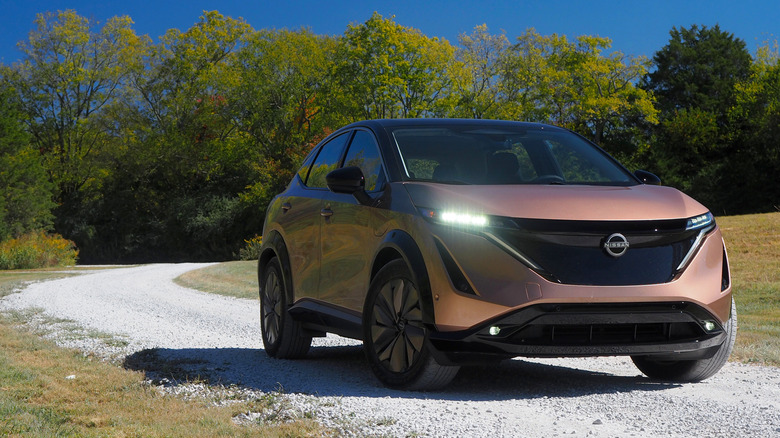 Chris Davies/SlashGear
It feels like we've been waiting for the 2023 Nissan Ariya for some time, now. The automaker's second all-electric car was announced more than two years ago, promising to be as charming and unthreatening as it is affordable. Delayed during the chip crisis but finally reaching U.S. dealerships now, the Ariya still looks striking and, maybe more surprising, its specifications still hold up to general scrutiny. The big question is whether Nissan should still be the go-to for new EV buyers.
You can't talk about electric cars without mentioning the Leaf, of course, though at more than a decade old Nissan's hatchback EV may feel a little passé at this point. With over 600,000 sold worldwide, it's not just been a gateway to electrification for many, it also gives Nissan some serious experience with just what is, and isn't, important for a first EV. Important stuff, given the automaker is hoping that more than 40% of its sales in the U.S. will be fully-electric by 2030.
At times, those lessons make a lot of sense. Elsewhere, though, I can't help but wonder if the Ariya is clinging a little too determinedly to the idea of an electric car that wouldn't terrify an audience far more familiar with gas.
Smooth, but not featureless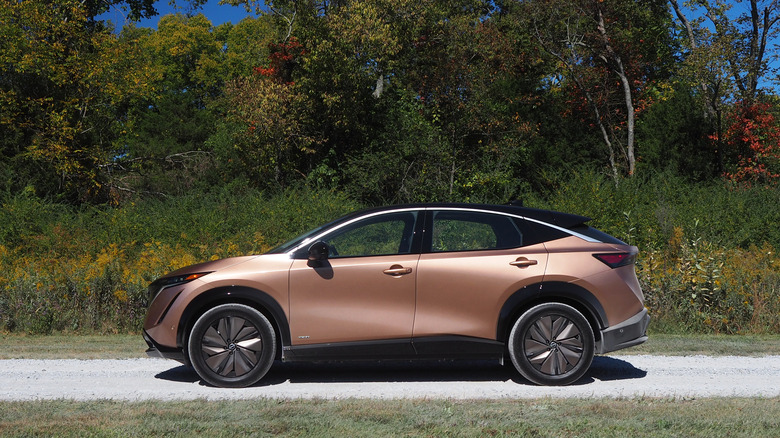 Chris Davies/SlashGear
Some cars look better in the metal than they do in photos, and the Ariya is one of them. Though clearly shaped for aerodynamic effectiveness, it's no amorphous blob. The front fascia is striking, with its blade-like LED headlamps and wide daytime running lights, and Nissan is keen to point out that things like the lower vents are actually functional too.
From the side, it's an air-friendly arch, but not a bloated one. The rear is arguably the most successful angle, with the trunk-spanning LED light blade glowing alluringly. This is all leagues ahead of the Leaf and, for that matter, just about anything else in Nissan's current line-up, wisely bypassing the coy retro aesthetic of the new Z coupe and altogether more memorable — and head-turning — than any other of the company's crossovers.
The first Ariya — arriving in dealerships imminently — will be front-wheel drive (FWD) only. An all-wheel drive (AWD) version which Nissan brands as e-FORCE will follow in early 2023, adding a second electric motor to power the rear wheels. Both will be offered with 63 kWh standard and 87 kWh extended battery packs, though only the AWD Ariya will have a tow rating (of 3,000 pounds).
A game-changing cabin for Nissan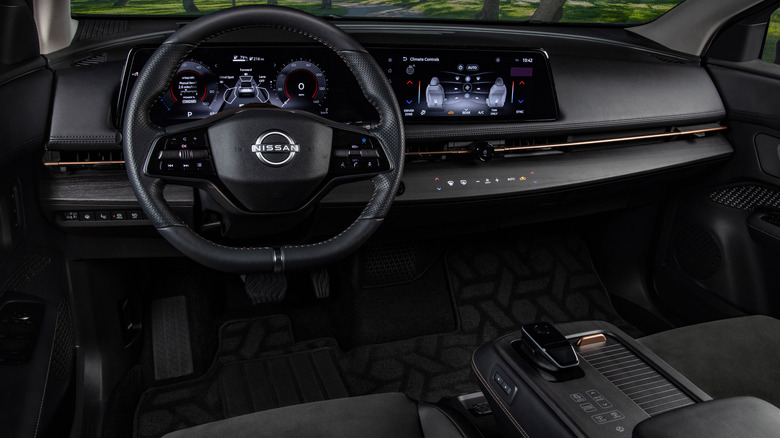 Nissan
The Ariya has the best cabin of any recent Nissan, period. There's no single element that makes it such a success, but instead a combination of stylish design, interesting material choices, and some splashes of eye-catching technology.
Running atop the dash is a pair of 12-inch displays, one concave and the other convex, while a head-up display will be standard on around 90% of the eventual sales mix, Nissan predicts. The dash top itself blends soft-touch plastic and fabric with a swathe of wood through which touch-sensitive HVAC buttons glow.
There are more haptic controls in the center console, including for drive mode and opening the tablet-accommodating motorized cubby that powers out from under the dash. It has a sliding lid and can be set to multiple levels of extension; obviously Nissan would never suggest setting your phone there while you're driving, but it would be a good stage for that or an iPad to watch a video while you're waiting at a DC fast charger.
Small on the outside, big on the inside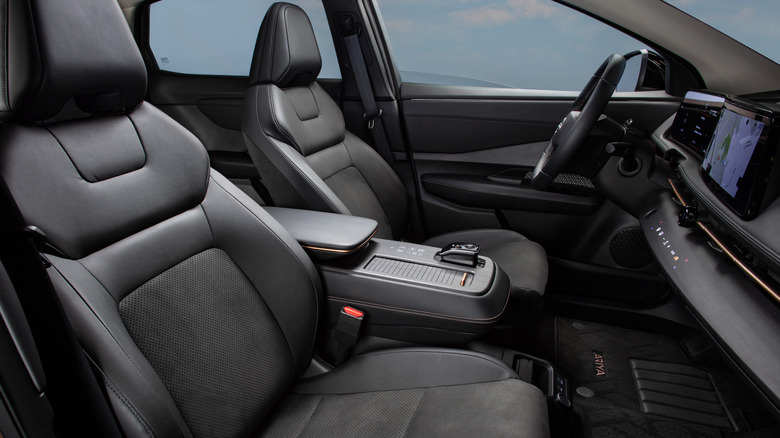 Nissan
The center console itself is also motorized, sliding forward and back at the touch of two buttons. At its furthest forward, the padded armrest — which lifts to reveal a Qi wireless charger on many trims — is just under the driver's right arm. Slid all the way back, and the front feels much more spacious (and makes accessing the floor-level USB and power ports, plus a useful winding post to snag your loose cable, easier) though it makes the rear middle seat a fairly unpleasant location for anybody with knees.
Slide it forward some, though — and by no means does it need to be the whole way — and Nissan's packaging talents become clear. On the outside, the Ariya is about the same length as a Rogue. However, by pushing the electric drive components out to the extremes, it has the wheelbase akin to that of a Murano, and that pays dividends on interior space. It not only fits five, including plenty of headroom even in the second row, but it feels spacious too, with minimal intrusions in the footwells adding to a general sense of airiness.
It's not to say the Ariya's interior is perfect, mind. Some of the trim looks better than it feels: while the door panels are topped with a soft-touch shoulder and matching armrest, everything else is hard plastic. The fancy Japanese lantern-inspired mesh light panels are actually more like fish tank filters when you look up close or touch them. The plastics seem sturdy, but it's not quite up to the level seen elsewhere.
Big trunk, better infotainment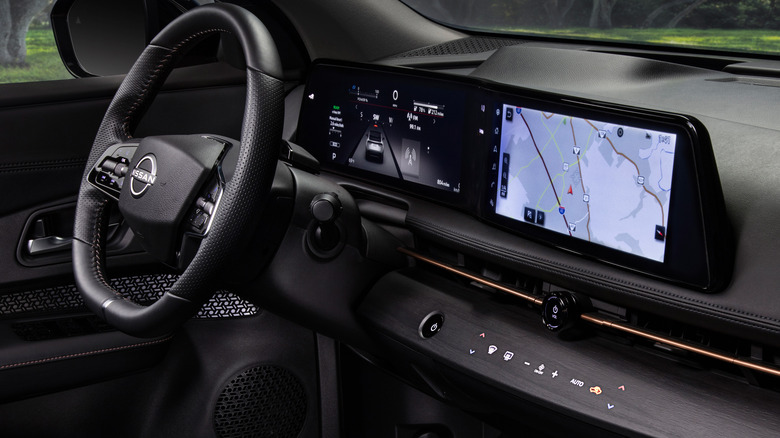 Nissan
There are other things to nitpick over. The Ariya's trunk is a healthy 59 cu-ft in capacity — enough, golf over-packers will be delighted to hear, for three bags — but there's no frunk. Nissan says that was a conscious decision, filling the space under the hood with powertrain and AC tech on the basis that a front trunk is used rarely while a bigger cabin pays dividends every day.
I'm not entirely convinced by Nissan's infotainment, either, though it's a subjective thing. The UI is certainly better than any other recent car from the automaker, but still feels a little clunky in places. On the upside, there's "Hey Nissan" voice control over everything from navigation and multimedia to seat heating — all processed locally with no data sent to Nissan itself — along with Amazon Alexa integration if you want to remotely control your smart home. You also get wireless Apple CarPlay, and there's no shortage of USB charging ports.
An EV that's easy to live with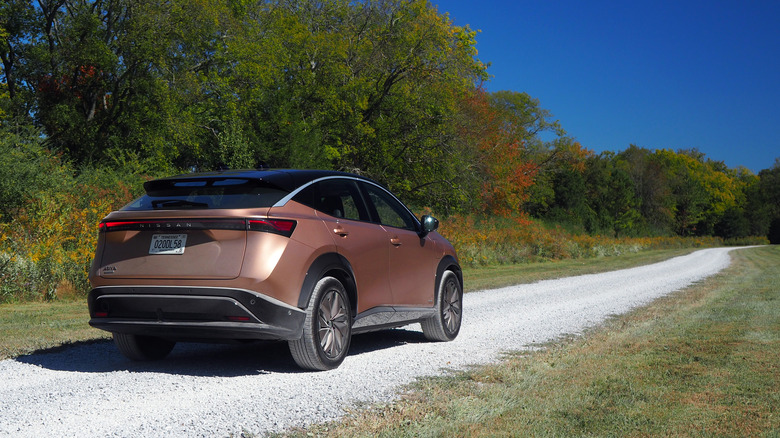 Chris Davies/SlashGear
From behind the wheel, it's clear Nissan made some conscious decisions as to just how the Ariya should behave. As someone with plenty of experience with EVs, I'm not sure I necessarily agree with all of them, but I can certainly see how they might make the electric crossover an easier transition for first-time electric drivers.
Where many EVs wow you from the get-go with that rush of instantaneous torque — winning over a fair few electric skeptics in the process — the Ariya lacks that dramatic urgency. 0-60 mph arrives in a quoted 7.2 seconds for the FWD model; I'll have to wait to see how much melodrama the e-FORCE version musters, with its supposed 4.8 second dash.
It's not slow, but it's not thrilling either. With up to 238 hp there's no shortage of power, regardless of whether you're doing urban or highway speeds for comfortable overtaking, it just doesn't feel like a whirring rocket ship. Instead, you get to enjoy Nissan's handiwork on general hush: the automaker claims it's the quietest EV crossover of its class, and I wouldn't doubt it.
Solid, but not sporty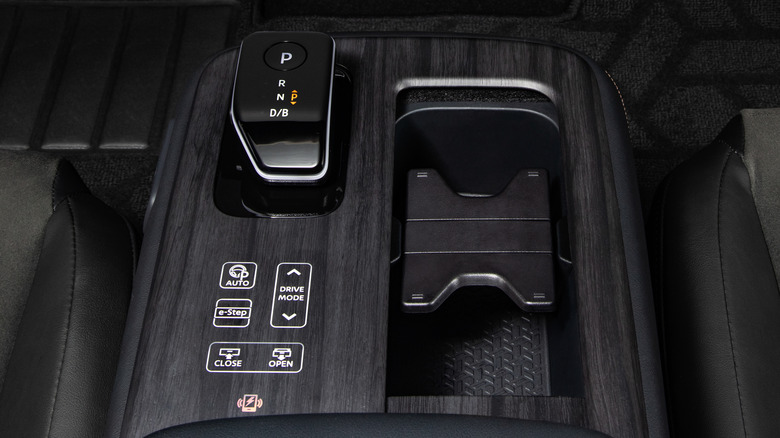 Nissan
There's a regular Drive mode and a "B" mode which ups the regenerative braking a little. Add to that three drive modes — Normal, Sport, and a sluggishly-frugal Eco — and a toggle for e-Step, the latter as close to a one-pedal mode as the Ariya gets. Sadly it can't bring the car to a complete stop, just an automatic-esque slow roll.
That's another conscious decision to avoid startling combustion engine refugees, according to Nissan. Maybe so, but given all this is controlled by software, it's a shame not to have more aggressive options accessible in the settings menu at least. One-pedal driving isn't going anywhere, after all, and it's not hard to imagine EV newbies wanting it as they get more familiar with the electric experience.
The Ariya feels stable and planted, though can be a little jouncy in the bends. Almost like Nissan already tuned the suspension setup for the dual-motor configuration and its 389 total horsepower. This isn't a sports EV, but it's swift and easy to drive, and the power is readily modulated.
Hands-free driving reaches Nissan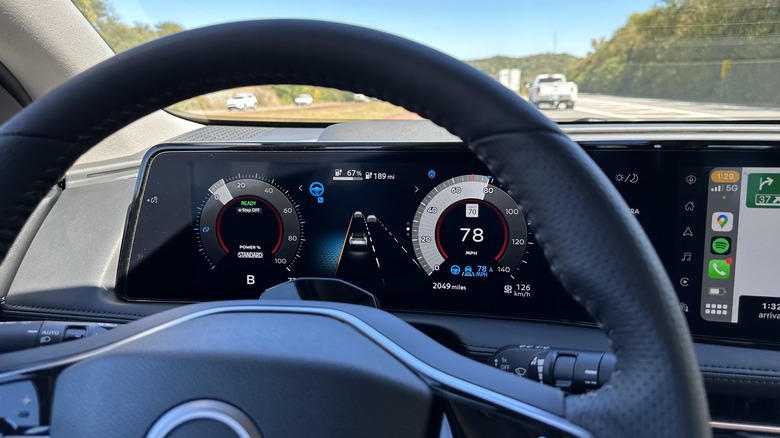 Chris Davies/SlashGear
Hit the highway, meanwhile, and you might just get to play with Nissan's latest tech toy, with ProPILOT Assist 2.0 making its debut on the Ariya. Building on earlier versions of the automaker's adaptive cruise and lane-keeping, version 2.0 adds hands-free support on certain, pre-mapped stretches of divided highway. An infrared driver attention camera on the steering column makes sure you're still watching the road and ready to retake control should the system deactivate for any reason.
We've experienced technology like this before in the shape of GM's Super Cruise and Ford's BlueCruise, and it's exciting to see it continue to spread through more attainable models. Nissan has opted to automatically enable ProPILOT Assist 2.0 on roads where it's available — the Ariya checks for HD map updates every time it's powered on, downloading them over the EV's baked-in cellular connection — with the cabin lighting and driver instrumentation switching from white when you're in full control, through green when you have basic ProPILOT, to blue when you can take your hands off the wheel.
Don't pay sufficient attention, and the system will beep at you and then, finally, bring the car to a halt. It'll also suggest times when you might want to change lanes, if you're stuck behind a slower car: you hit a button on the wheel to accept the prompt, though have to keep your hands on the wheel while the maneuver itself is carried out. Or, you can tap the indicator to trigger an auto-lane-change.
A good start, but a little conservative in traffic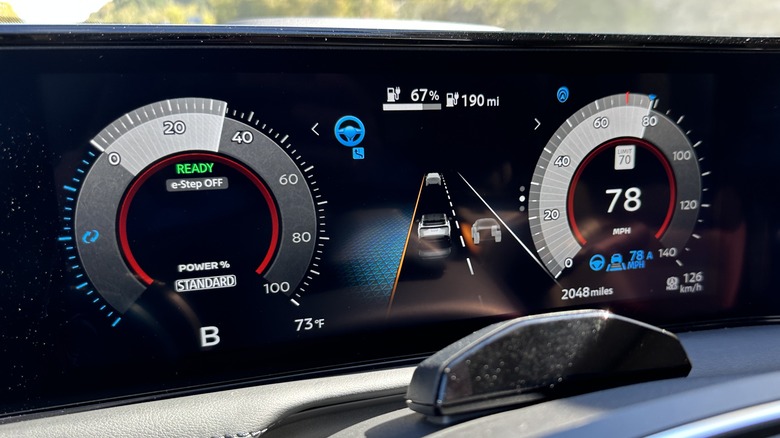 Chris Davies/SlashGear
It's a convincing hands-off system, even if it doesn't have quite the same flexibility as, say, Super Cruise. Needing to put your hands back on the wheel during lane changes is a little annoying, though the mix of touch and torque sensors mean even a light touch on the rim is enough to keep the system happy. The Ariya won't recommend moving back to the right lane once you're past slower traffic, something Nissan says is by design, though if you've mapped out a destination ProPILOT Assist 2.0 will recommend which lane and exit to be in.
Generally, it's a smooth and relaxing experience, once you get through that initial moment of uncertainty. For casual traffic, the Ariya's fairly conservative lane-changing is fine, but when the highway started to hit rush hour I found it was too slow to switch for comfort. In theory it'll see traffic approaching from behind you from some distance, though I definitely felt the need to stay aware for speedier drivers to avoid cutting out in front of them.
ProPILOT Park, meanwhile, moves the Ariya into parallel or perpendicular parking spaces. Again, it's effective, if somewhat slow. I could definitely see other drivers getting frustrated with you as they wait to get past on busier urban streets.
Solid range and average charging speeds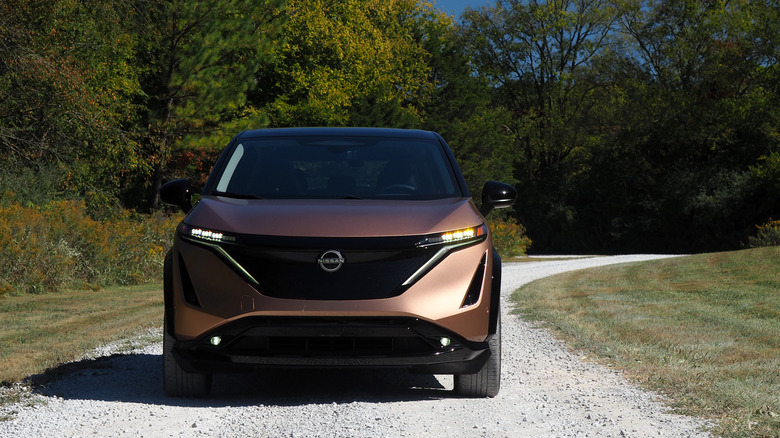 Chris Davies/SlashGear
I wasn't doing specific range testing; this was a pre-production Ariya FWD, and I wanted to try out the various modes across the mixture of urban, backroad, and highway routes that Nissan hosted SlashGear to experience. With a full battery, the Ariya's computer claimed 296 miles total range; after 119 miles of driving, that had dropped to 56% and 167 miles remaining. In short, the range estimate was out by 10 miles, which I'd say isn't bad considering my varied driving style.
Nissan is quoting up to 304 miles from the Ariya FWD with the extended battery, or up to 215 miles with the standard battery. If you wait for the Ariya AWD, you're looking at up to 270 miles. Most configurations come with the larger pack: only the Ariya Engage FWD ($43,190 plus destination) and the Ariya Engage AWD ($47,190 plus destination) get the smaller battery. The fully-loaded Premiere FWD trim you see here is $54,690, a limited edition that will be the most expensive until the flagship $60,190 Ariya Platinum+ AWD arrives next year.
Either way, there's a 7.2 kW onboard charger for use with home Level 1 or Level 2 supplies, and up to 130 kW DC fast charging support. With the latter, you're looking at a 20-80% charge in 40 minutes, which isn't bad though certainly isn't the fastest we've seen. Nissan is bundling $500 of EVgo public charger credit, and Ariya buyers can get $150 off a Wallbox home charger if they don't already have one installed.
2023 Nissan Ariya Verdict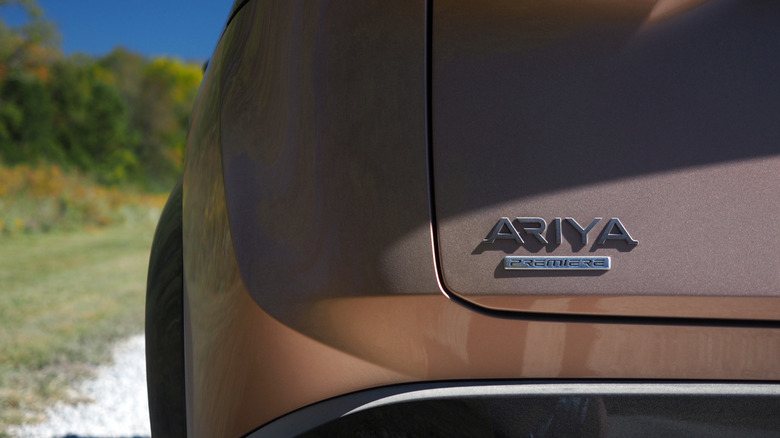 Chris Davies/SlashGear
Sadly that charging is one-way only, and at the moment the Ariya doesn't support vehicle-to-load or emergency backup power to the home. It's another conscious omission, Nissan says, given the relevant industry standards aren't finalized yet. I can understand the reticence, though given just how big of a selling point the Ford F-150 Lightning's ability to power a home during an outage has been, leaving out bidirectional power does still feel like a missed opportunity.
Perhaps, though, that's just fine with Nissan's target audience here. The 2023 Ariya isn't necessarily a car to steal drivers from behind the wheel of other electric vehicles, but to coax owners of internal combustion cars and SUVs into something with zero emissions. Something unthreatening and fairly familiar, with a reassuring 8 year battery warranty and three years of bundled roadside assistance just in case you run flat unexpectedly.
It's easy to assume that — given the number of EVs on the market now, and manufacturers' aggressive transition timelines to full electrification — drivers themselves are further down the path to acceptance. The reality is that currently, just 5% of total sales in the U.S. are of electric vehicles, Nissan points out, with factors like general skepticism and EV pricing no small issues in holding back sales.
From that perspective, while the Nissan Ariya may not upend the electric car market, it makes a very convincing argument as a flexible, quiet, refined family crossover that just so happens to have a battery not a gas engine. Aggressive pricing and high equipment levels offset any argument that EVs demand sacrifice, and while those already onboard with the idea might be looking for something a little more ambitious, this first stepping stone feels like a fitting successor to the Leaf.