2024 Polestar 3 Electric SUV Revealed: What You Need To Know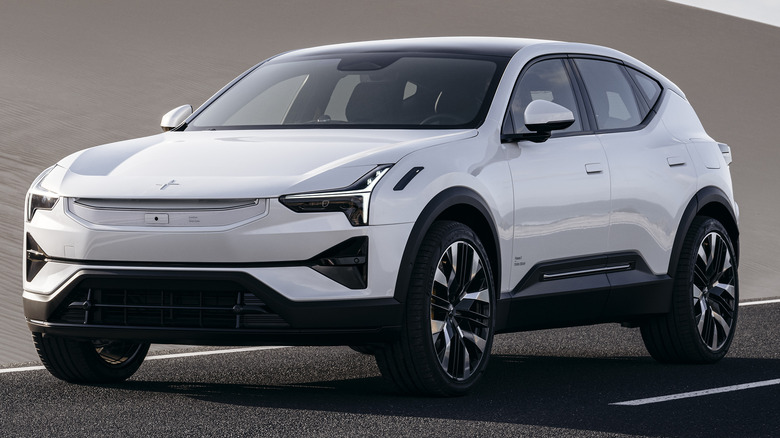 Polestar
Get ready to see a new all-electric SUV on the road, with the 2024 Polestar 3 arriving to challenge Tesla's Model Y and a host of other luxury five-seater EVs. It's undoubtedly the most important car on Polestar's current roadmap. The original Polestar 1 — the automaker's first, and only, plug-in hybrid — was a limited-edition, $155,000 vision of what electrified performance could look like and was hardly mainstream.
Then there's the Polestar 2, currently the only vehicle the automaker sells. A fastback four-door, it challenges Tesla's Model 3 and Kia's EV6, among others, with a roughly $48k starting price and up to 270 miles of EPA-rated range. Responsible for debuting Android Automotive OS, it has carved out a niche for itself as a striking and tech-friendly alternative to the Tesla, but it's no SUV.
And, given just how much North America — and, for that matter, the rest of the world — likes its SUVs and crossovers, that's a segment Polestar couldn't afford not to be competing in. Enter, therefore, the Polestar 3.
A new platform for a brand new SUV EV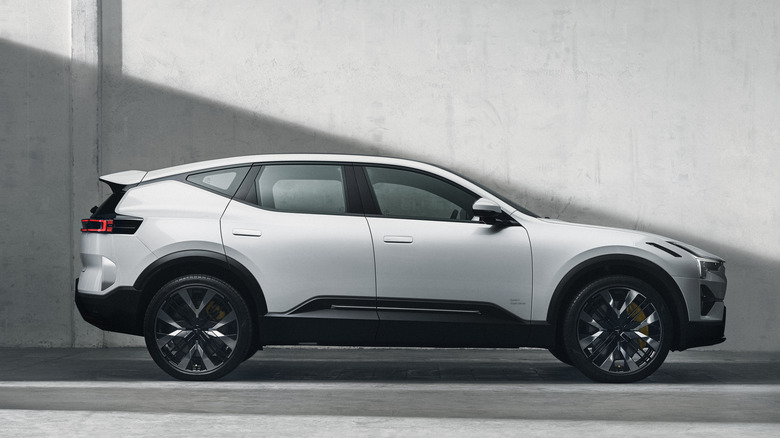 Polestar
Where Polestar has teased the upcoming Polestar 5 luxury sport sedan with its Precept concept, and has confirmed it'll be putting the O2 Concept Roadster into production as the Polestar 6, the Polestar 3 hasn't been previewed with a concept car or prototype before now. That's not to say some of the design themes aren't familiar.
The automaker says it worked hard to make sure the Polestar 3 actually looks like what you expect from an SUV, rather than an overly-smoothed bubble as some rivals have adopted for aerodynamic reasons. It brings to production some of the styling cues we first saw on the Precept, such as the dual blade headlamps and the front aero wing. The latter works in tandem with a second aero wing, integrated into the rear spoiler, and there are also aero blades for further shaping airflow.
Underneath is a brand new platform, with a 117.5 inch wheelbase and 50:50 weight distribution.
One Long range Dual motor configuration at launch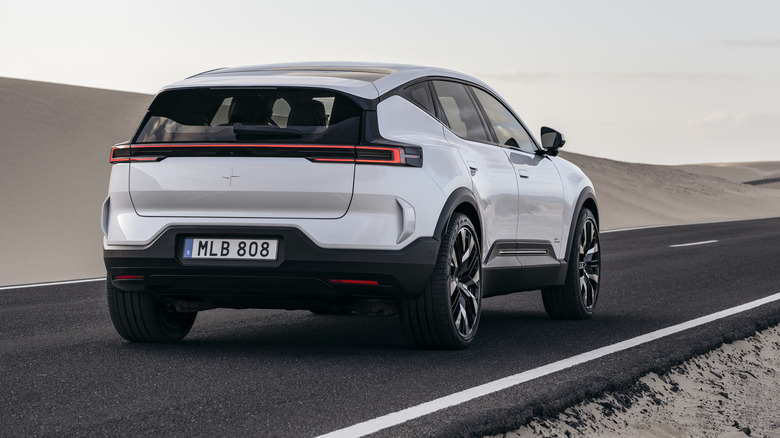 Polestar
The drivetrain, initially, will be a Long range Dual motor configuration, with a permanent magnet synchronous motor on both the front and rear axles. Together, they'll be good for 489 horsepower and 620 lb-ft of torque, though a $6,000 Performance Pack will nudge those number up to 517 hp and 671 lb-ft. As standard, Polestar says the SUV will do 0-60 mph in 4.9 seconds, though the Performance upgrade trims that to 4.6 seconds; top speed in both cases is 130 mph.
Normally, the Polestar 3 is rear drive biased. There's an electric Torque Vectoring Dual Clutch on the rear axle, which pushes power to the left or right wheels depending on conditions. However, the SUV can also automatically decouple the rear motor altogether, using only the front motor to boost economy.
Dual-chamber air suspension will be standard across the Polestar 3 line-up, with active dampers that can adjust once every two milliseconds. That should make a bigger difference between Sport and Comfort modes.
An estimated 300 miles of EPA range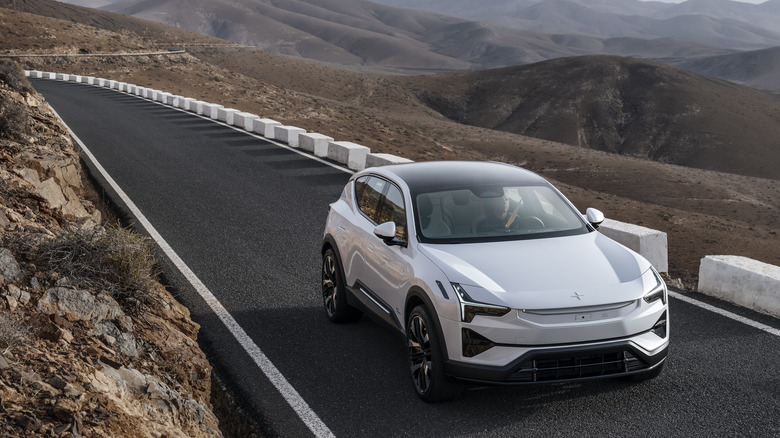 Polestar
As for range, there's a 111 kWh battery in the long range configuration. Polestar is estimating 300 miles on the EPA's test cycle in the U.S., or up to 610 km on the WLTP cycle. The battery pack is liquid-cooled, and sandwiched into a steel-reinforced aluminum casing for safety.
Added as an option on the Polestar 2, a heat pump will be included as standard on the Polestar 3. That uses ambient heat — even in ostensibly cold conditions — to do things like battery preconditioning and cabin climate control. It should help maintain overall range even in winter.
Finally, there's bidirectional charging support, though it may not be active initially. Polestar says that eventually the SUV will be able to do things like supply power to the grid during times of peak demand, or support Plug and Charge. Considering how appealing it is to be able to power a house from a connected EV during an outage, it's good to see Polestar adding hardware support from the get-go.
A minimalistic but not spartan cabin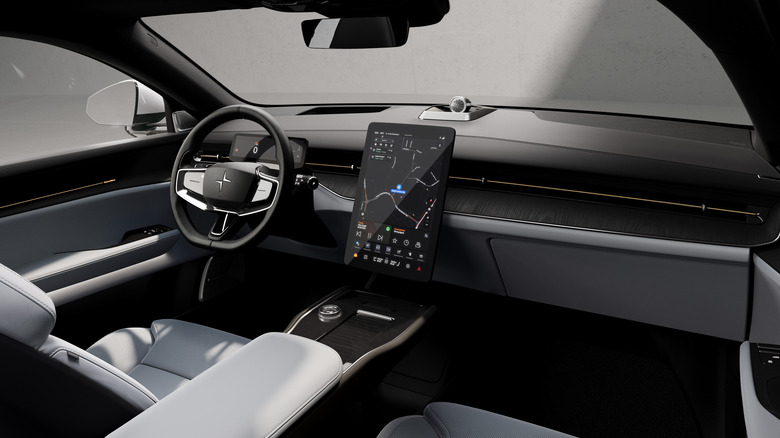 Polestar
Inside, it's a mixture of the familiar and the new: not quite as minimalistic as a Tesla cabin, no, but definitely more pared back than most of the German SUVs. There's a single, five-seat configuration, with a choice of animal welfare-certified leather, wool, or MicroTech technical fabric upholstery options for the seats and other trim.
As with the Polestar 2, the infotainment system is based on Android Automotive OS. Here, though, it's on a bigger, 14.5-inch portrait aspect center touchscreen, with a smaller 9-inch display for the driver. It'll support over-the-air (OTA) updates, and is powered by NVIDIA DRIVE and the Snapdragon Cockpit Platform.
They weave in a number of new cabin sensors. Interior radar sensors, for example, can spot sub-millimeter movements — such as those of a baby left behind in a child seat — and automatically activate the climate control. Two driver monitoring cameras (in a closed-loop setup for data security) track the driver's eyes, and promise to weigh in with alerts and even the ability to stop the car if the person at the wheel is distracted or asleep.
A healthy standard spec sheet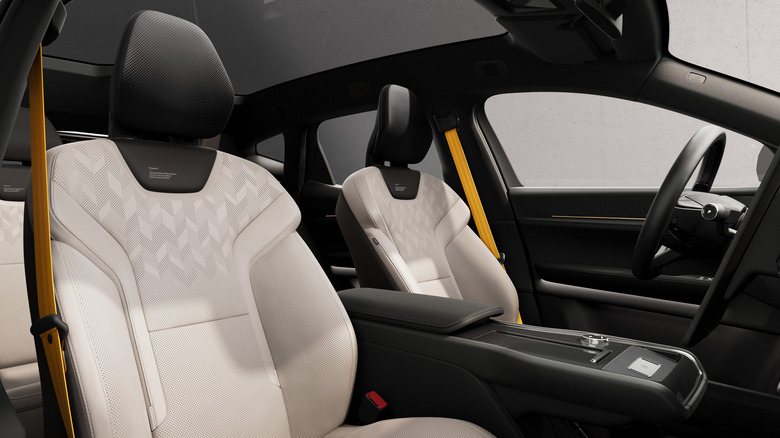 Polestar
As you'd hope for something taking on the Model Y but also rivals like Porsche's Macan, the standard equipment list is solid. All Polestar 3 will get a full-length panoramic glass roof, LED interior and exterior lighting, and proximity-sensing retractable door handles. There's also four USB-C ports — two in the front and two in the rear — along with a 15W wireless phone charging pad.
The tailgate is powered, with hands-free opening, and there's a 360-degree camera as standard as well as front and rear parking sensors. Three zone climate control with filtering, heated front seats, and acoustically laminated glass is also standard, along with 10 airbags.
The trunk can store 17.1 cu-ft with the rear seats up (including a 3.2 cu-ft underfloor bin) and 49.8 cu-ft with the seats down. There's also a 1.1 cu-ft front trunk, or frunk. The Polestar 3 Long range Dual Motor is rated for 3,500 pounds of towing.
A whole bevy of sensors and a LiDAR to come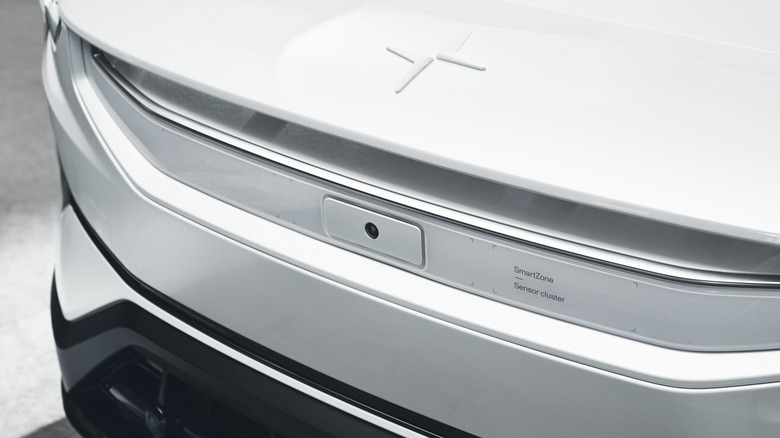 Polestar
Outside, meanwhile, there are even more sensors. As standard, the Polestar 3 gets five radar modules, five cameras, and 12 ultrasonic sensors, many of which are combined in what the automaker is calling the SmartZone panel below the front wing (where a traditional SUV might ordinarily have a grille).
They'll be used for active safety features such as those in the Pilot Pack — which is standard, as is the Plus Pack with a 1,610W Bowers & Wilkins audio system, soft-closing doors, and front and rear heated seats, at launch — like Pilot Assist for hands-on highway driving, and Park Assist Pilot.
From Q2 2023, meanwhile, Polestar will also offer a Pilot Pack option. That'll include a LiDAR sensor from Luminar — in which Polestar co-parent Volvo has a stake – along with an extra NVIDIA control unit, three extra cameras, four more ultrasonic sensors, and a cleaning system for the front and rear cameras. It'll allow the Polestar 3 to do 3D scanning of its surroundings, and eventually pave the way for autonomous driving, though the automaker is coy on when, exactly, that might be pushed out as an update.
Polestar 3 is priced to sell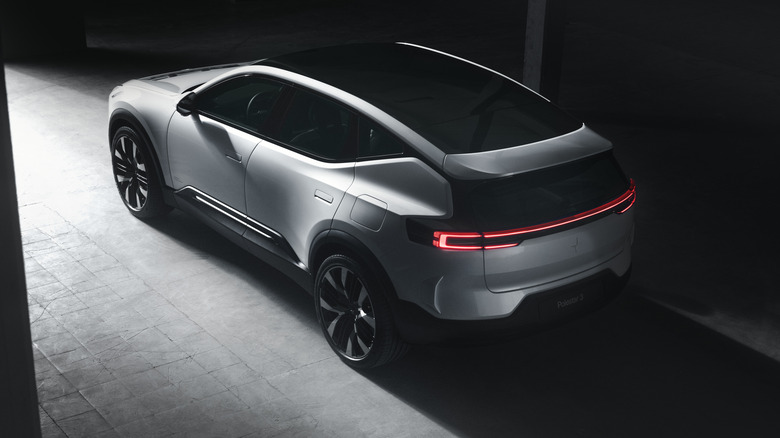 Polestar
It has some time to work on that roadmap. Although making its debut today, the Polestar 3 won't actually begin deliveries in North America, Europe, and China until Q4 2023. Secondary launch markets like Asia Pacific and the Middle East will follow in 2024.
Pricing for a 2024 Polestar 3 Long range Dual motor in its launch edition configuration with the Plus and Pilot packs will be $83,900 (plus $1,400 destination). The Performance Pack will be $6,000 on top of that. It'll have 21-inch wheels as standard — the Performance pack switching those for 22-inch versions — and Polestar has an optional 22-inch forged alloy wheel package too.
Beyond that, just as we saw with the Polestar 2, we're expecting to see more affordable iterations of the Polestar 3. For that, though, we may need to wait for Polestar's second production line to come online. While the initial SUVs will be built at Volvo Cars' Chengdu, China facility, in mid-2024 it's expected that the Volvo Ridgeville plant in South Carolina will start building the SUV as well.
At that point, all North American examples — among other locations — will be sourced from the South Carolina plant, potentially helping Polestar grab some of the new EV tax incentives since at least part of qualification there depends on the vehicle being manufactured in the U.S. We'll know more on that front closer to the Polestar 3's launch.