Polestar O2 Concept Is A Stunning EV Roadster With A Hidden Drone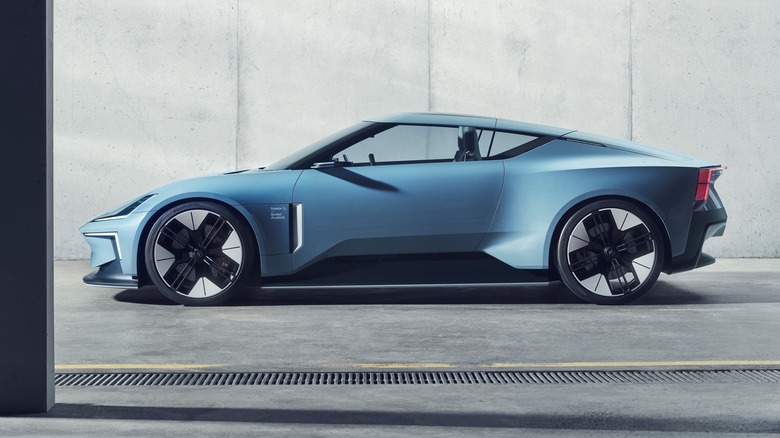 Polestar
Polestar has revealed its second concept car, an all-electric roadster dubbed the Polestar O2, complete with high eco-credentials and a high-flying drone buddy. Envisaged as a possible "hero car" for the automaker, according to Polestar CEO Thomas Ingenlath, the new 2+2 follows the well-received Polestar Precept that has already spawned a production model.
The vehicle is certainly head-turning. Polestar has borrowed plenty of styling cues from the Precept, including the low and wide body and the shortened overhangs. Whereas the Precept was intended as a grand tourer for four, though, the O2's rear seats are smaller.
It also has a removable hard-top roof, turning the car into a convertible. With an eye on aerodynamics – particularly important for maximizing range in an electric vehicle – Polestar has paid special attention to things like ducts that improve airflow over the wheels and side of the concept. The rear light clusters, meanwhile, double as turbulence-disrupting air blades.
Performance in more than just a straight line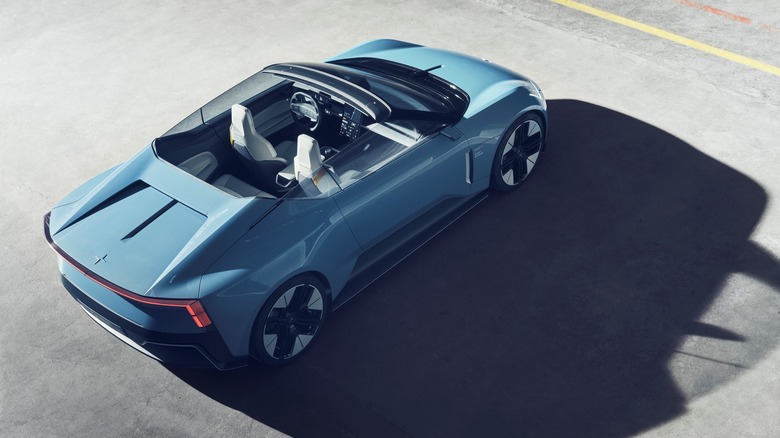 Polestar
Under the sheet metal, meanwhile, is a platform adapted from that of the bespoke aluminum architecture Polestar developed for the Polestar 5, which is set to be the production version of the Precept concept. That means an uptick in bonded aluminum specifically, which Polestar is relying on to make for a lighter platform altogether. Considering EVs have to contend with the heft of battery packs, that's a key element to making performance versions that aren't ridiculously heavy.
The result, Polestar promises, should be "predictability and playfulness" from the O2 concept, rather than simply straight line speed. There are no specific performance numbers yet – Polestar isn't saying how fast it envisages the roadster going, nor for that matter how far on a single charge, just as it hasn't revealed such details for the Polestar 5 – but it's clear that cornering has been just as much a focus here.
A more sustainable cabin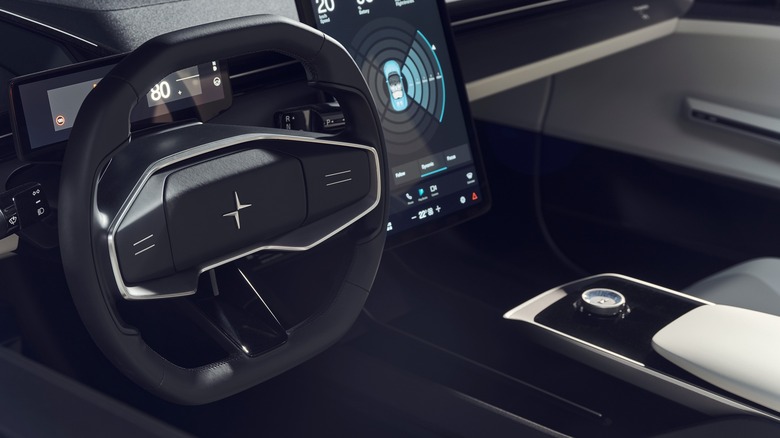 Polestar
With Polestar on a high-profile sustainability journey, however, what the O2 concept is made from is just as important. Inside, for example, there's been heavy use of what's described as a mono-material: basically a single base material that's used in different ways for different components.
Here, that's recycled polyester, and Polestar's design team has turned it into 3D knit fibers and non-woven lamination, along with both foam and adhesive. "This simplifies recycling and is a significant step towards greater circularity," the automaker said in an announcement today, "while also reducing weight and waste."
As for metal, different grades of aluminum feature, and all are labeled with their type so that they can be specifically recycled later on. "High grade aluminum remains high grade," Polestar explains of the strategy, "while other grades maintain their varied characteristics, allowing for greater material efficiency and a lower requirement for virgin aluminum."
A secret drone buddy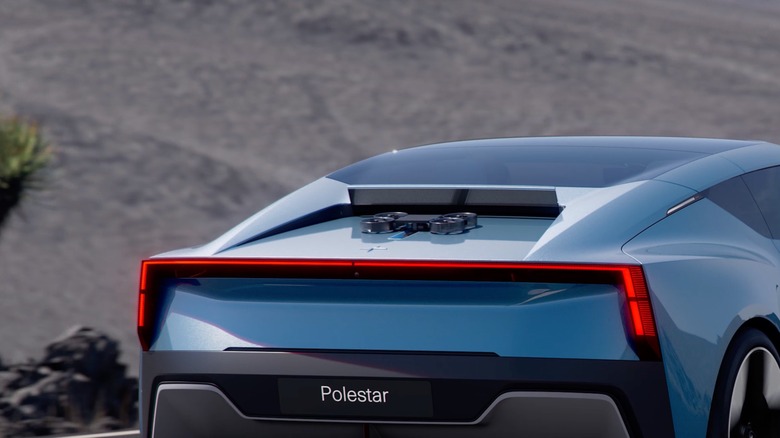 Polestar
Just in case you thought the Polestar O2 concept was getting too earnest, never fear: there's weirdness here too. That comes in the shape of a companion drone for the EV, which Polestar has co-developed with Hoco Flow. It can not only fly at speeds of up to 56 mph to keep pace with the car, but also be deployed from a bay behind the rear seats while it's already driving.
That required the design of a special aerofoil, which emerges from behind the rear seats and creates a pocket of negative pressure. From that, the chase drone can safely take off without being unduly buffeted. It's designed to fly autonomously, following the Polestar O2 for either wide, sweeping shots or a tighter, more aggressive flight plan.
When it's done, it automatically docks with the car again, and the video clips can be accessed on the 15-inch infotainment touchscreen in the cabin. That's presumably running Android Automotive OS, as in the Polestar 2, though it does have a different layout in these concept renders compared to what we've seen in the production EV.
Production not guaranteed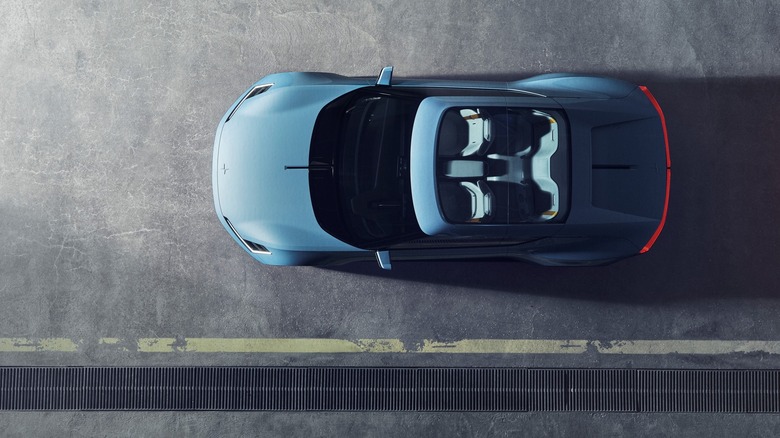 Polestar
As for production possibility, currently Polestar is playing that close to its electrified chest. Ceasing production on the Polestar 1 hybrid GT coupe has certainly left a gap in the automaker's range for a performance halo car, a niche the Polestar O2 would ostensibly fill nicely. The fact that the Precept concept was so rapidly spun into a production strategy also suggests that the company isn't afraid of making big decisions based on positive feedback.
For now, though, we'll have to cross our fingers. "Polestar plans to launch three new cars over the coming three years, starting in 2022," the automaker said today, "each of which has potential to gradually realize some of the ideas presented by these concept cars." Given the general dearth of all-electric options in the sports car segment right now, here's hoping that doesn't take too long.