Polestar 1 Review: Goodbye Hurts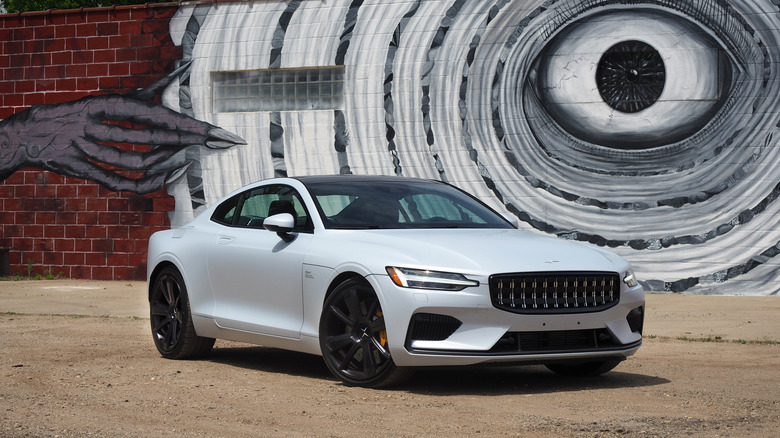 Chris Davies/SlashGear
Three years on, and you can't blame people for still not having a clue what the Polestar 1 actually is. With only 1,500 of the grand concept Grand Tourers ever to be produced, and each with a $155,000 price tag attached, the odds of seeing the shapely coupe in the wild are probably at Bugatti levels. It doesn't take brand recognition to turn heads, however.
That's something the Polestar 1 does with admirable consistency. The aesthetic may have been borrowed from a Volvo concept now almost a decade old, but with its crisply-finished carbon fiber reinforced polymer (CFRP) bodywork and long, low, lean dimensions, it looks as gloriously otherworldly as it did on day one.
Time has not dimmed the fiendish complexity of the drivetrain, either. Volvo also donated the 2.0-liter gas engine — both turbocharged and supercharged — found under the hood, combined with an integrated starter generator motor, all driving the front wheels. The rear wheels get a pair of electric motors, mechanically independent from what's going on at the front. Altogether there's a shocking 691 horsepower and 738 lb-ft of torque, along with a 52-mile electric-only range from the 34 kWh battery squeezed into whatever spaces were left.
A complicated halo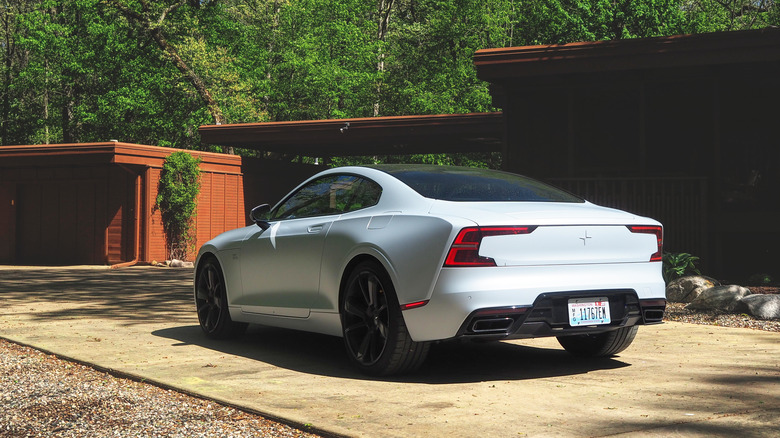 Chris Davies/SlashGear
That's impressive for a plug-in hybrid, though obviously a far cry from the 249+ miles an all-electric Polestar 2 is rated for. Unlike its far more affordable fastback sibling, of course, the Polestar 1 was never intended for the mass market. Instead, it's a halo for the brand, a representation more of ethos and attitude than a roadmap for actual transportation.
Once an independent tuner, then an in-house Volvo performance division, Polestar was spun out in 2017 to sit alongside its Swedish sibling as the big push in electrification. For all the similarities — and, with Volvo platforms underneath and the Volvo parts bin donating plenty, there's definitely a cohesive feel between cars from the two companies — Polestar cars have managed to carve out an intriguingly distinct approach.
You get a sense that, by bypassing the Volvo badge even if so much of the switchgear is familiar, Polestar has created an arena of its own. One where the usual Volvo focus of family-friendly safety can be nudged aside, in favor of a more aggressive and futuristic interpretation of what EVs might offer the world.
Seductive but not shouty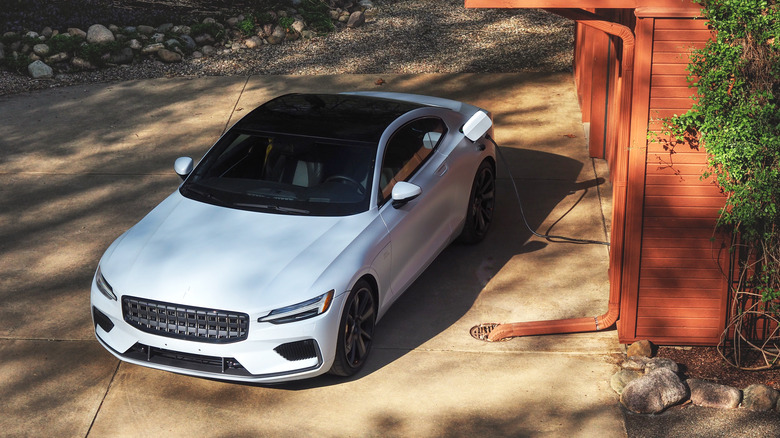 Chris Davies/SlashGear
Minimal branding means that, even for a halo car, the Polestar 1 still takes some explaining. "Seductive but not shouty" seems to capture it pretty well. There's nothing surreptitious about the Polestar 1 — and woe betides if you get cornered in a parking lot because people definitely have questions — but it feels charmingly unlatched from the whims of fashion. No outsized grilles or ridiculous proportions, here; the sleek 2+2 is the automotive epitome of a tailored suit or little black dress. Timeless and, dare I prematurely call it, edging on iconic.
Beneath that simplicity, there's a whole lot going on. Two drivetrains, really, capable of collaborating or working independently. What beguiles is just how well all that complexity comes together, and with such distinct personality. Straight-line speed is comically swift, 0-62 mph arriving in 3.9 seconds. In the background, though, the electric motors are wielding their instantaneous torque while the gas engine segues from supercharger to turbocharger with its own electrics filling in the gaps as the eight-speed automatic transmission shifts, and somehow it's all synchronized into one, harmonious whole rather than tearing itself apart.
Physics-defying cornering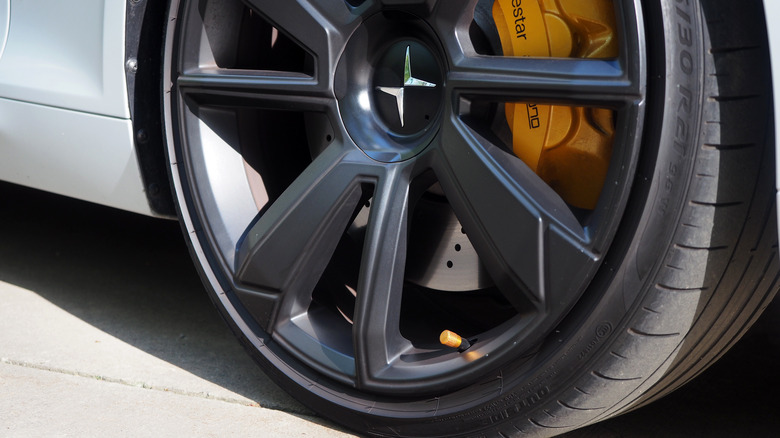 Chris Davies/SlashGear
It's in the corners where the true engineering shows its hand. With a curb weight only a couple hundred pounds less than a Ford Expedition, the laws of physics would rightly suggest that turning would not be the PHEV's forte. The 48:52 front to rear weight distribution Polestar boasts of is all well and good, but heft is heft, regardless of where it's centered. That only makes the coupe's actual deftness more delightful.
You can thank torque vectoring for that: true torque vectoring, where power is judiciously and individually applied to the rear wheel with the most grip and where it's most effective, rather than the paler, brake-based version many rivals make do with which just slows the opposite wheel. Thanks to that, enabled by its twin rear electric motors, the Polestar 1 simply pivots.
What leaves it particularly astonishing is the way your body doesn't quite expect it. This is no Miata, where you can instinctively feel how lithe and tractable the little roadster is. In the Polestar, your senses start out far more convinced that you're headed into the corners with too much speed for safety; then, somehow, you feel the rear end claw itself around, almost like there's a confident hand pushing the coupe's haunches sideways.
The oddities of a six-figure experiment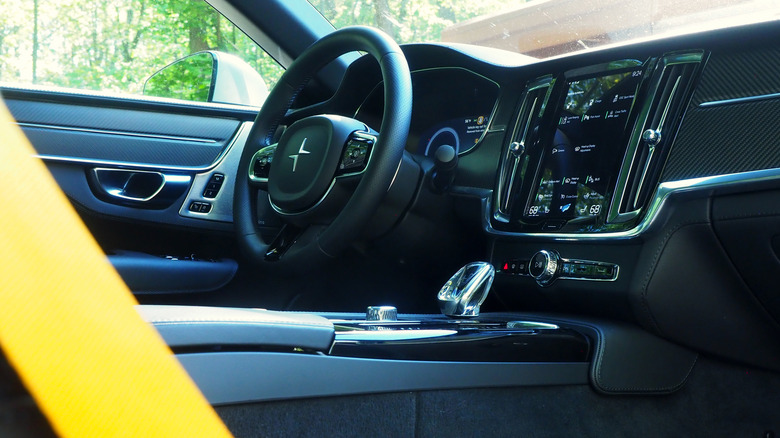 Chris Davies/SlashGear
It's mesmerizing and addictive in equal measure, and it leaves the Polestar seeming borderline magical. I've long argued that the best way to convert electric car skeptics is to put them into a good electric car. Though the Polestar 1 isn't a pure EV, it can certainly credit an outsize portion of its driving talents to those electric motors and the controllable immediacy they bring.
There are, as you might expect, some oddities. The Polestar 1 may cost $155,000, but you don't get ventilated front seats for that, or a sunshade for the panoramic glass roof. The trunk is a comedic 4.41 cu-ft; the tiny rear seats are better-considered overflow storage, not least because they'll only accommodate the smallest of passengers. The steering column is manually-adjusted, and so — weirder still — is the suspension.
Firm is an understatement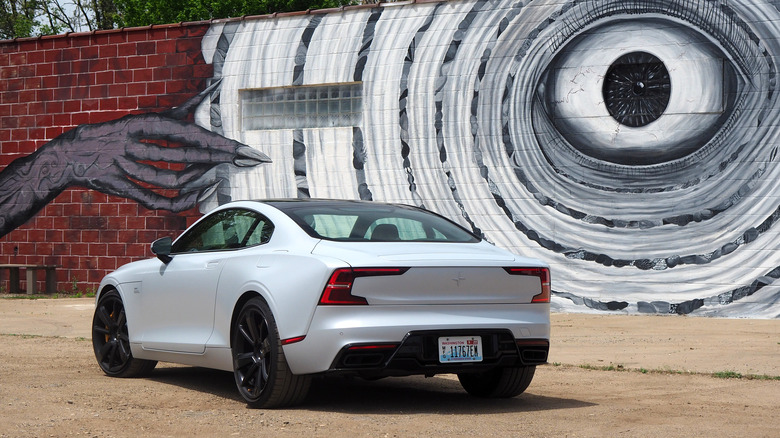 Chris Davies/SlashGear
Officially, the Öhlins dampers can be tweaked from comfort through sporty. Actually doing that, however, involves clicking the dials on each corner of the suspension, a bizarrely race-car-like process entirely at odds with the electronically-controlled settings most cars in the Polestar 1's price band adopt by default. I don't know how many of the 1,500 owners will actually go to the effort of making those adjustments, a process that literally involves jacking the coupe up in order to access the rear, but I suspect the number is exceedingly small.
Polestar's default is the midpoint between firm and comfortable, but definitely skews to the former. Post-winter Michigan roads are hardly known for their pristine quality, and potholes in the Polestar 1 are outright uncomfortable. Were I an optimist, I'd say it's a wonderful opportunity to see just how stiff the automaker's combination of CFRP and steel is: the coupe doesn't twist or shimmy, it just rattles sturdily while you cling on inside.
A denial that EVs are automatically soulless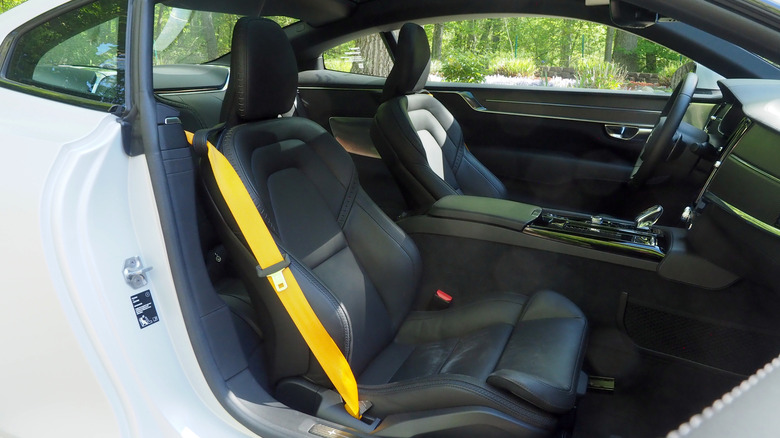 Chris Davies/SlashGear
They are all valid complaints, but at the same time, it's difficult to sustain too much ire at the Polestar. Sure, it has the same infotainment system as an older, pre-Android Automotive OS Volvo, and yes, 50 kW DC fast charging support isn't all that fast anymore, but the sheer personality the PHEV brings overwhelms such mundane, practical matters.
It's reminiscent of the Karma GS-6 in that sense, another complex and kooky plug-in hybrid with minimal brand recognition and a design that grabs more attention than a Lamborghini or Ferrari, and yet which on paper has you bemusedly scratching your head. In both cases, from behind the wheel, the foibles feel a whole lot more like character. A rejoinder of sorts to those who critique modern cars as soulless and bland.
Head versus heart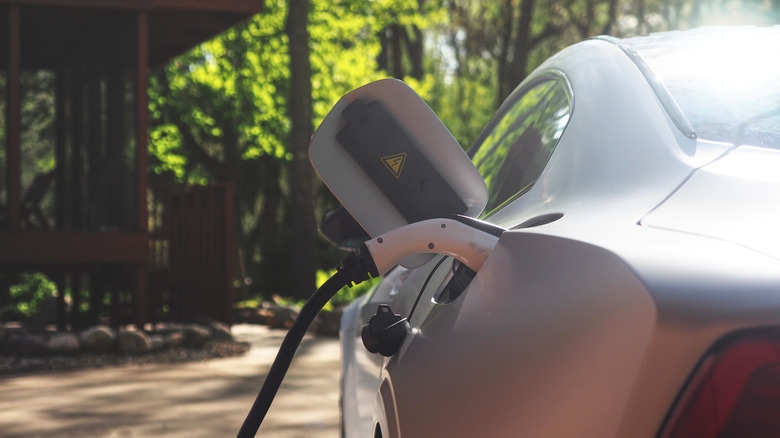 Chris Davies/SlashGear
Were it my $155k — or my $160k with the matte-finish paint you see here, the only cost option for the car — I can't quite bring myself to say I'd pick the Polestar 1 over, say, a similarly-priced Porsche 911. Or, for that matter, that the purely-electric Taycan GTS or Audi e-tron GT wouldn't sway me instead. All three could deliver amply as daily drivers without compromising on speed or comfort, even if for all their style and performance they wouldn't catch so many curious glances or stir the soul in quite the same way.
What my head knows, then, my heart still stumbles over. It's hard to imagine a period in time — at least, not one I'll still be around for — when the automotive world finds a gap for exotica quite like this again. A bridging moment where the transition is celebrated so enthusiastically, and with such imagination.
Polestar 1 Verdict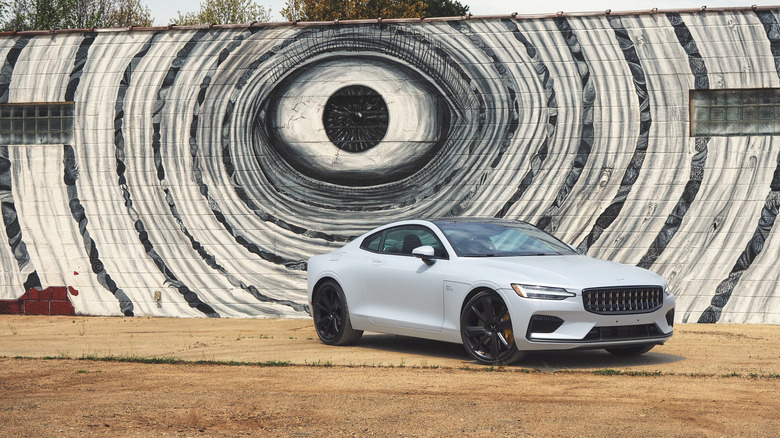 Chris Davies/SlashGear
The not-so-hidden secret about the Polestar 1 was always that, despite the halo billing, it was hardly a true precursor to the automaker's future. Both the first and last of Polestar's hybrids, its successors will all stick far closer to the example set by the Polestar 2. Pure electric, without the ecological whiff — or the complexity — of trying to involve a gas engine too. It's a recipe that seems to be working as well, with the automaker claiming it already cut greenhouse gas-emissions per car sold by 6% in 2021.
Hybrids, for better or worse, are slipping from favor, though the technology is going out with a bang. Acura's NSX Type S weaves magic with its heady blend of gas and electric; McLaren's new Artura will coax supercar performance from its combination of current and combustion. The Polestar 1 does more than enough to earn its place among those illustrious rarities. The mass market may well be circling in on EVs, but enthusiasts are getting some deeply special toys to covet along the way.