Volvo Concept Coupe Features Plug-In Hybrid Driveline And 1960s Design Elements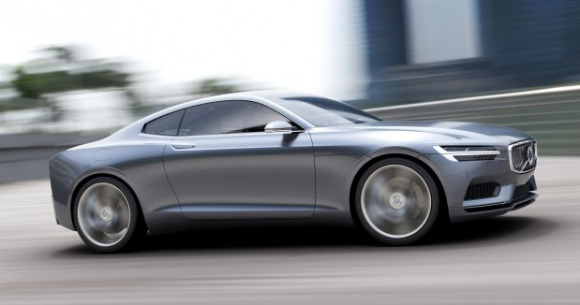 Volvo has introduced its Concept Coupe, a model that the auto maker says gets its design from both elements of Volvo's 1960's era and modern Scandinavian lifestyle. This is the first of a series of three concepts, and likewise is dubbed the first to be made with the maker's Scalable Product Architecture, a platform exclusive to Volvo.
All three of the concept models to be created will represent aspects of the upcoming Volvo XC90 slated for 2014. Says the auto maker, this particular concept is "most powerful" from a side-view perspective, with the front axle being extended from the dashboard and the greenhouse being moved back a slight bit.
There are DRL t-shaped headlights, something Volvo says all its future models will feature. There's also a redesigned floating grill and cow horns said to be modern takes from the classic P1800 model. Inside, enthusiasts will find inlays made of aged wood, a leather instrument panel, Kasthall woven carpets, and a Swedish handcrafted crystal for the gear lever.
As mentioned, the Concept Coupe is a plug-in hybrid petrol model with a 2-litre engine and supercharger/turbo. All this combines for a 400 horsepower output. Also mentioned during the announcement was autonomous driving, with the auto maker saying it plans to have models out before 2020 with fully autonomous technology onboard.
Said Volvo Cars Senior Vice President of Design Thomas Ingenlath: "The last few years car design has become increasingly standardized and streamlined, and too often defined by cluttered and overly complex design. While other brands try too hard to look luxurious and muscular, Volvo Cars will stand out as the calm, confident and naturally powerful challenger. We have no ambition to blend in, and the Concept Coupe efficiently manifests how iconic design will reinforce Volvo's identity."
SOURCE: Engadget