2020 Polestar 1 First Drive - Plug-in hybrid coupe previews a fast future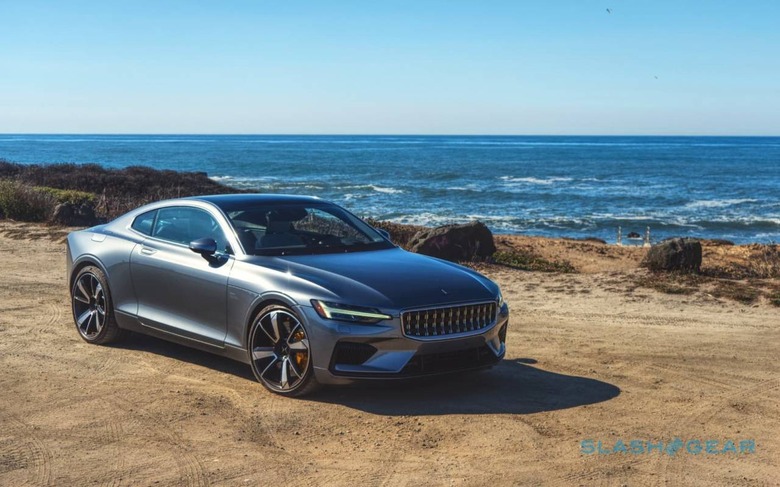 The Polestar 1 behind me fills the rear view mirror, low and broad, a shark among minnows on the highway. There's something about the proportions that encourage a second-glance; after all, you can't really credit brand recognition for the number of hungry stares, hastily-pointed phone cameras, and blunt fascination the sleek 2+2 coupe engenders.
It takes a little history lesson to understand Polestar. The company started out as a third-party Volvo tuner, wedded to the Polestar Racing team. That coupling split in 2015, when Volvo brought the tuning division in-house and set it to work creating typically limited-edition performance versions of its regular range.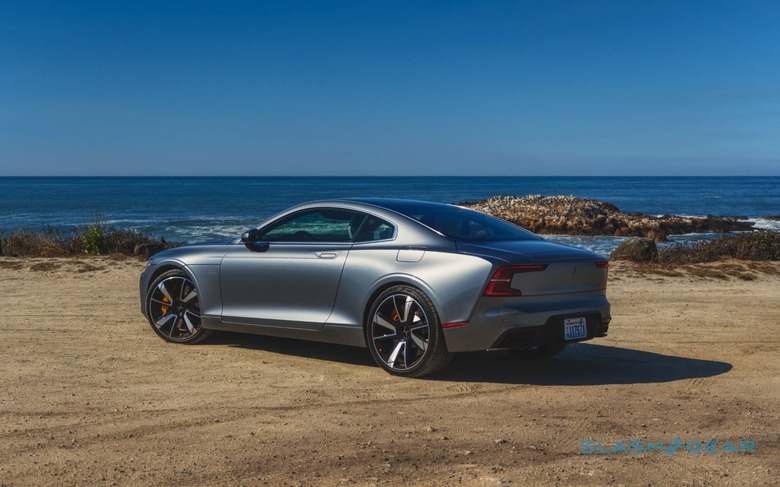 In mid 2017, that all changed. Polestar was spun out to focus on performance electric vehicles, launching cars under its own brand. Funded by Volvo-owner Geely, and with access to Volvo's parts bin, engineering, and established supply chain, it revealed plans to take on Tesla and others with a whole range of EVs.
The Polestar 1 is the halo car of that upcoming range, though at its core it actually predates even Volvo's acquisition of Polestar. Back in 2013, the Swedish automaker revealed the Volvo Concept Coupe, a showcase for its then-new Scalable Product Architecture. Borrowing styling cues from the classic P1800, the concept was to be a plug-in hybrid, with an innovative gas-electric drivetrain.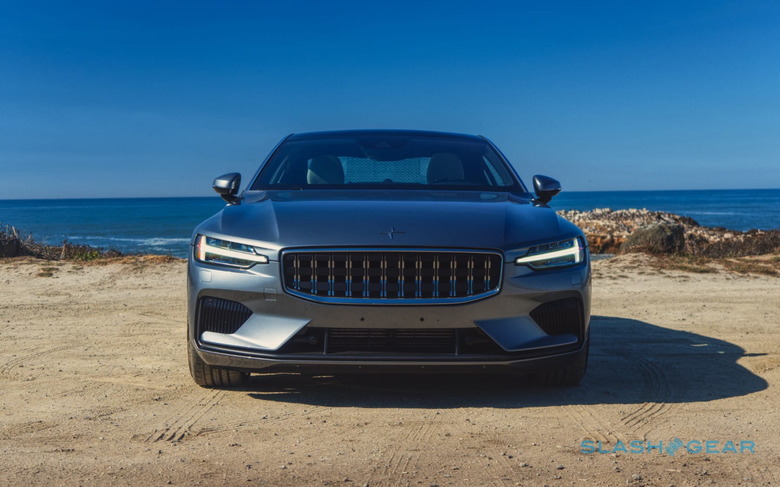 The SPA platform went on to underpin the award-winning XC90 SUV and other models after it, and help shape Volvo's wildly successful reinvention over the past five years. However the Volvo Concept Coupe never actually made it to dealerships, as the automaker focused instead on more mass-market-friendly SUVs and sedans. Then Polestar arrived.
Polestar 1: The "Electric Performance Hybrid"
The core strategy is the same: a gas engine at the front and electric motors at the rear. Polestar 1, though, cranks up the power to flagship levels. 326 horsepower and 384 lb-ft of torque from the 2.0-liter supercharged and turbocharged 4-cylinder gas engine under the shapely hood. 232 horsepower and 354 lb-ft from the two electric motors at the rear. Finally, another 71 horsepower and 119 lb-ft from an integrated starter generator motor.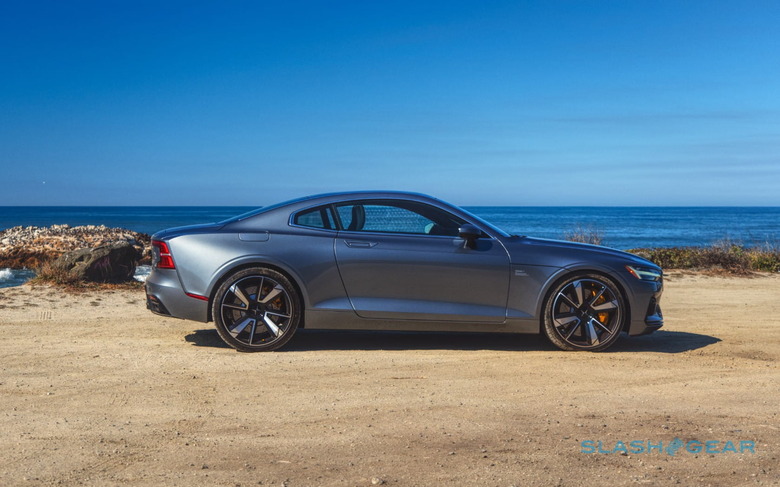 It means the Polestar 1 has 619 horsepower and 738 lb-ft of torque altogether, good for 0-60 mph in 4.0 seconds and a top speed of 155 mph. What's fascinating, though, is how all of those elements are combined.
You can think of the Polestar 1 as a car of two halves. The gas engine part is at the front, paired with an eight-speed transmission, and driving the front wheels. The electric part is at the back, responsible for the rear wheels. It means you get all-wheel drive, but without a mechanical connection between front and rear: where you might expect to find a driveshaft, running down the middle of the car, instead there's a battery.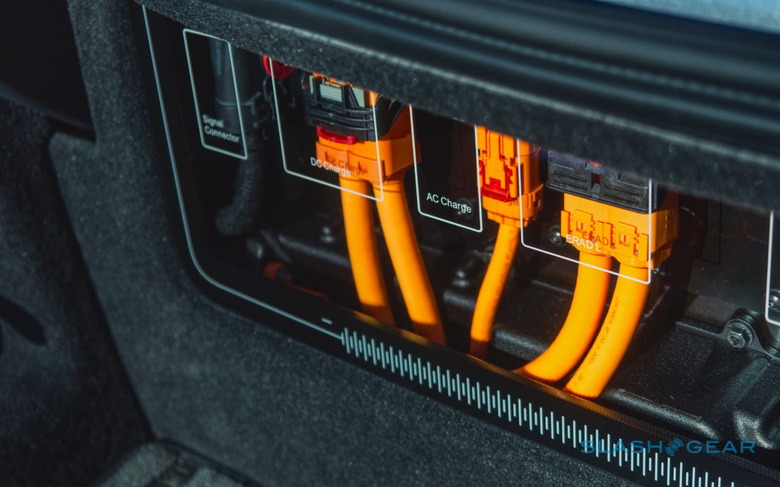 It's one of two power packs the Polestar 1 relies upon, a third of the total 34 kWh running longitudinally down the middle of the coupe, and then the remainder tucked behind the rear seats. That battery, Polestar is keen to point out, is the largest you'll find in a PHEV. Indeed, it's only slightly smaller than the battery some purely-electric cars offer.
It leaves the Polestar 1 a hybrid grand tourer. EPA range for the US hasn't been settled yet, but on the European WLTP cycle it's around 70 miles of electric-only driving. Throw in the gas tank and you're looking at around 540 miles in total, again according to the European tests.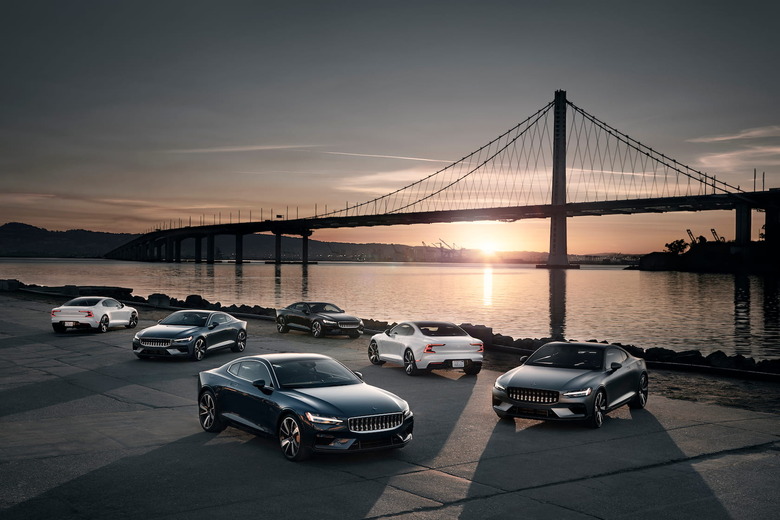 For that, Polestar is asking $155,000. There's only one option: $5,000 for matte finish to the paintwork. Otherwise all the choices are included: five subtle external colors, two interior color schemes, two trim colors, and three wheel finishes. Polestar will make just 500 of the car each year, largely assembling them by hand at a purposed-built facility in China. With a three year production run planned, just 1,500 will be produced.
A timeless coupe
Testament to the original Volvo concept, the Polestar 1 still looks fresh and dramatic today. There's a restrained simplicity to the car's lines, a timeless combination of curves and angles. Polestar uses carbon fiber reinforced polymer (CFRP) for the bodywork, saving weight and allowing for crisp feature lines and a super-slim roofline that would be simply impossible to achieve with traditional stamped steel.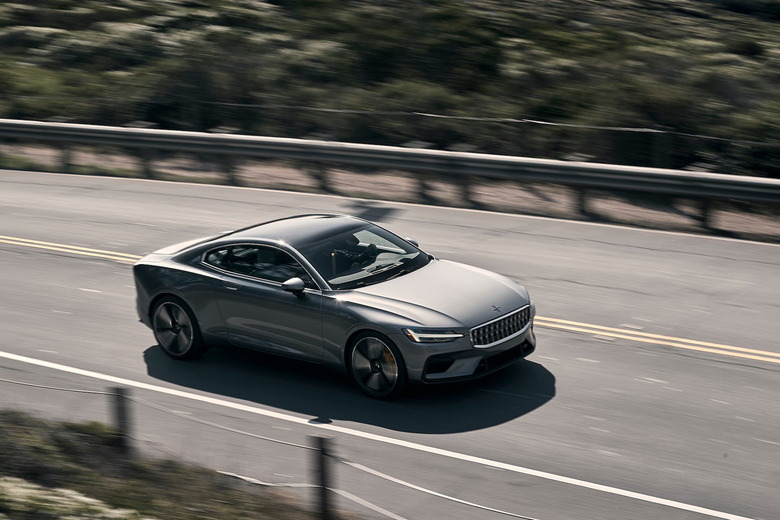 There cues we now associate with Volvo, of course, like the Thor's hammer headlamps; in actual fact, the original Concept Coupe debuted them. Polestar's subtle badging, though, and its decision to fill the grille aperture with a slightly concave array of polished metal studs provides some visual separation. Careful, restrained detailing – a light-touch approach that allows the inherent elegance of the coupe to shine.
Four drive modes are on offer. The default is Hybrid, the Polestar 1 automatically deciding when to use gas and when to use electric power. Pure locks the car into EV power alone, at least until the battery runs flat; AWD uses gas and electric in tandem for maximum stability.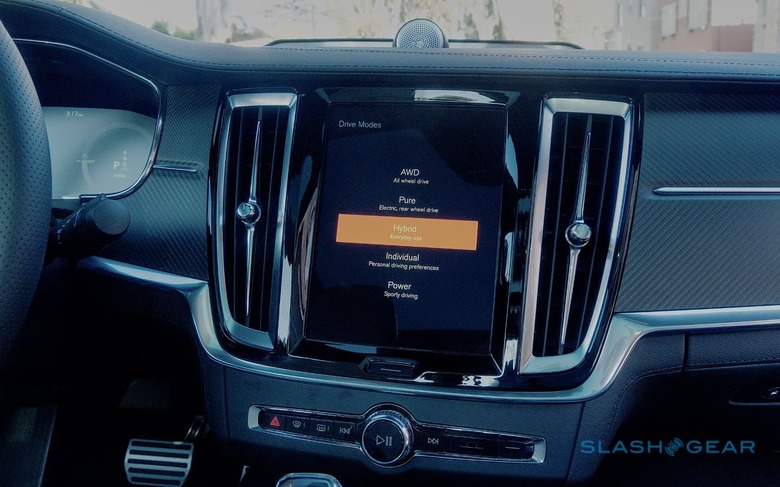 Finally – aside from an Individual mode which allows you to mess with the presets yourself – there's Power mode. That unlocks the maximum performance from the drivetrain, conserving battery be damned. Unlike, though, a Porsche hybrid, the Polestar 1 won't actively try to recharge the batteries using the gas engine as a generator in the name of always giving you some electric grunt. You can manually turn that on in the settings, but the Polestar team frowns upon it as a less efficient use of fuel.
Polestar 1 on the road
From behind the wheel, the Polestar 1 masks the seams between its two power sources well. There's a smooth blend between gas and electric power; even when you push on more aggressively, the drivetrain is relatively restrained in its soundtrack. The brakes – beefy 15.7-inch discs with 6-piston Akebono calipers at the front, and 15.4-inch at the rear with 4-piston calipers – are nicely up to the task of slowing things down, though there's less slowing through regeneration as you might be familiar with from other EVs.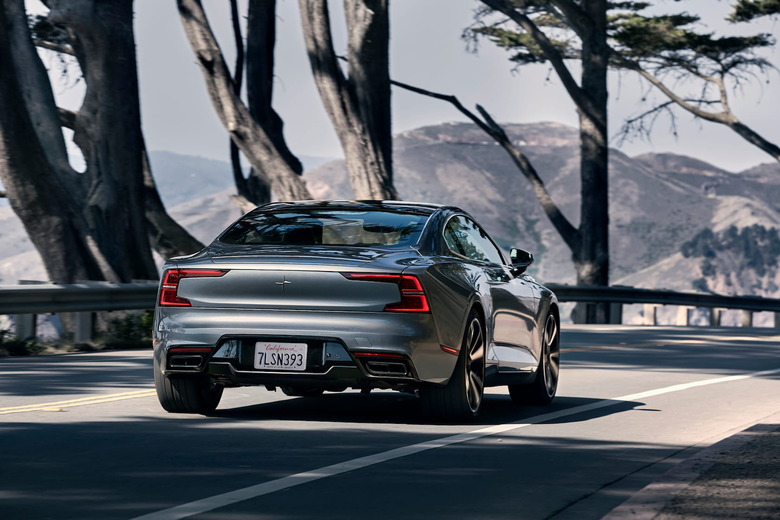 Polestar may have used CFRP for the car's bodywork, but it's still a heavy beast overall. There's no hiding the sum of effectively two drivetrains and a luxuriously-appointed cabin, and – even with 48:52 weight distribution – a curb weight of 5,170 pounds makes itself known.
The Polestar 1 is more grand tourer than backroad racer. Out in the tight mountain switchbacks just south of San Francisco, where the automaker had invited us to try the new hybrid, the coupe felt agile but I was often reminded of its heft. There's a disconnect that takes some getting used to: the feeling that you're going to understeer as you push hard, or kick out if you add to the accelerator mid-corner, but the car's careful setup of mechanical and electronic trickery keeping you on the asphalt.
Despite the weight, there's no flex or shimmy. The Polestar 1's floor is steel but the engineers apply a cross of CFRP to its mid-point, instantly adding torsional rigidity to the car. It's astonishingly effective, and something the Polestar engineers say could easily be added to other, more affordable vehicles in future, even if they rely upon more traditional materials for their bodywork.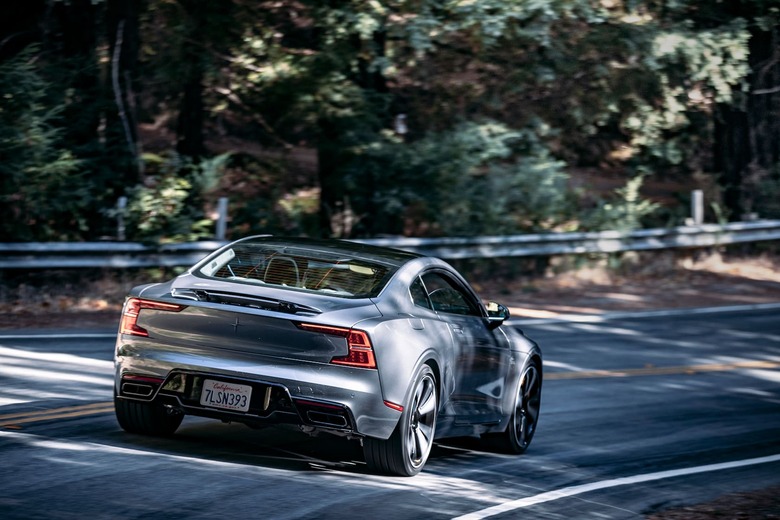 The other joy is torque vectoring. With an electric motor for each of the rear wheels, Polestar has precise control over which side of the car gets power. In a corner, for instance, the outer wheel can be pushed harder than the inner wheel, to keep you on track even when the physics feedback your butt is getting might suggest you're perilously close to the limit.
Among all this trickery, Polestar's decision to go with manually-adjustable suspension is a strange one. We can probably credit Swedish loyalty for the insistence on using Öhlins dampers, the firmness of which can be tweaked but only if you're willing to physically click the dials on each. I suspect few will, so thankfully Polestar's default is a pleasing balance between touring comfort and sportier stiffness.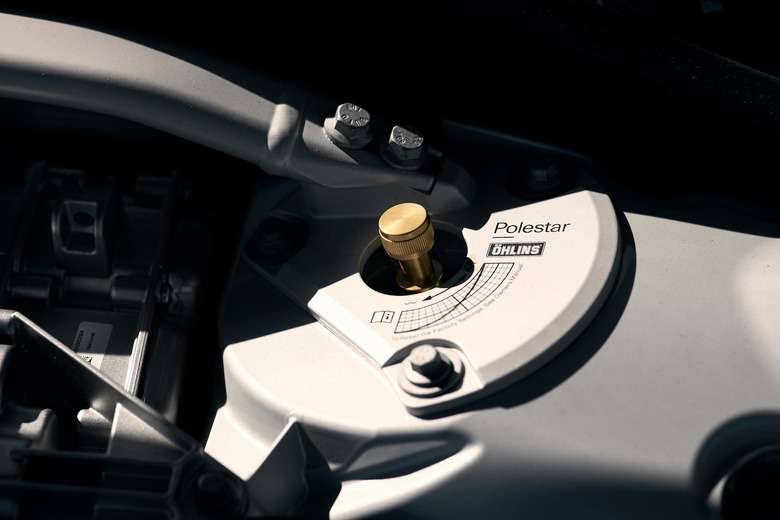 When it comes time to refuel, the Polestar 1 supports up to 50 kW DC fast charging. An 80-percent recharge can be had in under an hour in those circumstances, though figure on considerably longer with a more typical Level 2 charger. A battery-hold option in the menus allows you to lock down what charge is remaining, though it leaves the gas engine to do the heavy lifting and you definitely notice the dip in power.
A familiar cabin... maybe too familiar
It's inside where the Polestar 1 most clearly shows its Volvo roots. The dashboard, the steering wheel, the instrumentation, and the 9-inch touchscreen infotainment system will all be familiar if you've been in one of the Swedes' recent cars. Polestar has bolstered the seats a little, at least, and they feel all the better for it.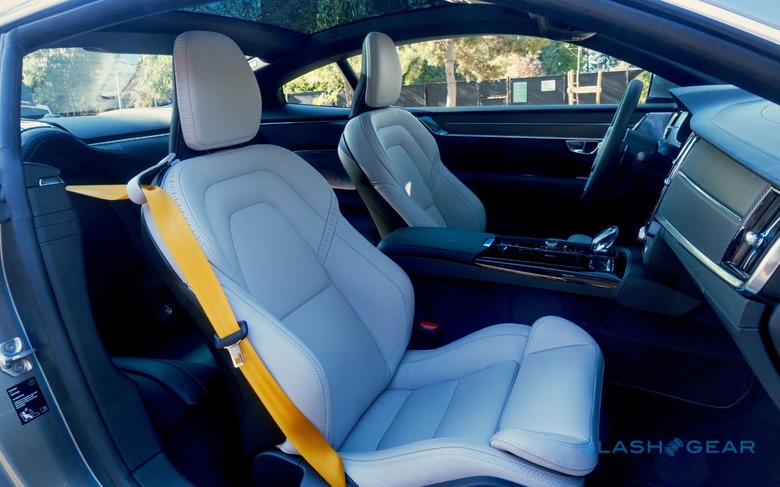 The similarities are no bad thing, on the face of it. Volvo's interiors are some of the nicest around right now, so I'm not going to complain too loudly. Still, the plastic airbag cover that feels acceptable on a $40k Volvo crossover seems a little less excusable on a $155k luxury coupe, and while I appreciate Polestar wanting to highlight its materials expertise with real CFRP panels on the dash and doors, I'm not sure it quite works. Carbon fiber reinforced polymer may be marvelous when it comes to its weight-strength balance, but it just doesn't feel all that great under your fingertips.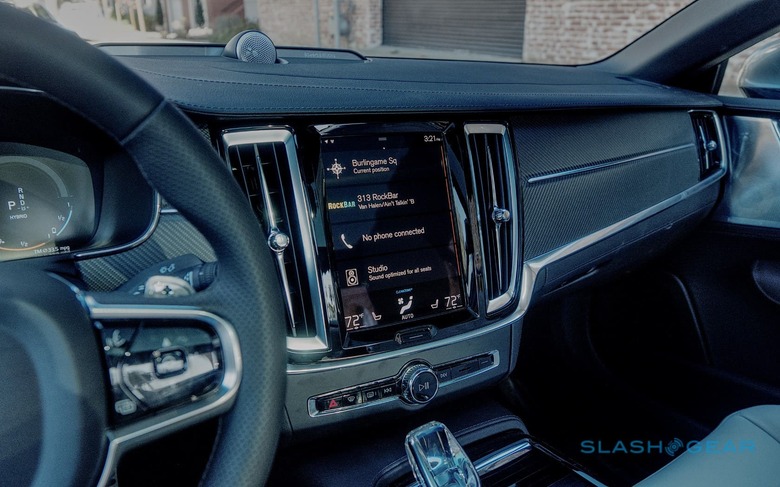 The panoramic glass roof could do with either electrochromatic glass or, failing that, a sliding sun shade, and there's an odd absence of overhead grab handles, too. If you had plans to take friends with you in the back seats, meanwhile, it's probably best to select only the shortest. Polestar isn't kidding when it calls the car a 2+2, with accommodation in the back tight even for kids. There are, at least, fitting points for a couple of child seats, though the slow-sliding front seats will leave you waiting interminably to actually gain access to them.
Don't get me wrong, the Polestar 1's cabin is fine. There's a sweet-sounding Bowers & Wilkins audio system that comes as standard, an Orrefors crystal gear shift knob, and high-quality perforated leather in a choice of two finishes. It just doesn't feel all that special. I wish the designers hadn't saved the most charming interior feature for the trunk, where the high-voltage power connectors are visible through a plexiglass panel. The bright orange cables are intended as an eye-catching reminder of the battery's presence, the reason you only get a mere 4.41 cubic feet of cargo space.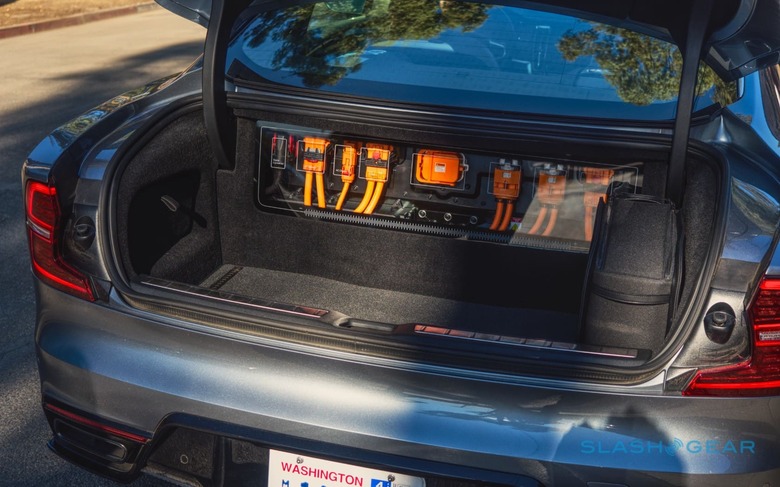 2020 Polestar 1 Verdict
There's a lot I like about the Polestar 1, and a few things I love. The design is just as graceful today as it was when we first saw it as a concept, attention-grabbing enough to turn heads on the road, yet likely to age with a serenity most sports coupe could only dream of. On the right roads, it's a superlative long-distance cruiser, smooth and compelling.
All the same, as a halo car for the Polestar brand, I can't help but feel like the Polestar 1 doesn't really tell us much about what's to come. Beyond the shared exterior aesthetic, the Polestar 2 – with an entirely electric drivetrain, a markedly different and distinctive interior, and a considerably more affordable price – bears few similarities to this hybrid flagship.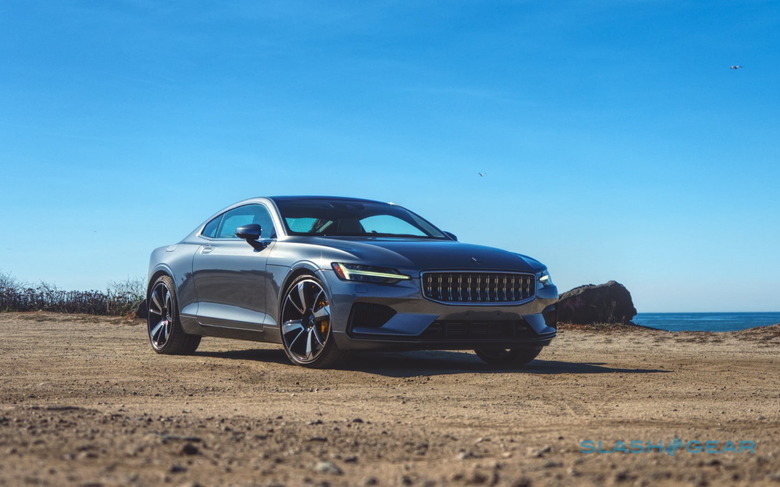 The automaker has been upfront: this will be the one and only hybrid it will make. Everything after this – from the Polestar 2 sedan launching next year, through the Polestar 3 crossover EV that will follow, and then beyond – will be a BEV. I'm totally down with that roadmap, but it does only serve to underscore how different from that this luxury coupe is.
The Polestar 1 feels like a clever, intriguing, achingly pretty Volvo. That's great, but at $155,000 when it ships from April 2020 it puts the hybrid right in the midst of some serious competition, and would-be owners are going to have to really, really want it in order to look beyond similarly-priced exotica. As a design exercise it's unarguably stunning, but the Polestar 1 feels more like a curious amuse bouche before the automaker's main course arrives next year.