KIA Super Bowl 'respect the tech' commercials star sexy robots and space babies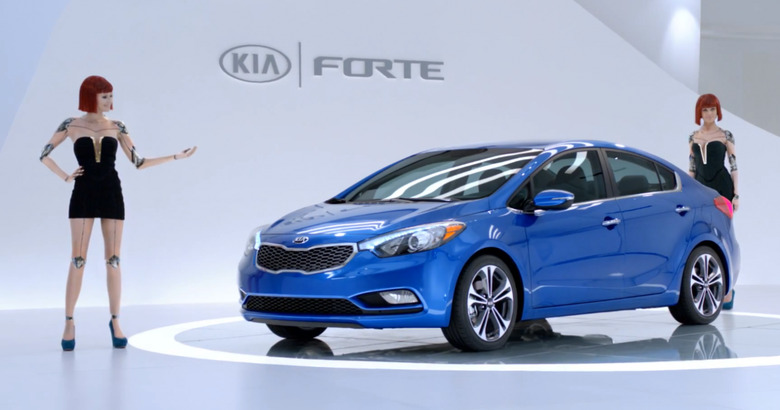 It's that time of year again. The time where every company that can manage airtime is throwing together their best ideas for NFL Super Bowl commercials. No one can forget the sexy KIA Optima commercial last year starring Adriana Lima, but this year KIA is going with "hotbot" robots and talking space babies to show off their new lineup for 2014. Take a peek at both below.
The all-new 2014 KIA Forte has a stylish design and plenty of high-tech features given the price point. This commercial is simply titled "Respect the Tech" and you'll quickly see why. Let's just say you should treat your car with care. For a better look at all those new features and its luxury interior take a look at our 2014 KIA Forte test drive for additional details. Enjoy the sexy robot commercial below starring former Miss USA Alyssa Campanella as a robot.
Next up to highlight the new 2014 KIA Sorento that's been redesigned almost completely inside to offer the up-most luxury and quality features we all want in a crossover, is their new "Space Babies" commercial set to get airtime in the 3rd quarter of the big game on Sunday. KIA promises to answer the age old kid question: Daddy, where do babies come from? So check it out for the answer:
"UVO, Play Wheels on the bus!" This is a quick glance at the new and improved redesigned UVO 2.0 Infotainment system that comes standard in all 2014 KIA vehicles. Featuring large TFT displays, backup cameras, smartphone integrate and accompanying iPhone apps and more. We figured they were both worth a quick laugh. Enjoy the big game as surely they have a few tricks up their sleeve come Sunday. Hopefully that Ravens D has a few more tricks up their sleeve too. Who's your pick?