2014 KIA Forte Test Drive: Luxury Features In A Compact Sedan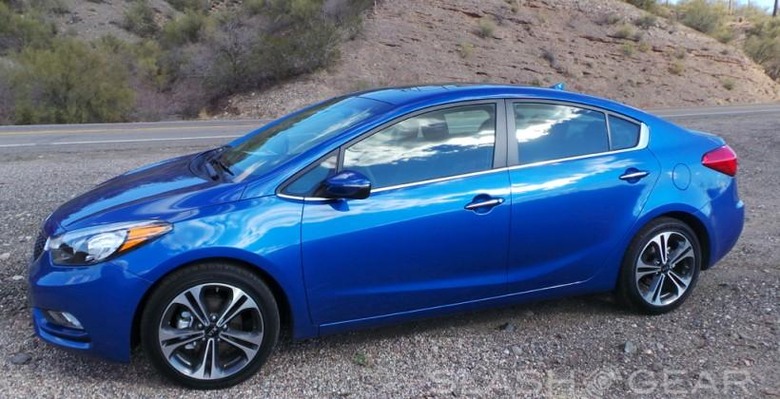 The all-new redesigned 2014 KIA Forte made its debut at the LA Auto Show, and this week we were lucky enough to get up close and personal with the new driving machine for the KIA First Drive event. With tons of new features not seen before in the compact Sedan segment, new trim options, a sleek design and new FlexSteer handling modes this car surely brings handling and luxury prowess to the price point. Read on for details on their UVO infotainment system and more from our first hand experience below.
With a revamped design and powertrain, new trim and engine options, the improved UVO Infotainment system and much much more the 2014 Kia Forte is poised to take on the Ford Focus, Honda Civic, and even the Toyota Corolla. The base LX model is powered by a 1.8-liter four-cylinder engine rated at 148 horsepower and aims to bring fuel-efficiency direct to consumers. Then their EX model now features a 2.0-liter four-cylinder rated around 173 horsepower. There is plenty more to the new Forte than just that so lets take a look.
Design
With the 2014 Forte you'll get a beautiful European-inspired design which was developed at the KIA Design Center in California, and you can obviously see pieces of their elegant Optima shining through the cracks. It's lower to the ground than the original, slightly wider with a brand new powertrain, and is a dramatic departure from the previous model. KIA hopes to stun this particular market with a completely new level of sophistication and from our initial impressions they've done just that.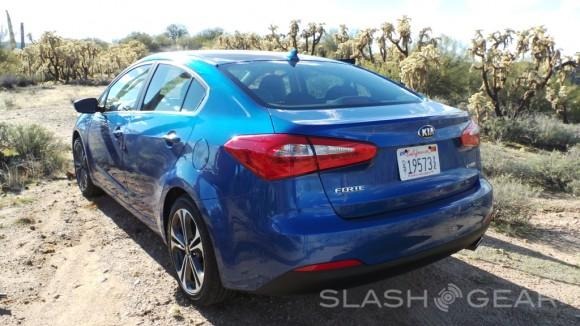 At first glance you'll quickly notice the elegant lines, smooth corners, and edgy LED infused headlights and taillights. Using a wrap-around design to keep the front clean and simple (not to mention aerodynamic) you can quickly see all the effort the California design crew put into the 2014 Forte. Offering an all-new chassis that is lower, wider and longer than the previous generation, driving and handling certainly was improved and stiff — in a good way. Electric power steering replaces hydraulics, but that's where their new FlexSteer technology comes into play. Quickly tap the FlexSteer option located right on the steering wheel and you'll be able to drive casually, or grip and rip the road and curves. Using Electronic power steering the weight will instantly change and driving styles are Normal, Casual, and Sport. We preferred the Normal setting to be honest, but can see the appeal.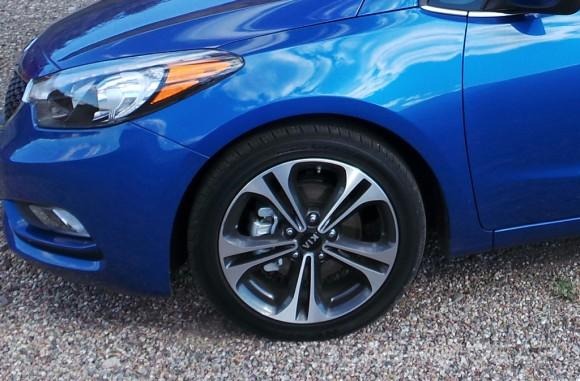 While the front has a unique design that almost looks like bug eyes, it's still easy on the eyes and looks quite sharp. As mentioned above you can certainly see the design cues from the Optima — a car we can all agree is gorgeous. They've added in new 17-inch sport wheels to the EX offering, and all of this starts at just $16,000 in Q1 of 2013. Enjoy the gallery below of this stunning little sporty Sedan.
Interior
When we mentioned a new level of prowess and sophistication to this size and price class, a lot of that stems from the interior. KIA wanted to offer everything that we love from higher-priced cars, even for their Forte. They pulled out all the stops, didn't hold back, and treated the Forte to the same elegance as others in the recent past. We'll talk more on the UVO infotainment system below, but for now will focus on the interior as a whole.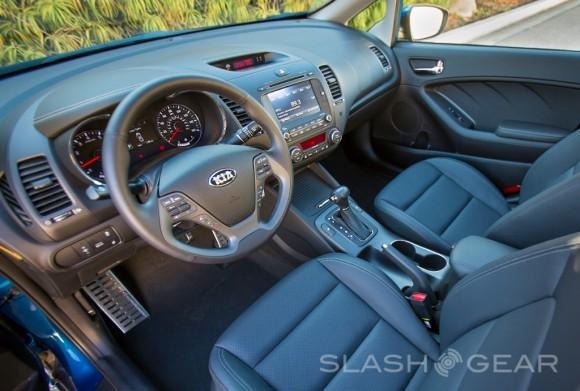 Even the entry-level LX model enjoys all the features and functions we've come to love in our cars. The Steering-wheel controls become your cockpit and controls nearly everything. From audio controls, their digital dash options (including navigation right between the speedometers) and more. Then you obviously get Bluetooth, satellite radio options, power windows and seats, and even powered mirrors. Both the mirrors and the seats are heated too, although not in the base model. On the EX you'll enjoy both heated, and cooled seats. That was nice and comfortable while driving around in the Scottsdale desert, and surely will help all summer long.
Increasing to the EX trim (around $18k and up) brings you Kia's improved and also revamped UVO infotainment system with backup camera, keyless entry and keyless start, and the same cooling features for the seats to the glovebox. Did we mention they brought their awesome leather interior with seamless designs and elegance to the Forte too?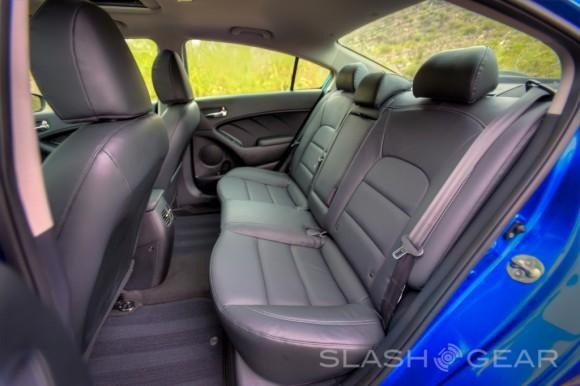 Some of the additional options include 17-inch sport rims over the 16's, HID headlights, power sunroof, ventilated seats, dual climate control, heated rear seats (bottom) and even a heated steering wheel. KIA's added illuminating door handles with proximity sensors too. That was neat. Another option is their 4.2-inch TFT display inside the meter cluster as mentioned above. That was a nice change. Having navigation in the meter cluster allowed the larger 7-inch display to keep playing tunes and showing album artwork for the rest of the passengers.
The only complaint I'd have for the interior would be the 10 degree angle on the 7-inch LCD display and UVO infotainment system. While this is angled to bring an easier experience to the driver, those in the passenger seat don't get the best view. While it was a minor issue the angle also brought some epic sun glare direct to the passengers eyes at times. Something we could certainly do without. More on the infotainment system below.
Overall the new and improved trim options, leather interior and leather wrapped steering wheel, and all the other details mentioned above certainly makes the KIA Forte a real contender for the price. Getting some of these awesome (and needed) features all for around $18,000 sounds pretty nice if you ask us. The dash plastics of old have been replaced with an elegant and simple carbon fiber-esque look, and the rest was wrapped in premium leather for that luxury feel.
Engine and Performance
As we mentioned above the 2014 Forte now comes in two trims. One for the budget-minded who also wants luxury and fuel-efficiency, as well as the higher end EX for the sporty and high-end vibe. The base LX model is powered by a 1.8-liter four-cylinder engine rated at 148 horsepower geared for fuel-efficiency and ease of use. Then their EX model now features a 2.0-liter four-cylinder rated around 173 horsepower. We enjoyed the fully loaded EX complete with all the bells and whistles. There's also an optional Eco Package, which adds in "Idle, Stop & Go" (ISG) or Kia's version of stop/start automatic engine control. Release the break at a stoplight and the engine quickly starts up again and you're running without even noticing.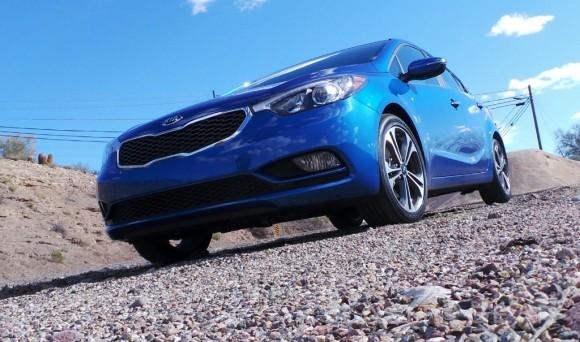 We averaged an upwards of 37 MPG on the curved highway roads of the Scottsdale desert at times, but flying around corners and cranking up that 2.0-liter 173 horsepower engine quickly lowered our results. Gripping the corners was actually better than expected, and the FlexSteer option proved its worth by quickly tapping the steering wheel button transporting the car into "sport mode". The new powertrain seemed sufficient given the price, but we're no experts here. The entire car felt tight, stiff, and low to the ground and handling was stellar around turns.
The previous generation was criticized for its sluggish performance, but with the 2014 Forte EX you certainly won't have that issue. While the speedo went up to 170 (which means nothing), sadly we weren't able to test those limits. Again we want to mention luxury, because KIA wants to offer a near-luxury experience with this ride. The in-car noise from the road was rather quiet even at high RPMs and flying through the desert, and we were quite pleased with overall cabin noise. Something you'd expect from a luxury vehicle is nicely present with the Forte.
UVO Infotainment Center
Being tech and gadget lovers here at SlashGear, this was one of our favorite parts. Having an awesome 7-inch TFT touchscreen for all the controls you'd ever want (and need) all even in the entry-level model — we were extremely happy to try it out. KIA has introduced a second-gen UVO infotainment system powered by Microsoft, but sadly it doesn't work with Windows Phone, or Android. Well it does, but their accompanying app and 10 year/100,000 miles free UVO services doesn't. An Android version is in the works, but for now it only supports iOS.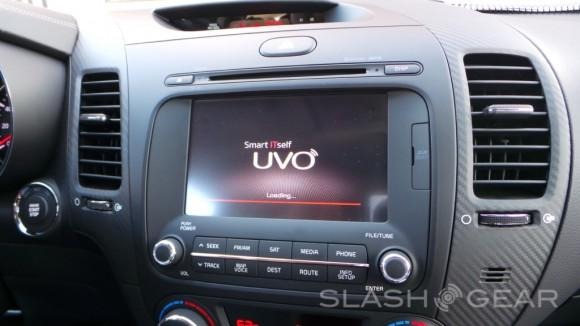 However, that doesn't mean all smartphones don't work. The UVO infotainment system easily paired with our iPhone, Android Phone, and even a blackberry for hands-free calling, streaming music and Pandora radio, and much more. Using the wired USB 2.0 port we were able to enjoy Album artwork from iTunes, as well as while playing Google Music on Android. Bluetooth pairing was simple on all devices, and really shows their attention to detail and the future. Call logs instantly populate on the display and our iTunes Playlists neatly appear too.
The UVO system uses an extremely simple user interface. Some are too confusing and try to be too fancy, that wasn't the case here. With dedicated Media, Maps, Navigation and other hard buttons below the display for ease of use it allowed the actual screen to be simple and clutter free. Navigation was a breeze and as we mentioned earlier this year, KIA has partnered with Google Maps. You can send the map from your PC or smartphone right to the car with ease before a trip. Making the "get in and go" term even more useful for roadtrips. Pair that Galaxy S III to the car and you'll be enjoying tunes on the 7-inch display, while following navigation on the optional 4.2-inch TFT meter cluster display we mentioned above.
"It's not just about providing technology in their cars, it's delivering technology that makes sense." — KIA VP of Marketing
The above quote is pretty much the easiest way to sum up the interior design and UVO infotainment system of the new KIA Forte. They didn't just throw in technology and steering wheel controls to do so, they put technology in their cars that works great, makes sense, and is easy to use. The fact that I didn't have a single hiccup pairing multiple devices, or needed to read a single manual really made it earn bonus points in my book. Hopefully their accompanying app will get Android support in the future. It's worth noting that KIA plans to bring full Siri support for iOS users to their UVO system in an update later this year.
Wrap-Up
Taking the all-new 2014 KIA Forte through the old Copper mining towns of Arizona and through the winding roads of the Tonto National Forest (forest full of Cactus) we certainly were impressed overall with the Forte. KIA certainly deserves bonus points from potential buyers for the balance of price, performance, technology and specifications it has managed to blend into the new Forte. The new and improved model for 2014 will undoubtedly outpace its predecessor, and quite likely the competition too.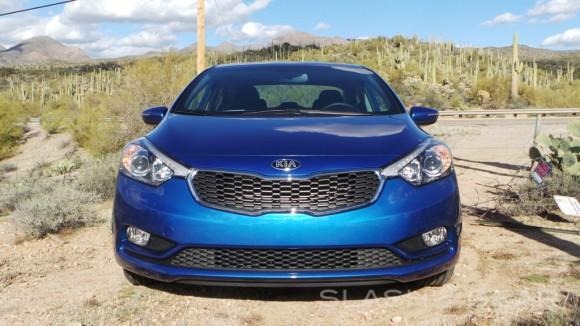 At the end of the day KIA has designed a beautiful car that's loaded with goodies all for a great price. We get to enjoy a great audio system that is deeply integrated into our mobile lives, spacious interior for a "compact sedan" and luxury options you'd expect on a higher priced vehicle. Add in the new trim options and powerful 2.0-liter engine and KIA has a winner here. Only time will tell how it stacks up against the competition, but expect to see the all-new 2014 KIA Forte hit the roads next month.