The Top 5 Most Expensive Cars In Post Malone's Collection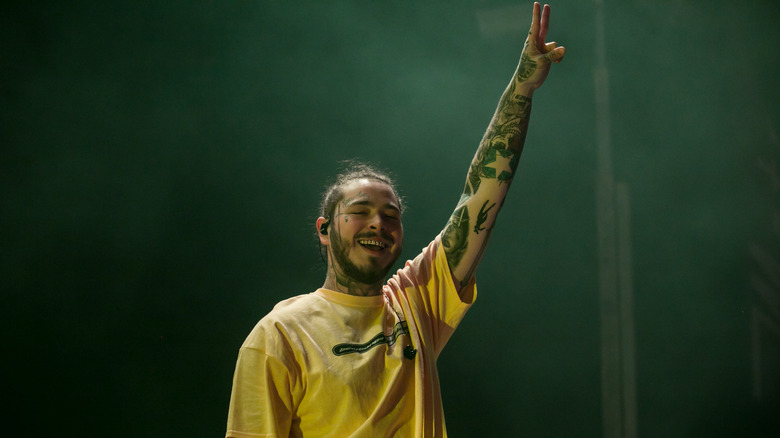 Brandon Nagy/Shutterstock
American songwriter, actor, and award-winning recording artist Austin Richard Post is among a new generation of musicians that fuse different music genres into multiple subgenres to create a unique, modern sound. Born on July 4, 1995, Austin Post derived his "Post Malone" stage name from an online rap name generator (IMDb). He began his music career at age 16 by creating his "Young and After Them Riches" mixtape using Audacity, a free and open-source recording software and digital audio editor (per DuPont Registry).
And in 2015, Post Malone uploaded "White Iverson" to his SoundCloud account, which immediately hit one million views. More importantly, his funky, retro-inspired sound drew the interest of record executives. He signed with Republic Records in August 2015 and never looked back. Since then, Post Malone has sold more than 14 million albums in the United States (per Best Selling Albums) and has numerous Grammy nominations. With a reported net worth of $45 million (per Celebrity Net Worth), Posty has accrued a remarkable collection of the fastest, most expensive, and craziest cars on the planet.
What is Post Malone's most expensive car?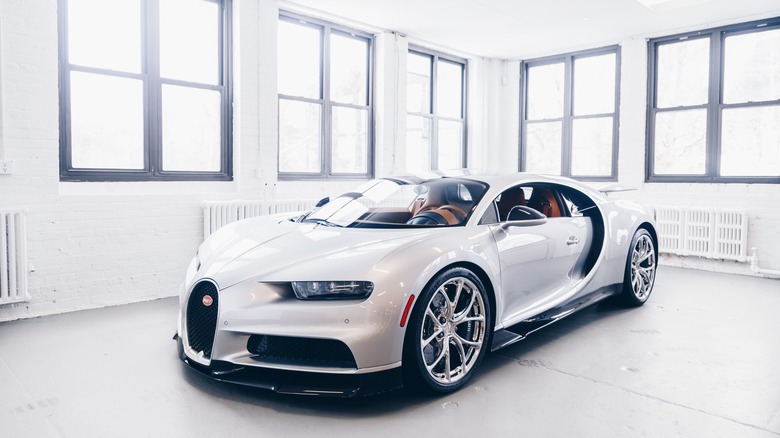 classic topcar/Shutterstock
Post Malone's garage is as eclectic as his sound. On one side, he has a custom 1992 Ford Explorer, a 1968 Chevy C-10, a 1966 Lincoln Continental, and a 2019 Subaru WRX (per DuPont Registry). On the other, he used to have two of the most expensive and exclusive cars money could buy. Post Malone bought his $3-million Bugatti Chiron in 2019 with more than $150,000 worth of options (per Supercar Blondie). The Chiron's 8.0-liter quad-turbocharged 16-cylinder engine generates no less than 1,500 horsepower and 1,180 lb-ft of torque, placing it on the top echelon of modern supercars. However, he sold it in early 2022 despite garnishing the supercar with all-white leather seats, unique wheels, and a silver mesh front grill, to name a few.
Moreover, he used to have a McLaren Senna XP, a more hardcore and track-ready version of a standard Senna. Only three Senna XPs left the Woking factory in England, and each costs upwards of $1.5 million. Post Malone got to snatch one of the three Senna XPs, the "Master of Monaco" edition, back in 2019 (per Car and Driver). However, Posty decided to sell his McLaren on the Dupont Registry after only 146 miles "so someone will be able to use and appreciate it" more than him, a humble gesture from a certified car nut (per Boss Hunting).
After selling two of his multi-million dollar supercars, the Ford GT is the most expensive car in Posty's updated auto collection. Equipped with a high-strung 3.5-liter EcoBoost V6 engine, the Ford GT has 660 horsepower, 550 lb-ft of torque, and a slick-shifting seven-speed dual-clutch automatic gearbox to rush from zero to 60 mph in a scant 3.0-seconds. Ford's limited-edition supercar starts at above $500,000 each (per Car and Driver).
Cars fit for rockstar royalty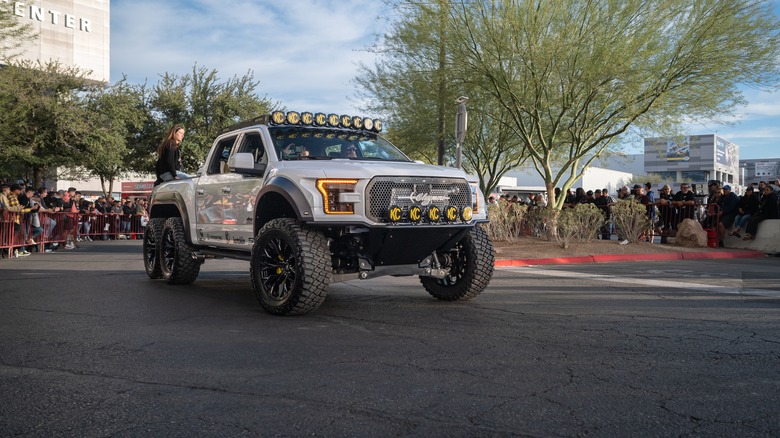 betto rodrigues/Shutterstock
Rounding up the list of Post Malone's most expensive cars are a Rolls-Royce Phantom EWB (starting at $460,000), a Lamborghini Aventador SV (about $508,000), a Rolls-Royce Cullinan ($351,000), and a $349,000 Hennessey Velociraptor 6x6. The latter is an extensively modified Ford F-150 Raptor truck with six wheels, a 600-horsepower EcoBoost engine, go-anywhere suspension, and tons of attitude.
Before settling for the mega-opulent Rolls-Royce Phantom, Posty had a magnificent Rolls-Royce Wraith, a luxury-performance coupe that starts at around $311,000. Unfortunately, an errant driver crashed into his Rolls in 2018. He bought the Phantom a day after the incident (per Supercar Blondie). Finally, Post Malone also has a Lamborghini Urus ($200,000+) and a $285,000 McLaren 720S chilling in his garage (per CarHP). As the hits pile up, you can expect Posty to add more cars to his growing stable. We think electric supercars like the Rimac Nevera, Pininfarina Battista, Lotus Evija, or a hybrid Koenigsegg Gemera are ripe for the picking. However, we have yet to see the eclectic artist behind the wheel of an EV or hybrid.