This new Lotus Evija is the $2.15m blueprint for all-electric hypercars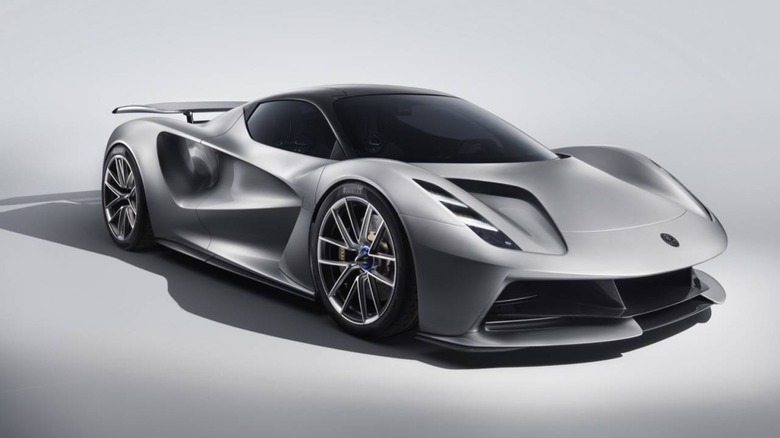 Look out Tesla, the British are coming, and the Lotus Evija has some huge electric plans to be the most powerful production car in the world. Unveiled today, the angular Evija – pronounced "E-vi-ya" – is the automaker's first fully-EV sports car, with a targeted 2,000 PS, or 1,973 horsepower.
That, Lotus suggests, will be sufficient for a sub-3.0 second 0-62 mph time, and a top speed in excess of 200 mph. As the first new Lotus under the auspices of Geely, the automaker is really pushing the boat out on pace. However, it'll also apparently be capable of 250 miles of driving range on a single charge.
An EV built for speed - and handling
That's what Lotus is aiming for, anyway, using a mid-mounted 2,000 kW lithium-ion battery pack. It's the handiwork of Williams Advanced Engineering (WAE), which Lotus is partnering with to develop advanced propulsion technologies. Like mid-engined Lotus cars, it's intended to help with a perfect balance. However, it also helps future-proof the Evija.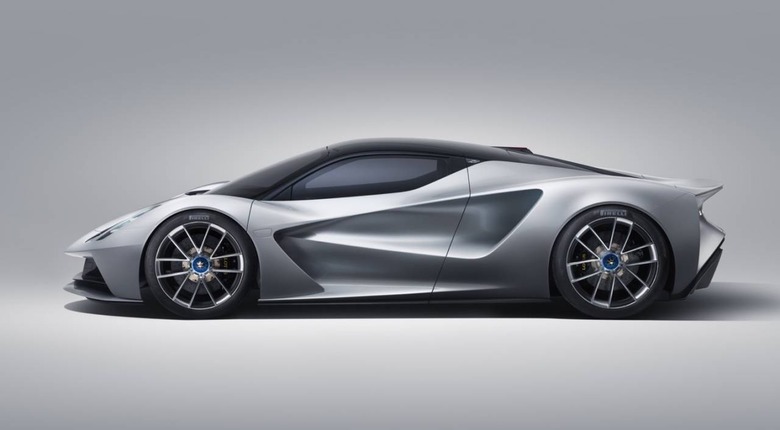 Lotus envisages different battery packs being fitted in the future, with owners of the car able to switch between them according to intended use. If you're at the track, for example, you might want a battery optimized for performance. Long road-trips, meanwhile, might be better suited to a more power-dense battery, trading a little performance in the name of extra range.
Four-wheel drive is standard, but unlike other EVs which use two, maybe three electric motors at most, Lotus is taking electrification to its logical performance conclusion. So, each wheel gets a single-speed helical gear ground planetary gearbox, packaged with the e-motor and investor as a single cylindrical Electric Drive Unit, or EDU. Each EDU is expected to deliver 500 PS, and support five driving modes: Range, City, Tour, Sport, and Track. Total torque is expected to be 1,254 lb-ft.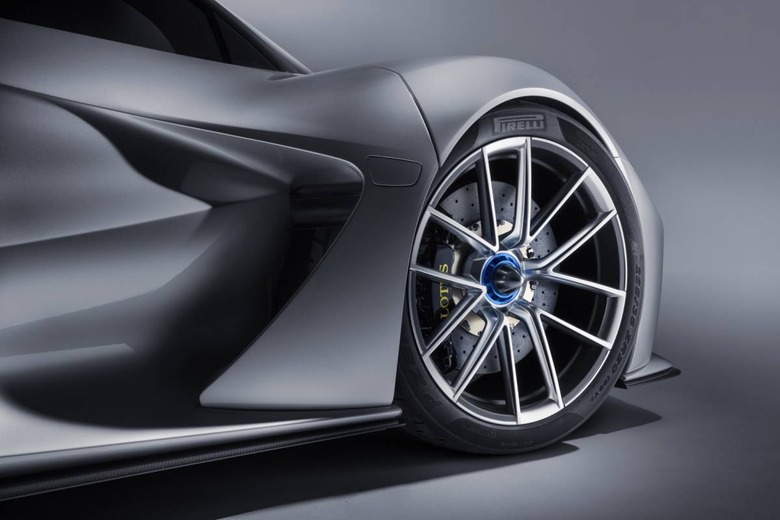 By adjusting the power to each motor, Lotus can enable true torque vectoring in the Evija. It's intended to be a fully-automatic system, pushing power to any combination of two, three, or for wheels within a fraction of a second. Track mode, meanwhile, will deliver power to individual wheels too, thus potentially cutting the radius of corners.
Even though you'd expect the car to be fully electric all-round, Lotus hasn't given up every traditional feature. The steering, for example, is electro-hydraulic rather than fully electric: that ensures a pure feel, the automaker insists.
Charging fit for the track
Taking advantage of all that power is a sure-fire way to drain the Evija's battery, so Lotus has added a heavy-duty charging system. It's an 800 kW setup, though Lotus concedes that right now there aren't actually production chargers that can deliver that sort of rate.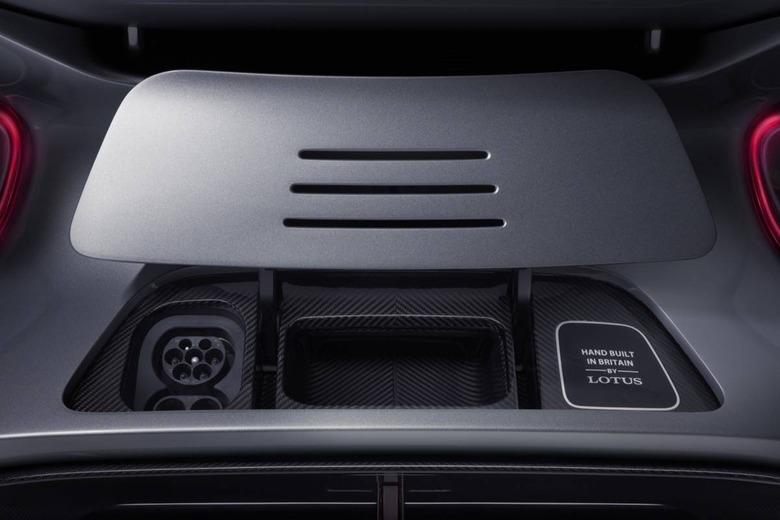 When there are, though, it paves the way to a full recharge of the Evija in a mere nine minutes time. Feed the Evija with a 350 kW supply – such as those Electrify America and others are currently rolling out – and you're looking at a 12 minute charge from 0-80 percent, or an 18 minute charge from fully drained to fully charged. Lotus has hidden the port behind a vented flap at the rear.
Range is an estimated 250 miles on the WLPT Combined Cycle, or 270 miles on the NEDC Combined Cycle. No word on estimated EPA range, which can tend to be a little less than those tests.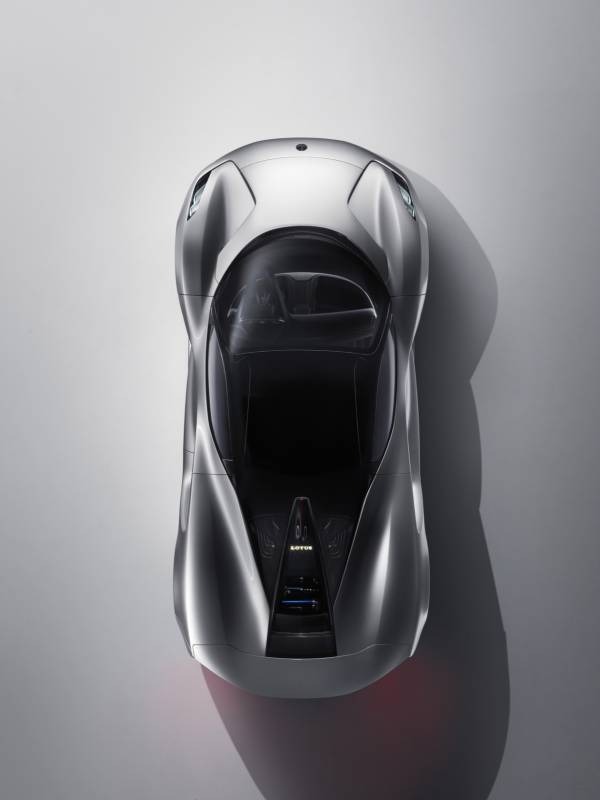 Importantly, Lotus has also focused on repeated performance. While fast EVs aren't new, fast EVs that can be driven lap after lap are far less common. Lotus, though, claims its battery, electric motor, and transmission technology can each operate at up to 98-percent efficiency, and that the Evija can be driven in Track mode, flat-out with no derate, for at least seven minutes.
A new aesthetic for a new age of Lotus
It's fair to say that the Evija is eye-catching. Its ride-height just 105mm high, it's also a fairly new design language for Lotus, borrowing elements from Le Mans race cars and other racing series, both in appearance and underlying technology.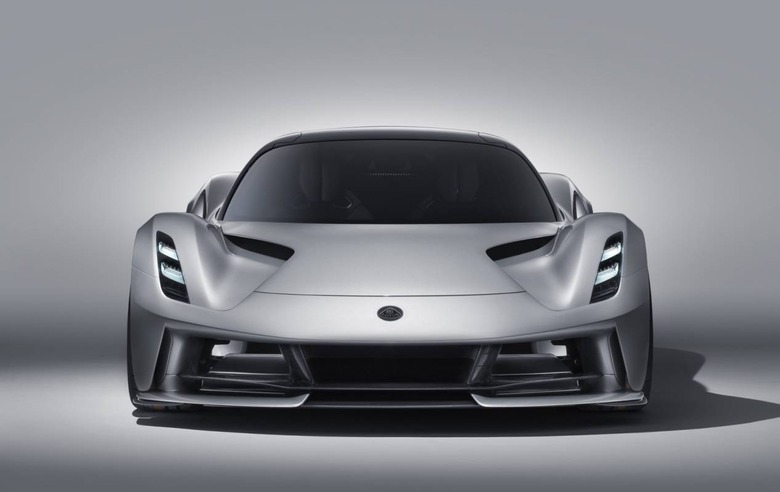 So, it's the first Lotus road car to feature a one-piece carbon fibre monocoque chassis, for example, helping keep the target weight down to around 3,700 pounds. That's wrapped in a full carbon fiber body, itself inspired by aeronautics. A Venturi tunnel runs through each rear quarter, optimizing airflow by guiding it straight though the body shell.
It looks incredible, but it's also highly functional too. High-energy air is directed to the rear, where it counteracts the low-pressure air usually found there and helps cut drag. On its way, it also pulls more air through the rear wheel arch louvres, which Lotus says helps maintain air quality in the diffuser.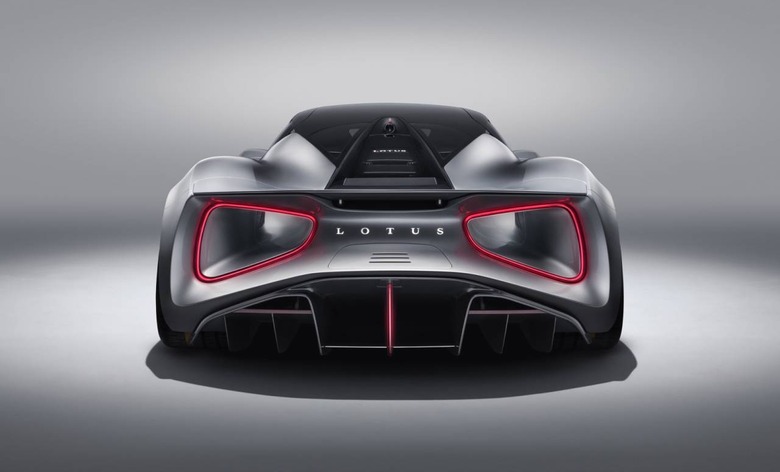 There's active aero too, with a rear spoiler that elevates from the bodywork. It, and an F1-style Drag Reduction System, deploy automatically in Track mode, or when manually triggered. Without side mirrors, Lotus has turned to cameras on the sides and the roof, to beam images from around the car to three screens in the cabin.
That's the hard-working stuff: then there's the glitz. Red LEDs outline each tunnel, reminiscent of a fighter jet's afterburners, while LEDs inside the tunnels illuminate them for a ghostly glow. The "T" of the "LOTUS" badge lights up as the reversing light, while the indicator lights are incorporated into the corners of the ribbon-like outlines.
A cabin with drama
Open the dihedral doors – triggered by the key fob – and the minimalistic cabin is laid bare. The "floating wing" dashboard both gives the instrumentation and air ducts somewhere to sit, as well as being structural support. Carbon fiber and metal are used liberally.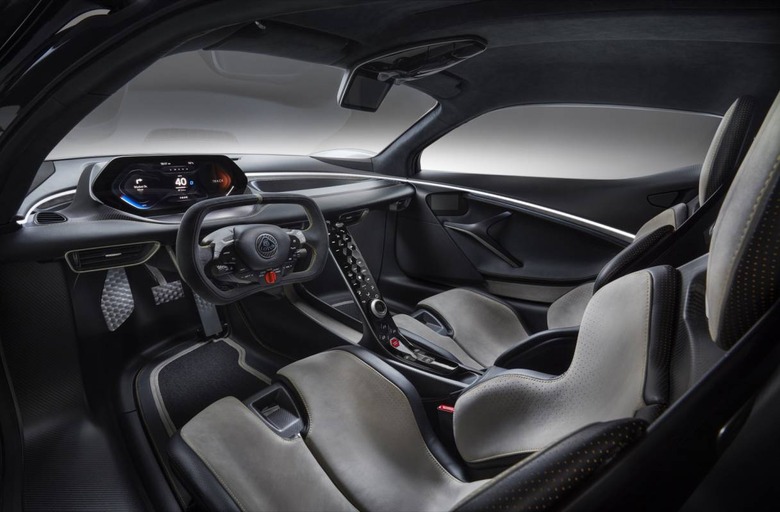 A roof console has key controls, including the buttons to close the doors. The shell seats are hand-trims with Alcanata, and have manual fore/aft movement and electric back operation; they get three-point belts as standard, with four-point harnesses an option. The steering wheel is Alcantara as standard, or leather-trimmed as an option, and is squared-off like a racing wheel.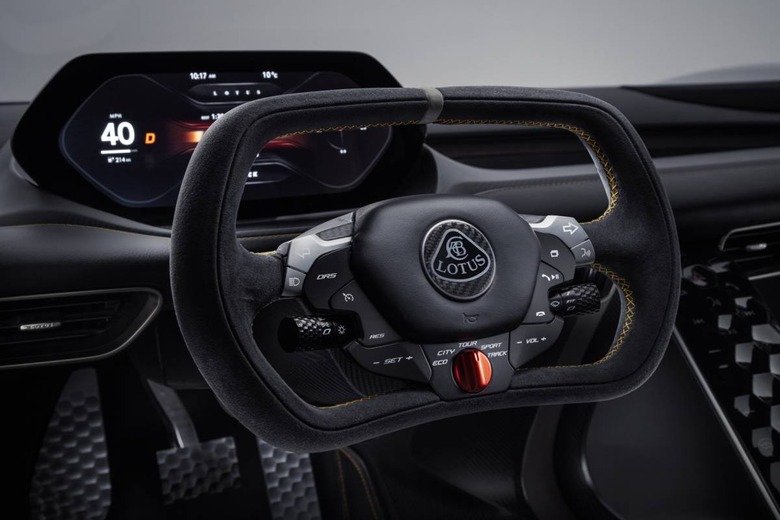 It has buttons for infotainment, cruise control, and other features, along with the switch for the drive modes. A single display sits behind the wheel, with extra controls running down the narrow center console. That's studded with touch-sensitive haptic buttons, each in a hexagonal recess. Climate control and a premium infotainment system will be standard, as will Apple CarPlay and Android Auto.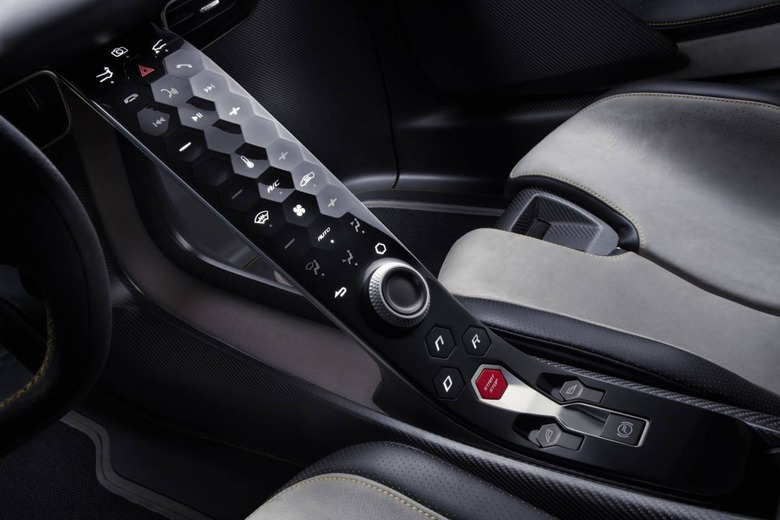 Integrated connectivity will support a Lotus Evija app, for remotely monitoring battery status and preconditioning the cabin. It'll also be used to sync lap times and other telemetry gathered at the track.
A Lotus of firsts
Lotus is claiming a few debut technologies on the Evija, including the first laser lights for both main and dipped beams. Integrated within their lenses are wing-like elements for daytime running lights and turn indicators.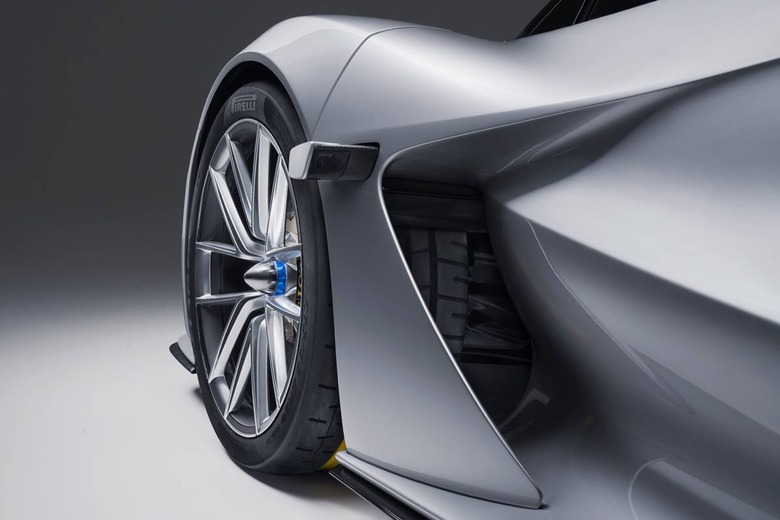 There'll also be a whole range of customization options for Evija buyers. That'll include custom paint, interior trim, and detailing, along with marquetry-style badging. Lotus will allow customers to specify special badges, inlayed in metal directly into the carbon fiber body shell.
Exceedingly fast: Exceedingly rare
As you might have guessed, the Lotus Evija won't be some mass-production electric racer. In fact, only 130 of the cars will be produced in total, each priced from £1.7 million ($2.15 million) before taxes and other fees. A $316,000 deposit secures a production slot, and Lotus is open for orders now.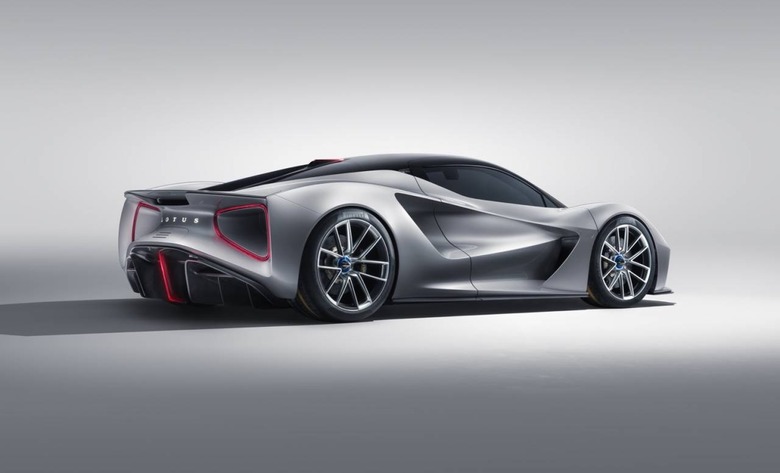 Production is expected to kick off from 2020, though don't worry if you can't afford one. The automaker says that the Evija will be the halo car atop a new range of Lotus performance models in the pipeline, also benefiting from the depths of Geely's purse. Expect design cues borrowed from the EV hypercar, though hopefully something a little more affordable.