2019 Lamborghini Urus First Drive: The Supercar SUV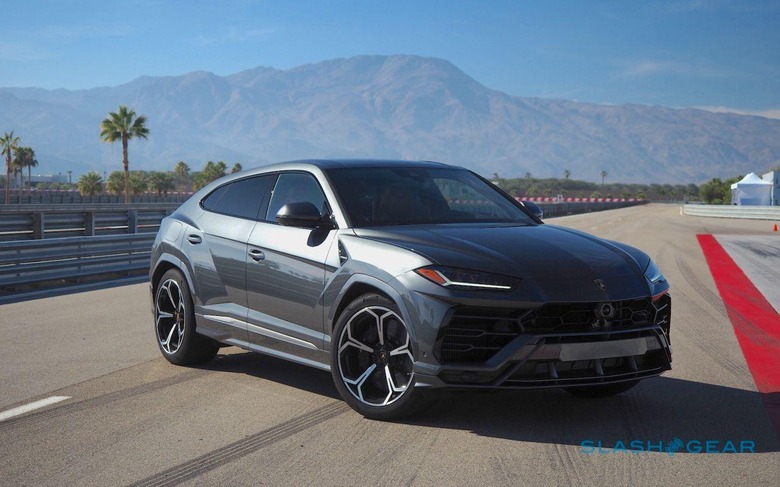 The 2019 Lamborghini Urus is, depending on your frame of reference, the natural evolution of an enthusiast's performance car brand or a monstrous betrayal by yet another fan-favorite. With it, the Italian automaker joins the long – and growing – list of luxury car companies adding an SUV to their line-up. Entrusted with the keys to this $200k+ monster, I had one big question I hoped to answer: is the Urus a "proper" Lamborghini?
The "why" is, of course, brutally rational: SUVs are big business. Sales of Lamborghini's coupes and convertibles have been steadily rising, but there's still a limited audience for extreme performance two-seaters. Breaking out of that segment worked wonders for Porsche with the Cayenne – now in it third generation and a lynchpin of the range – and there's no reason to assume it wouldn't do the same with Urus.
Indeed though the brand purists may have howled, it looks like the strategy is already paying off. Lamborghini was aiming to double its annual sales with the SUV, which would mean around 1,100 Urus in the US. An order placed right now won't arrive until Q3 2019 at the earliest.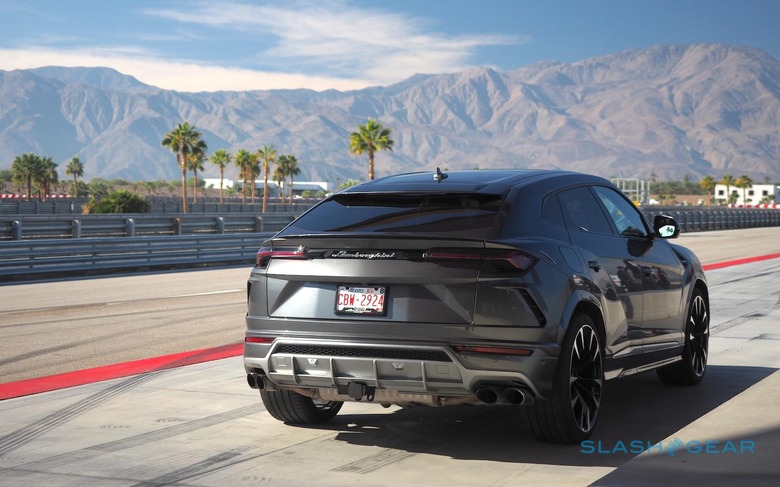 More important still, Alessandro Farmesch, CEO of Lamborghini Americas, boasts to me, a hefty 70-percent of Urus customers are new to the brand. Turns out, there were plenty of people who wanted to bring not only a friend but a family along in their supercar.
Fitting seats for as many as five inside – and their luggage – meant the usual Lamborghini design language would have to adapt. This may not be the automaker's first SUV, that being the military-focused LM002, but it's far closer in aesthetic to the rest of the range than that ever was. Think Aventador or Huracan, but cranked up and stretched.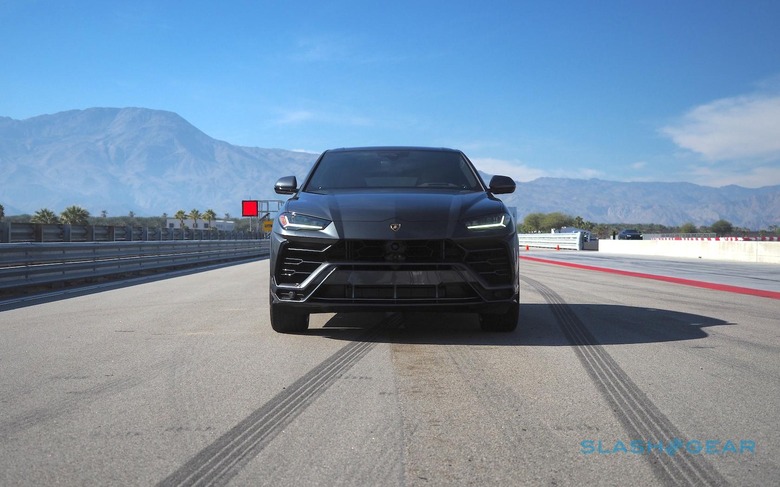 The familiar squinting headlamps with their Y-shaped daytime running lights are present and correct, at the leading edge of a sharply creased hood. The grille underneath, though, is expanded considerably: it has a 4.0-liter twin-turbocharged V8 to keep cool, after all. Side-on, the sharp slope to the roofline epitomizes the push-pull between Lamborghini's traditional design and the realities of a two-row car.
By the time you reach the rear, you're almost ready for the squat, meaty haunches and aggressive sculpting. Few cars look so planted as the Urus does from the back, the narrow glass perched atop bodywork that's flared, gilled, slashed, and finally picked out in more LEDs.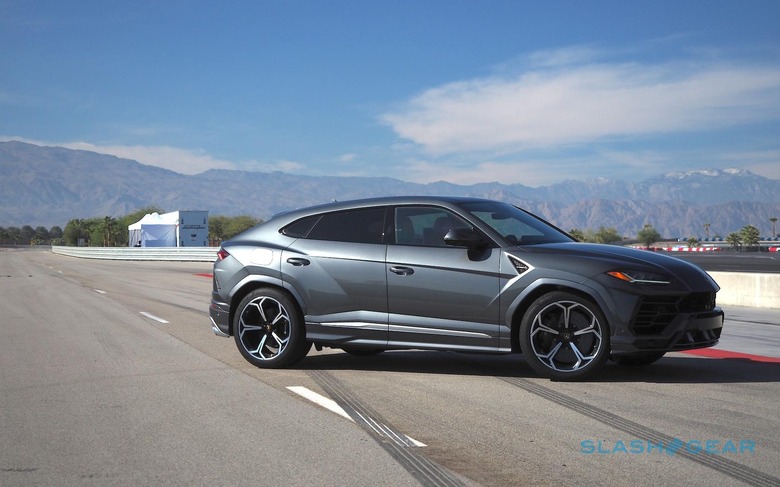 It's a car that's not only better in person than in photos, but also incredibly color-dependent. Darker hues flatter the bulk more, leaving the Urus channeling Tumbler-era Batmobile. Lighter colors, like the eye-searing yellows and greens Lamborghini's other models are often graced with, make it far more noticeable but also pick out some of the busier detailing. I'm not a huge fan of the tendrils of grille framing in the front fascia that yellow or white make so obvious, and they can also make the panel cut-lines oddly conspicuous.
Not that people will get much of a chance to examine them, unless you're parked up. Making big SUVs go unexpectedly fast has been an obsession of the industry over the past couple of years, but Lamborghini is unsurprisingly confident that it has an edge over the competition. 641 horsepower and 627 lb-ft of torque will do that for you.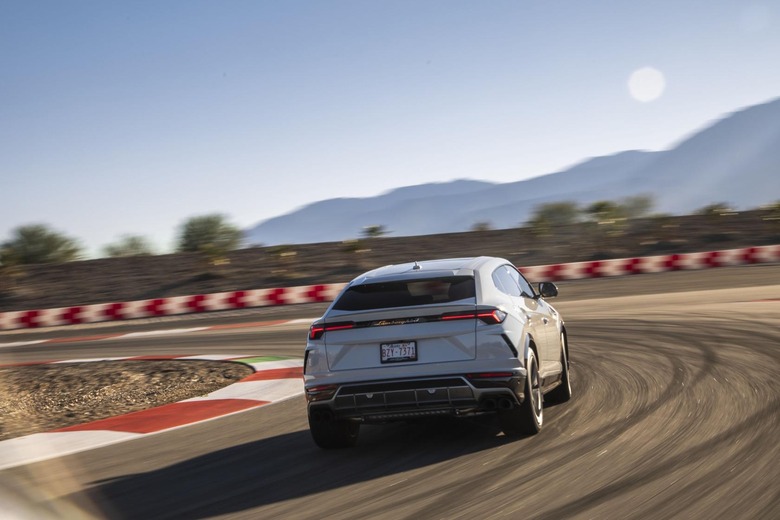 0-62 mph arrives in 3.6 seconds. You can do 0-124 mph in just 12.8 seconds. Top speed, meanwhile, is a heady 190 mph. At that point you're probably wondering just how good the Urus' brakes are, considering they're challenged with bringing around 4844 pounds of hurtling truck to a standstill.
Lamborghini describes them as "the most powerful braking system in the world," with a ridiculous 10-piston calipers at the front and single-piston at the rear. They clamp down on 17.32-inch carbon-ceramic discs a full 1.57-inches in thickness behind the front wheels; the rears come in at 14.57-inches diameter and 1.18-inches thick. 62-0 mph takes less than 111 feet.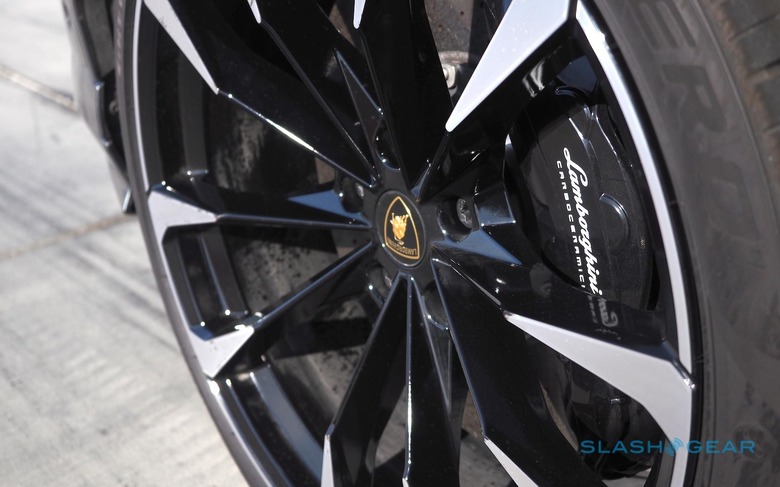 Even after you see those massive discs – big enough to serve a holiday turkey on – though, your brain rebels at the concept of pushing an SUV anywhere close to the limit, never mind taking it onto the track. That's just what Lamborghini had planned, however, when it invited me out to the Thermal Race Club to put Urus through its paces.
Helmet on, professional driver in a matching Urus ahead of me, and just enough time to be introduced to the Tamburo. Crouching at the base of the center console like a set of jet boat controls, its cluster of levers handle the transmission, drive modes, and off-road settings, all surrounding the caged starter button.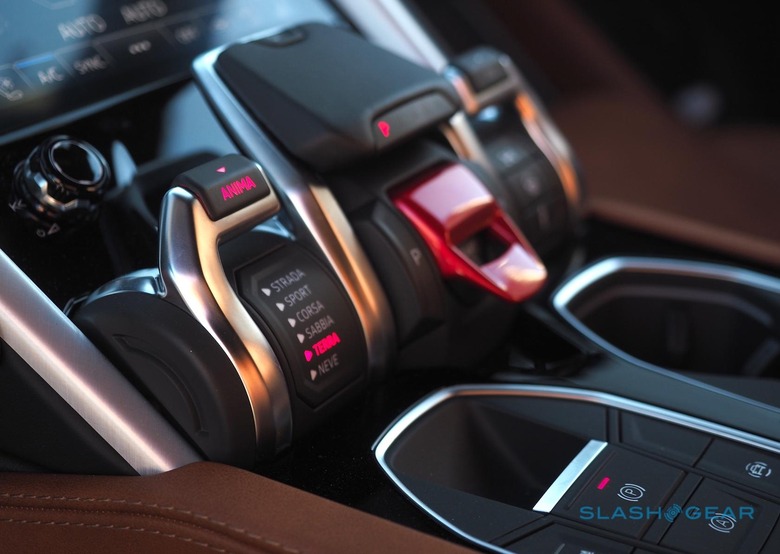 Tug the Anima lever on the left, and you step through each of the six drive modes. Strada, Sport, and Corsa, run you through street all the way to track, just as you'd find in an Aventador. Sabbia, Terra, and Neve, though, cater for sand, snow/ice, rocks, and other off-road conditions most Lamborghinis would remain in the garage for. Buttons on the left allow specific control over traction, steering, and suspension settings; the Ego lever atop them is for you to save your own, custom configuration.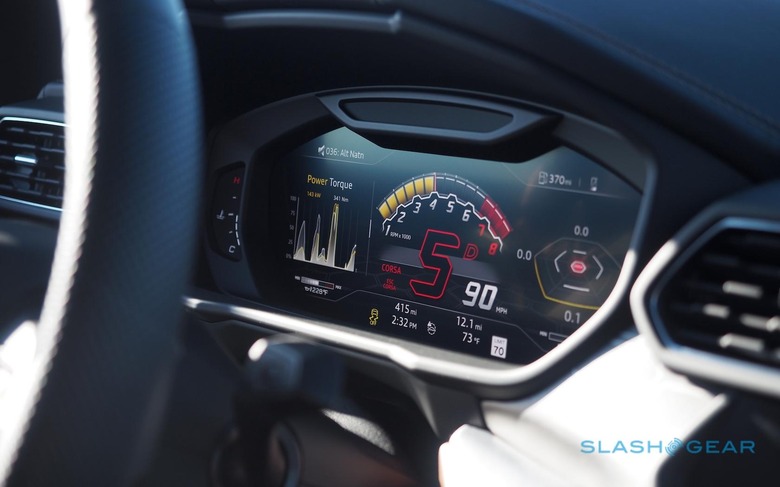 Sport seemed the best place to begin, though you get all-wheel drive regardless of the modes. The Torsen central self-locking differential splits power 40/60 by default, but can push up to 70-percent to the front wheels, or up to 87-percent to the rear. Active torque vectoring, meanwhile, uses a rear differential to shift power to the left or right rear wheel depending on which has the most traction.
Combined with rear-wheel steering – which can either turn the back wheels counter to the front at low speeds for a tighter turn, or in tandem at higher speeds for more stable maneuvering like lane-changes – and suddenly the Lamborghini DNA made itself noticeable. The growl from the quartet of tailpipes helps, but there's no ignoring the way the Urus corners and the grip from the custom Pirelli rubber.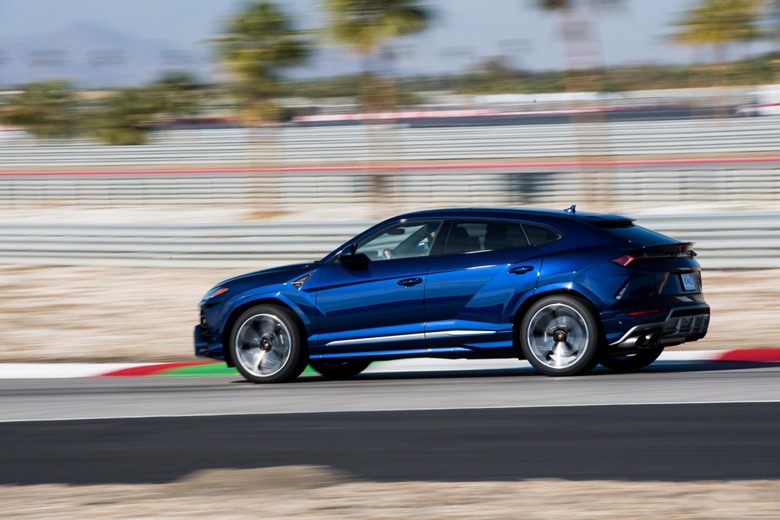 The body roll you expect just doesn't materialize, the standard air suspension keeping the SUV flat and steady. It drops the Urus from the 7-inch ride height of Strada mode to 6.2-inches in Sport or Corsa, still much higher than you'd be in the automaker's other cars but enough to make a marked difference when you're pushing hard. An active anti-roll bar plays a part, too, all coming together to browbeat physics into sulking in the background while you focus on nailing the entry and exit point of each corner.
Snick the Anima lever into Corsa and that true Lamborghini soul awakens. More noise from the exhaust and much more aggression from the eight-speed automatic transmission. The redline arrives with a rapidity that's hardly diluted compared to a Huracan Performante, each snap of the perforated paddle shifters provoking a grunt of satisfaction on upshifts or down.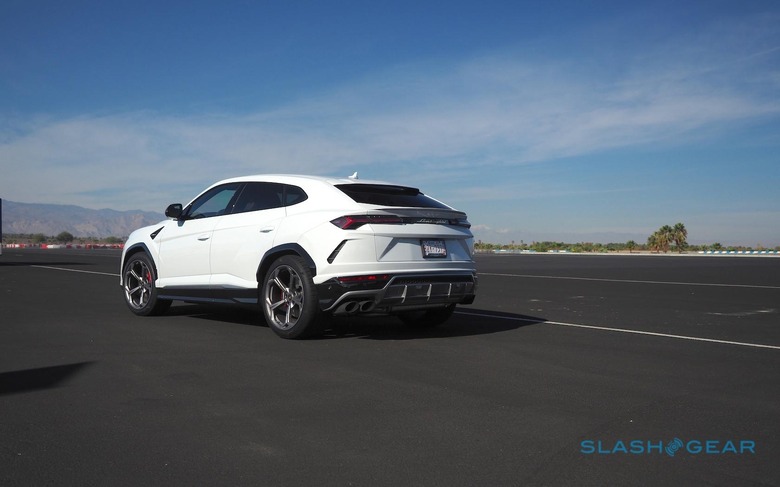 All too soon, though, it's time to test what will undoubtedly be the Urus' typical territory: public roads. Strada mode tames the SUV down to Audi Q8-levels of compliance, the sober thrum of the V8 and the exhausts almost subtle. Suddenly the idea of an "everyday Lamborghini" doesn't seem so ridiculous. Sport mode strikes a more pleasant balance of entertainment with comfort.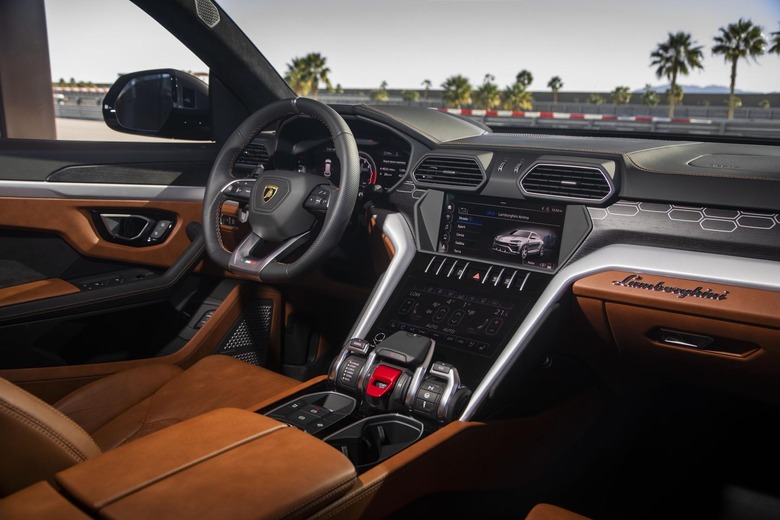 The cabin does the same, and while Lamborghini may not have a limited track record making two-row vehicles, you'd never think it from sitting in the Urus. Hand-finished leather, real carbon fiber and metal, and the best iteration of Lamborghini's infotainment system so-far make it a deeply satisfying place to sit. About the biggest criticism I can level is that it can be a little busy, visually, though you can temper that with fewer contrasting colors and finishes.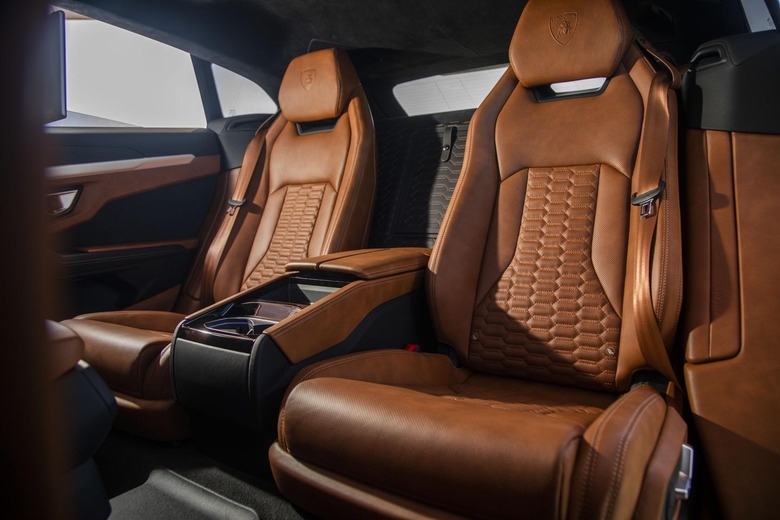 Two configurations are available in the rear, with either a bench for three or two individual seats. The former can fold flat, expanding the 21.8 cu.ft of trunk space to a healthy 56 cu.ft. The latter provide more lateral support and power adjustment, and are separated by a sizable console with plenty of storage. Either way, rear headroom surprisingly caters for those up to 6'3, despite the angle of the roof, though kids might find the sharply rising waistline cuts into their view.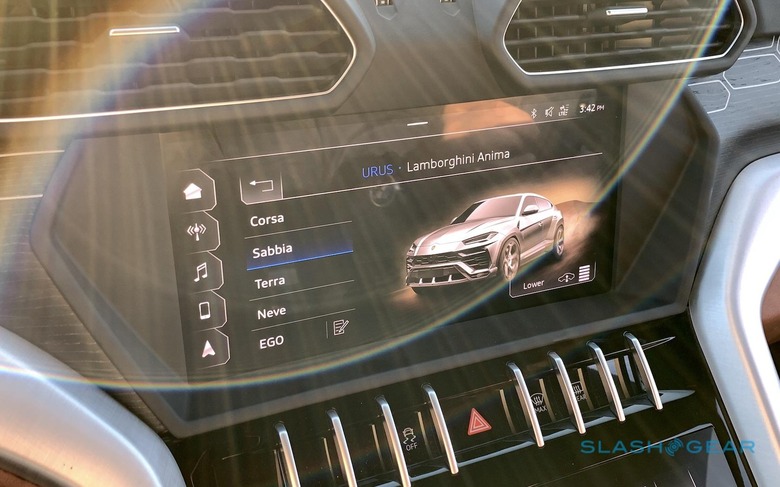 Three displays cater to infotainment, driver information, and cabin control. There's virtual instrumentation with a range of layouts behind the meaty-rimmed steering wheel, while a pair of stacked touchscreens in the center console support Apple CarPlay, Android Auto, and connected navigation. Twin removable Android tablets that mount in the headrests are available for the rear, as its a 1,700W Bang & Olufsen audio system that sounds tremendous.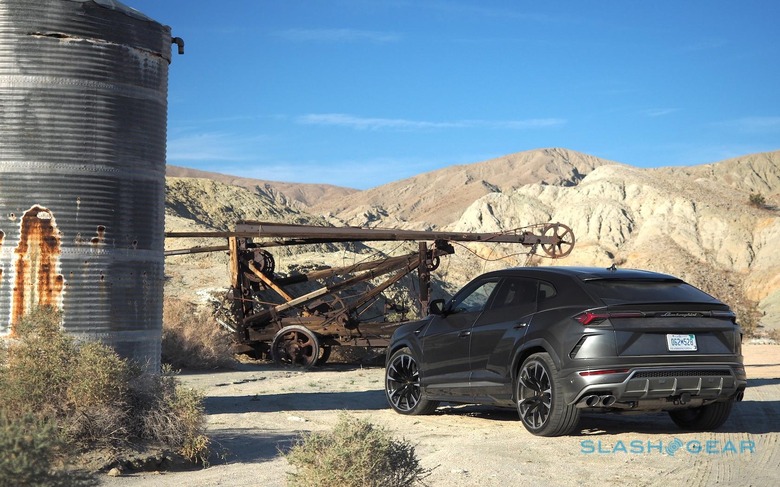 I turned it down, though, to focus on Lamborghini's off-road course. As SUV trials go it was far from being the most challenging – I pushed the Mercedes G550 much further, for example – but it's still aeons away from where you'd expect to take one of the automaker's more familiar cars. Anyway, it doesn't take a Baja rally stage to ruin a 23-inch alloy wheel, and that's something I really didn't want to do.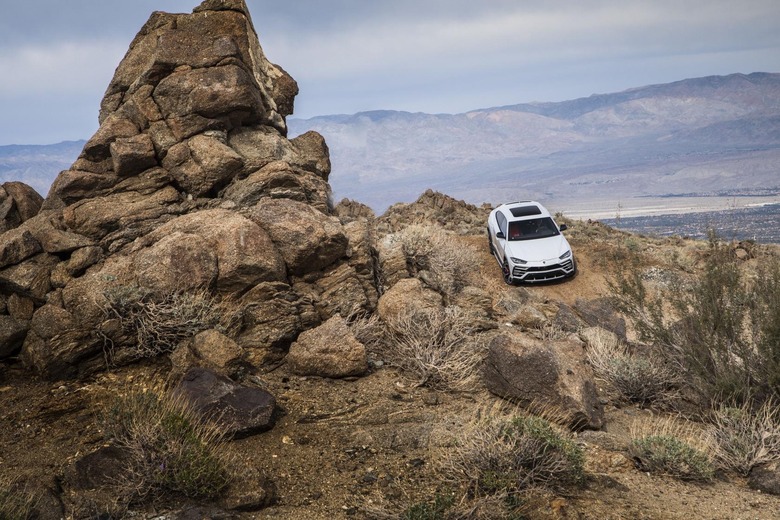 Switch to one of the trio of off-road modes and the Urus suspension lifts to as much as 8.4-inches. After that it was a case of pointing the SUV's nose around the ruts and grit of a chunk of the San Andreas fault line, quickly appreciating the tight turns that four-wheel steering allow for. Higher speed sections produced a satisfying spray of gravel but no shortage of traction.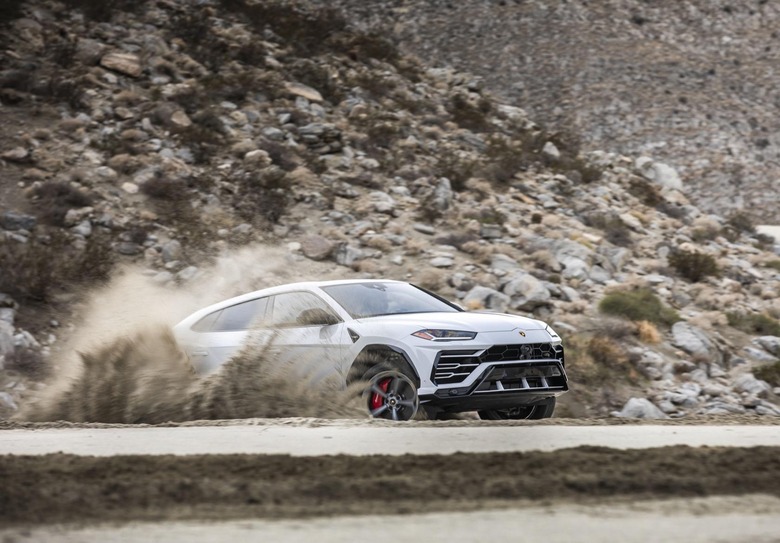 Honestly, finding a Urus on an off-road course seems about as likely as spotting one at a track day. Needless to say the SUV is over-qualified for the sort of driver that considers climbing a curb in the mall parking lot, or traversing an ill-maintained driveway to the local stables, as treacherous terrain. You could probably say the same for upwards of 90-percent of other luxury trucks, though, it's just that seeing a tow hitch on a Lamborghini is more incongruous.
Verdict
Blasphemy can be lucrative. While the idea of a Lamborghini truck might thrust daggers of betrayal deep into your purist heart, market forces always have their way. Enough people want a super-sports SUV that can tow over 7,700 pounds as well as hit 190 mph that the automaker can't say no.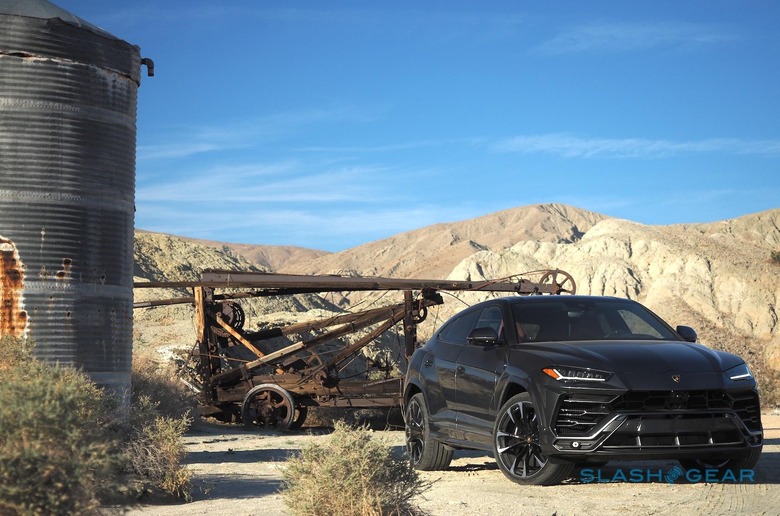 Upending that is the fact that the 2019 Urus is absolutely a Lamborghini first and foremost. Yes, it's more practical than a Huracan, and not as fast as an Aventador, but we're still talking about an SUV that can outperform a Gallardo on the track. It looks the part, sounds the part, and drives the part, and the fact that you can now entertain more people at once is the delicious Italian gravy on top.
Even if that hasn't convinced you, even if you're still scandalized, consider this. Strong SUV sales will undoubtedly help subsidize Lamborghini's future coupes and roadsters, the Urus effectively underwriting ever-more extreme machines for enthusiasts much in the way that the Cayenne did for the 911. Cynical? Maybe so, but as compromises go I'm not one to argue with 641 horsepower.