The 2019 Mercedes-AMG G63 Is Unrepentant Excess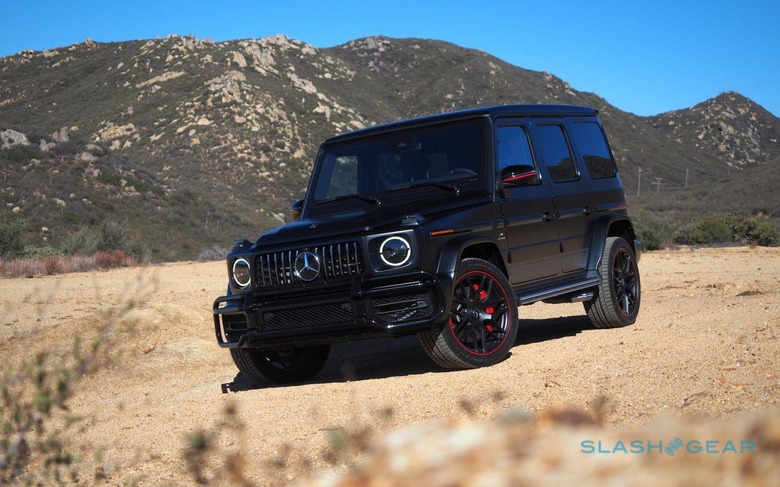 Few vehicles are as over-specified for their typical habitat as the 2019 Mercedes-AMG G63 and the Mercedes-Benz G550. The automaker's iconic "G Wagon" may be a legitimate off-roader, but its unmistakable design is more familiar from Malibu than out in the mud. With this latest generation, then, the question has to be whether Mercedes has diluted the G-Class for the inevitable on-road tastes, or if this rebooted beast is as flagrant as ever.
It's a bigger SUV than it used to be. 2.1-inches longer, and 4.8-inches wider. You get more shoulder space as a result and, most importantly, almost 6-inches more legroom in the rear. Oddly there's still only a regularly-sized sunroof, rather than the expansive panoramic glass we're used to from modern luxury cars.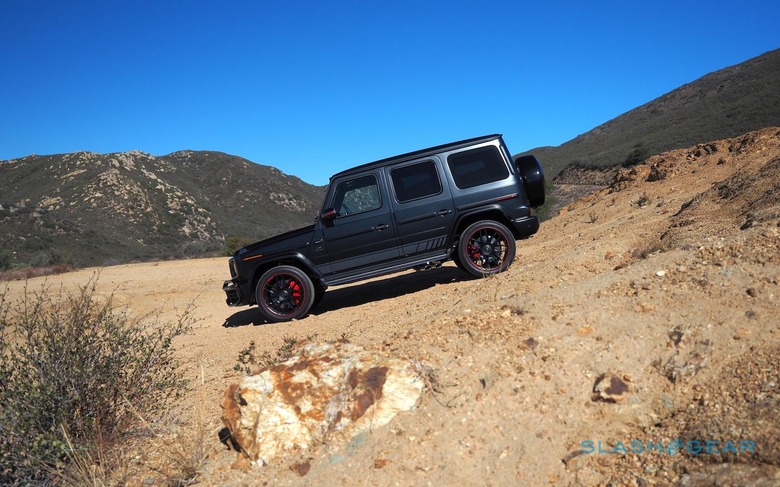 You pay luxury car money, too. The G550 starts at $124,500 (plus $995 destination); when the AMG G63 arrives early in 2019, it'll kick off at $147,500. Unusually, sales of AMG's version have typically hovered at 50-percent of the mix.
Maybe that's because it unashamedly looks the part. Clearly related to the G-Class before it, though cleaner and more nuanced the more you look at it. Only three parts were actually carried over: the spare wheel cover, the chunky door handles, and the headlamp washers. Still, the brutalist aesthetic is unmistakable.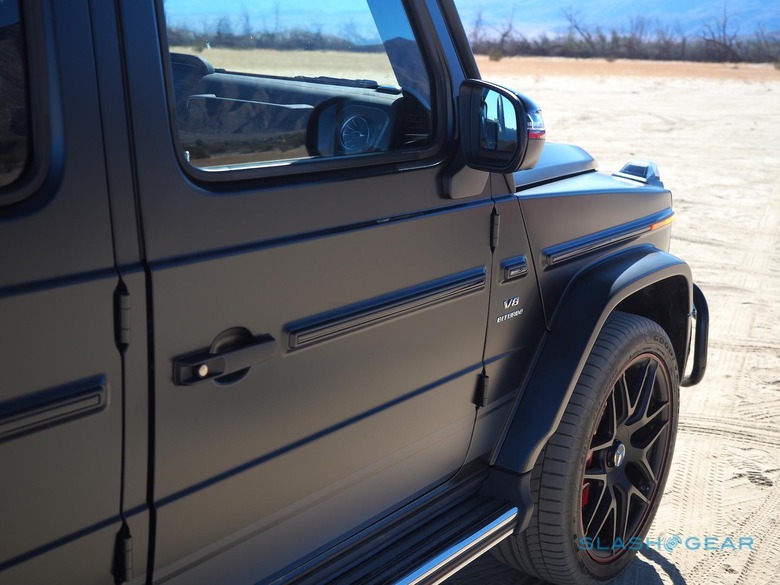 The G550 is more reserved – in comparison to the AMG model, that is. Its bodywork is still more set-square than sculpted, but it looks more off-road friendly than the G63. The circular daytime running lights squint calculating through the frames of its bull-bars, as if coolly assessing the terrain ahead.
Handsomely rugged, sure, but my heart can't escape the gravitational pull of the AMG.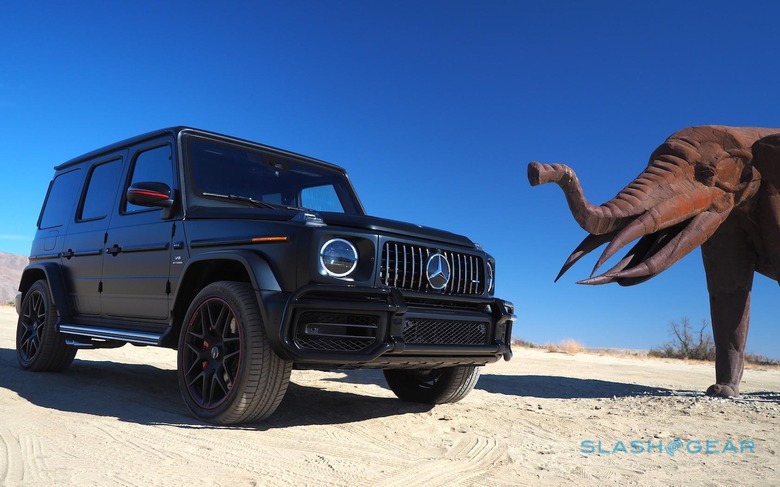 It is a child's drawing of a car made real. A Tonka truck for adults; a conscious decision to ignore the wind-tunnel-smoothed amorphous SUV blobbery of modern vehicles. Sure, you get constant wind noise at highway speeds as a result, but who cares when it looks this damn good?
There are some cars which, just in those first moments of sitting behind the wheel, make you feel special. Powerful, even. The AMG G63, with its thick, sculpted wheel wrapped in perforated leather and its supercilious seating position, captures you in a way that you really can't predict from the outside. It just feels really good, and by extension you feel really good, too.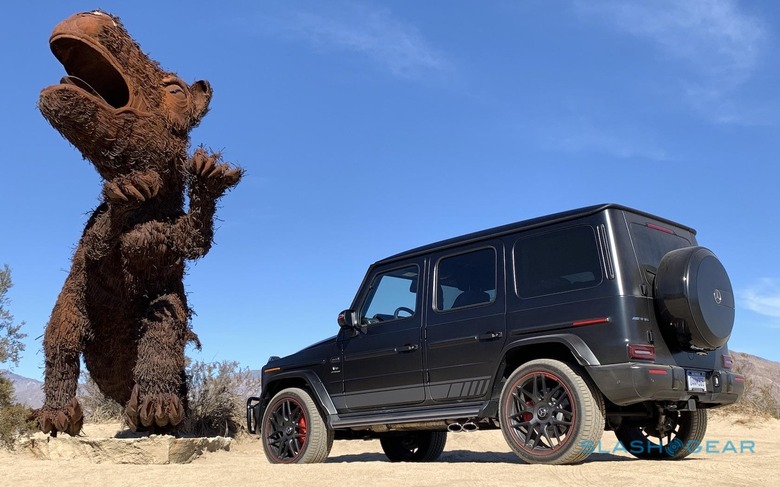 And yes, I know, this is a luxe vision from an expiring era. A gas-quaffing, brutalist and unapologetic behemoth. There's no hybrid, no secret plug-in to coax out an extra mpg or two: just conspicuous profligacy of a sort we're meant to be leaving behind.
With sales measured in the thousands, perhaps that doesn't matter so much.
The G550 gets the same 4.0-liter V8 biturbo as the old car, now with 416 horsepower and 450 lb-ft of torque. Straight-line speed in something with aerodynamics not far off those of a shipping container seems like it should be underwhelming. That only makes the 5.6 second 0-60 mph time the more impressive.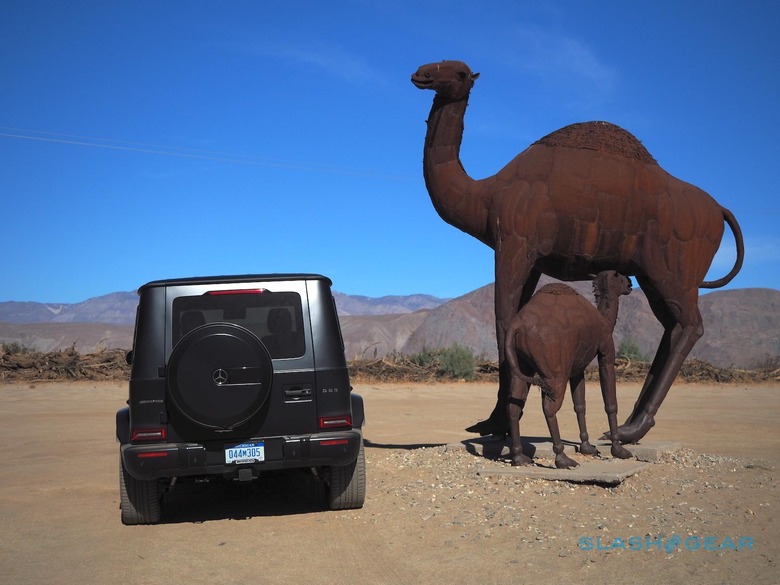 The AMG G63 has a new AMG 4.0-liter V8 biturbo, hand-made and delivering a heady 577 horsepower and 626 lb-ft of torque. It cuts the 0-60 time to an astonishing 4.5 seconds. Both get a 9-speed automatic transmission with wider gear ratios, so that a single gearbox can deliver the goods both on-road and off.
The suspension has been completely reengineered with the help of AMG's engineers. Adaptive damping is standard on the G63 and an option on the G550. Either way, you get a new electro-mechanical steering system which, though perhaps disappointing purists, does allow the G-Class to offer three automatically-selected steering modes – Comfort, Sport, and Off-Road – and the sort of fancy auto-park systems familiar from the S-Class.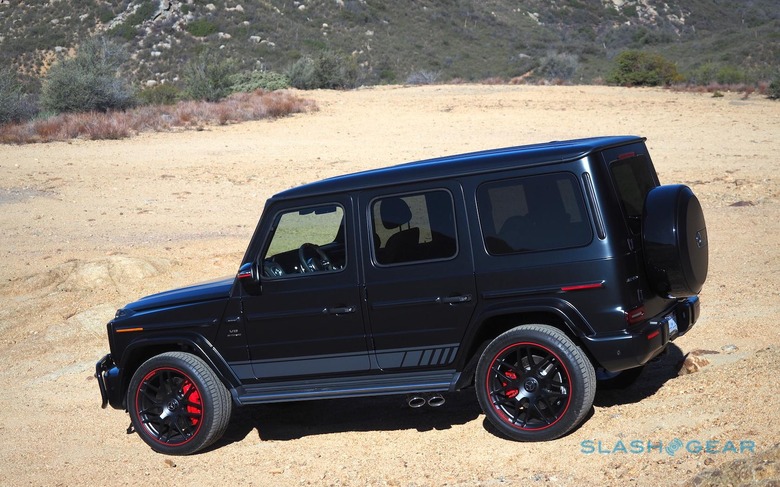 There are new Dynamic modes, too, three on-road and a fourth "G Mode" for off-road use. Active brake assistance and lane-keeping assistance is offered, too, along with the latest version of Mercedes' DISTRONIC adaptive cruise control. It all feels a whole lot like the automaker's more mainstream models.
That's not to say it's underwhelming. Nowhere close. Plant your right foot and the G63 surges forward with a pace that's monumental. Like a glacier, torn free of the ice flow and hurtling with a mass you can feel in the clench of your jaw; like a steam train, full throated and furious.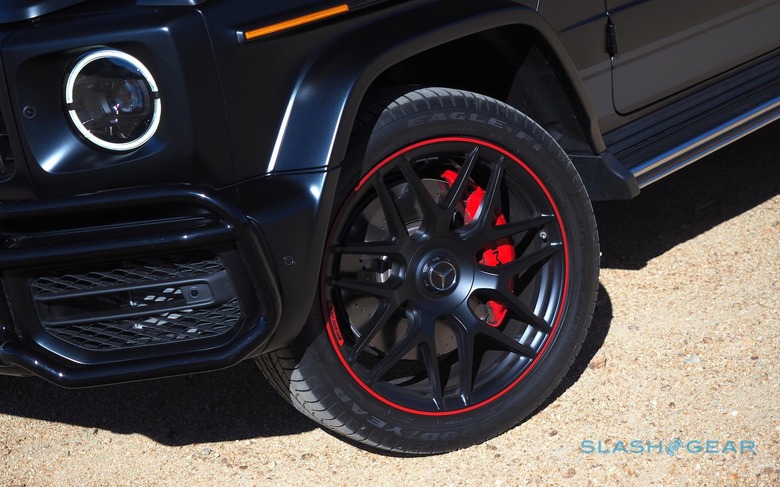 Only the AMG gets Sport Plus mode, and of course you want it. Why would you, how could you not? Body roll isn't quashed entirely but enough to make throwing what's a considerably-sized truck into mountain corners feel acceptably short of suicidal. The G550, in contrast, gets a little cautioning shuffle even in its Sport setting if you attempt the same hijinks.
Both get the same off-road hardware, though the G550's footwear is more suited to such endeavors than the skinnier rubber on the AMG shoes. Few G-Class owners may take their truck into the mud and sand and dust, but they're missing out.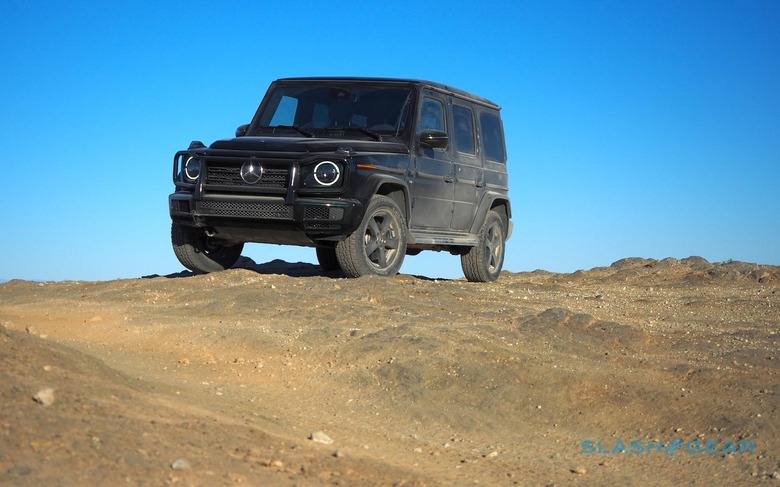 Over a progressively tougher series of rock climbs, savage inclines in both directions, and general tomfoolery, the G550's talents became clear. You can lock the center differential, making sure power is always punted front and rear, and then independently lock the front and rear differentials, too, coaxing torque between the wheels as the terrain demands. Special graphics on the 12.3-inch infotainment screen show steering angle and degree of incline, or flip over to cameras at the corners when you need a little extra reassurance that there's still some path left ahead of you. Suddenly the truck's slab-like sides become a very useful indicator of where the edges of the G-Class actually are.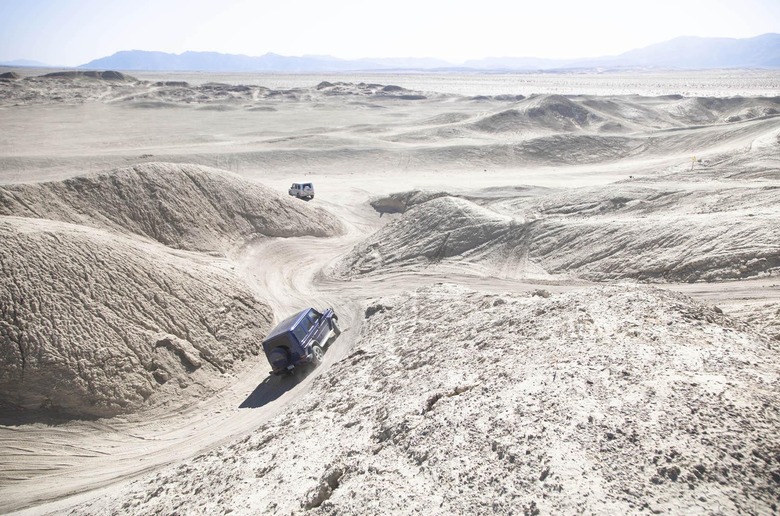 Perched at the top of a ridge, the G550's creases picked out in contrasting dust and grit, I felt both a sense of strange satisfaction as well as disappointment that most G-Class owners would never experience this side of their SUV. As though the mousy secretary in a cliched romance movie had taken off her thick glasses and shaken down her hair, revealing that she was in fact Sir Edmund Hillary.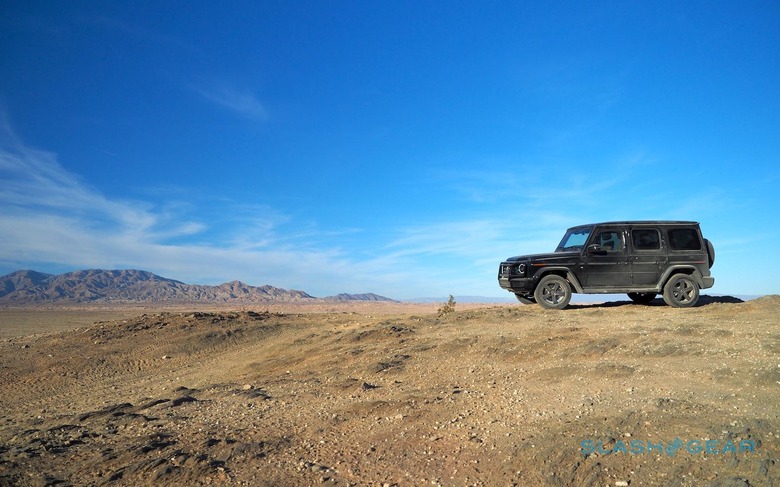 Indeed I had to wonder whether Mercedes could not quietly slice away all that terribly clever – and cleverly capable – off-road hardware and make a G-Wagon for the road alone. Leave it with all-wheel drive, naturally, but also recognize that 99-percent of owners probably would need no more than that. Would that be a sensible segue, or a dilution of what makes the whole thing special in the first place?
Prime dashboard real-estate is given over to the differential controls in their gleaming billet of metal, after all. Put anything larger than the smallest of German coffees in the new cup holders, however, and in the process you'll block the infotainment shortcuts and clock. Dare to transport a Big Gulp and you might find you've lost access to the HVAC controls, too.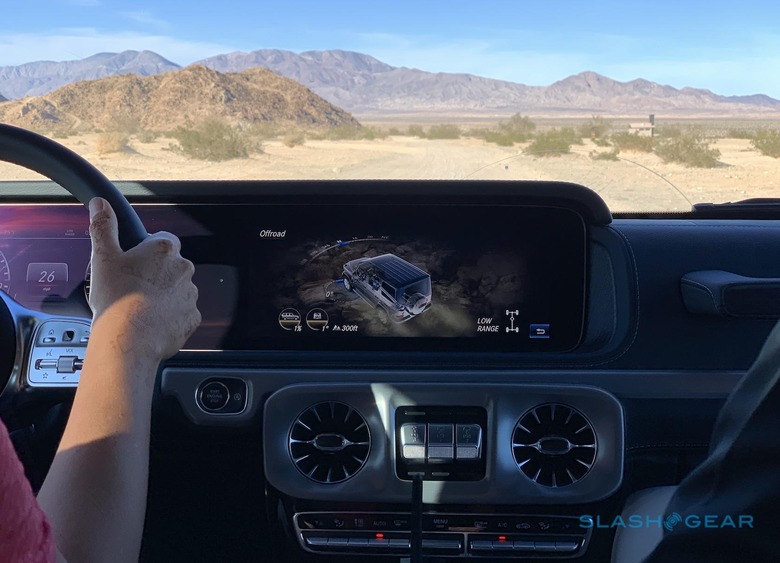 There, of course, lies the G-Class' main dilemma. It is still the superlative off-road experience; this second-generation mixture of locking differentials, war-proof mechanicals, and canny software is still the gold-standard for venturing into the wilderness without sacrificing luxury. It's not the SUV's fault that the reality of how it's used is so very different.
If you're designing such a beast, therefore, where do you stake your priorities? Cling to the traditions that help make the G-Class such an icon, or acknowledge the reality of its everyday life and lay things out for that instead?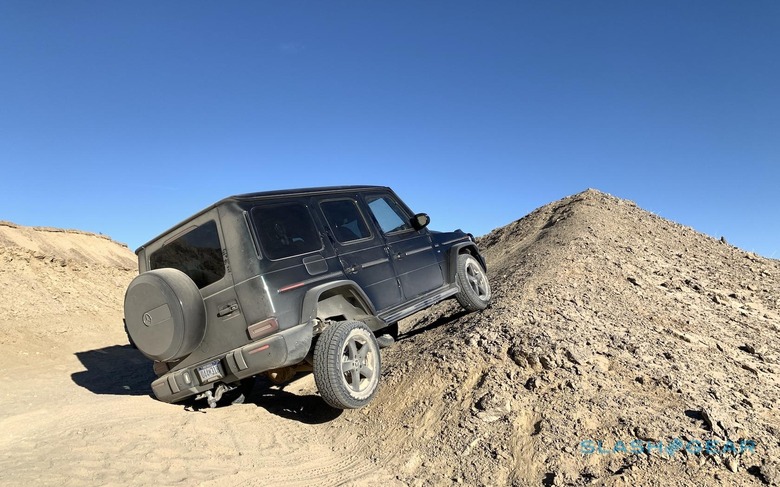 Mercedes opted to hold its course, and for that reason I can't help but recommend the AMG G63. If you're going to be obstinately excessive, go the whole hog. Matte black paint, quartet of gleaming exhausts poking snoutish from under the running boards, and special red AMG pinstriping.
Get the 22-inch wheels and the cream cabin leather of a shade so pale, so singularly unsuited to the off-road lifestyle, that it makes you gasp each time you clamber inside. Refuse to apologize for treating yourself to more speakers, more subwoofers. Try not to smirk when pedestrians flinch as the power door locks slam closed like a cell door in maximum security.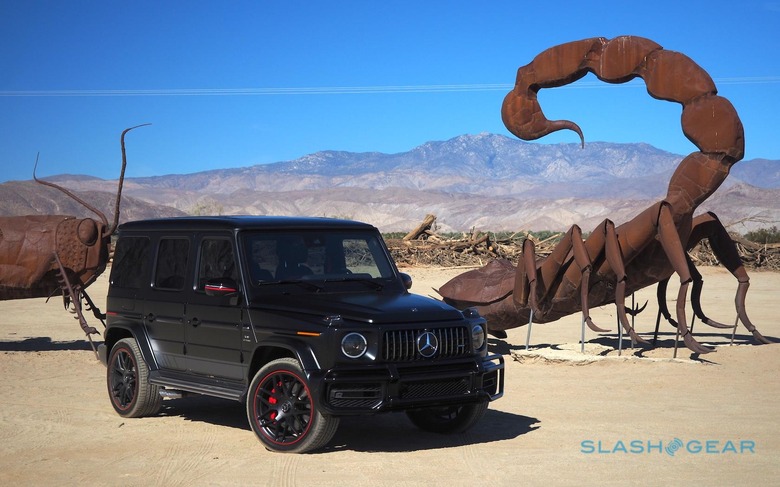 Some things defy logic. Some purchases defy logical thinking. Sometimes sensible decision-making gives way to the lusts of your lizard brain. The G-Class makes little practical sense unless you really need a Baja-ready limousine, but that's also really not the point.
The point is that you want it because it's big, and uncompromising, and a little bit silly, but all in the best possible way. The new G550 and AMG G63's talents really do run more than skin deep, but seldom has that mattered less than with the 2019 G-Class.