2019 Porsche Cayenne First Drive Review: My perfect spec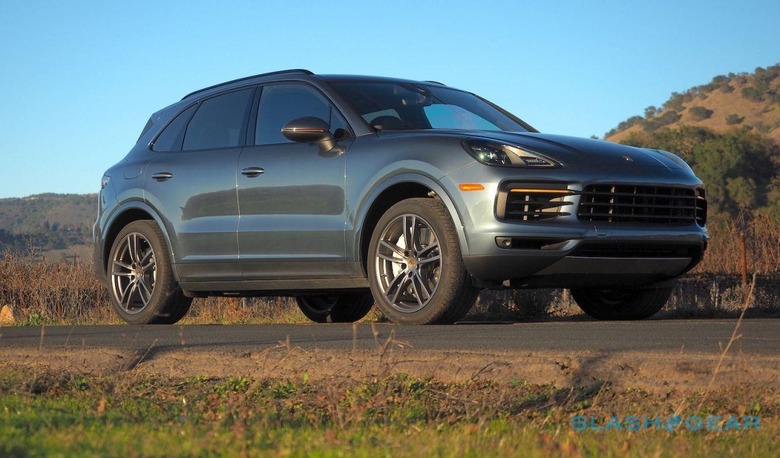 Porsche's SUV may have triggered outrage among purists back in 2002, but by the time this third-generation, 2019 Cayenne arrives it's an unarguable mainstay of the range. Lighter, faster, and more tech-savvy than its predecessors, this may be the entry-level Cayenne but it's still no slouch. Indeed, even with Cayenne S, Turbo, and Turbo S models to choose from, there's a good argument that this $66k SUV is the sweet spot.
As is the Porsche way, the design changes are firmly on the evolutionary rather than revolutionary end of the scale. A tweak to the four-LED cluster of daytime running lights at the front is the most noticeable change to the 2019 Cayenne's fascia. At the rear, a 911-inspired light bar that spans the full width of the SUV is probably the clearest indicator that you're looking at the third-generation.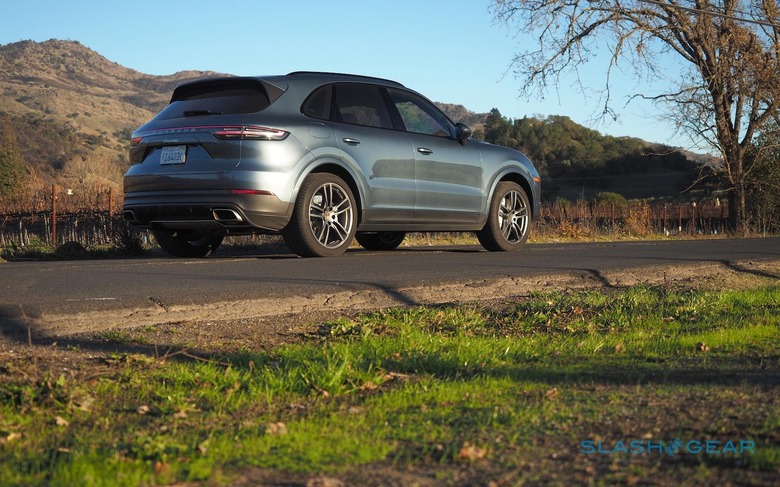 The standard wheels are now up an inch, to 19-inches, but Porsche says upgrades there are the most common among buyers. Don't be surprised to see most Cayenne riding on 21-inches, then, if not the new 22-inch options.
That overall subtlety hides a revolution, however, not to mention the key to this new Cayenne's success. The old car used nearly no aluminum in its body: this 2019 model now relies on the lightweight metal for a full 47-percent of its hung body parts. The doors, roof, hood, and fenders front and rear are all aluminum, while an aluminum front axle replaces the old steel version.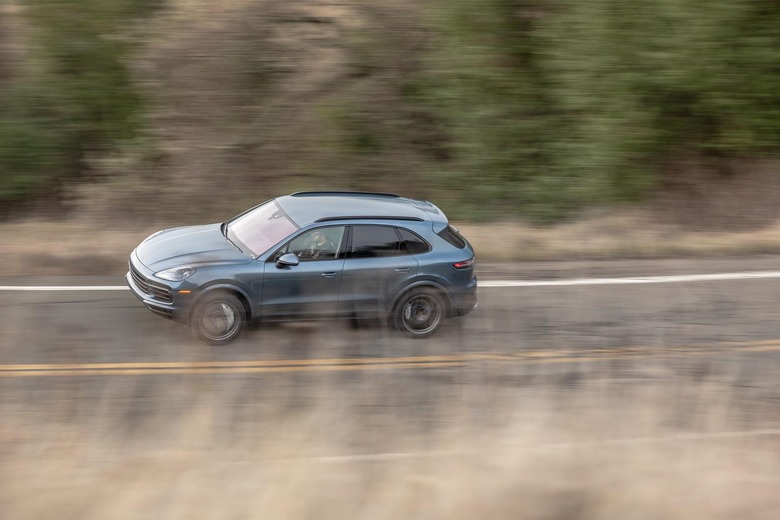 It makes a huge difference. The original Cayenne was 4,784 pounds; the second-generation coaxed that down to 4,497 pounds. This 2019 Cayenne, though, is just 4,377 pounds, despite having more standard safety equipment and other improvements.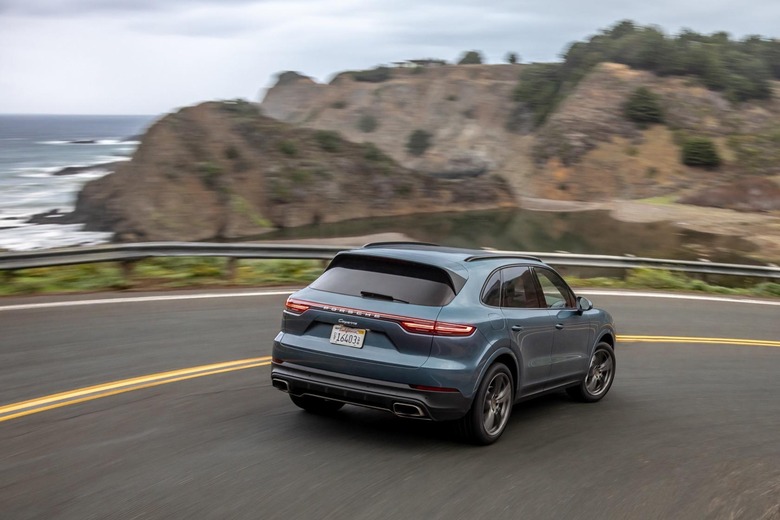 You notice that pretty much straight away on the road. Porsche's new 3.0-liter turbocharged V6 may have 35 more horsepower and 37 lb-ft more torque – clocking in at 335 hp and 332 lb-ft total – compared to its predecessor, but it's the reduction in curb weight that leaves the new Cayenne feeling like a smaller, tauter car, despite it actually being longer and wider. Not only does it feel more agile, the lower center of gravity cuts body roll in the corners. You feel more planted, more stable, and that encourages you to push harder.
The engine flatters that inclination, too. Sure, it's Porsche's entry-level V6 for the new Cayenne, and yes it only has one turbocharger, but it punches above its weight. By putting the turbo inside the "V" of the cylinders the engine as a whole can be smaller and mounted lower. The twin-scroll design brings in maximum power and torque much earlier, too – peak horsepower arrives 1,000 rpm sooner than in the old SUV, and peak torque at 1,660 rpm sooner – and holds them more steadily.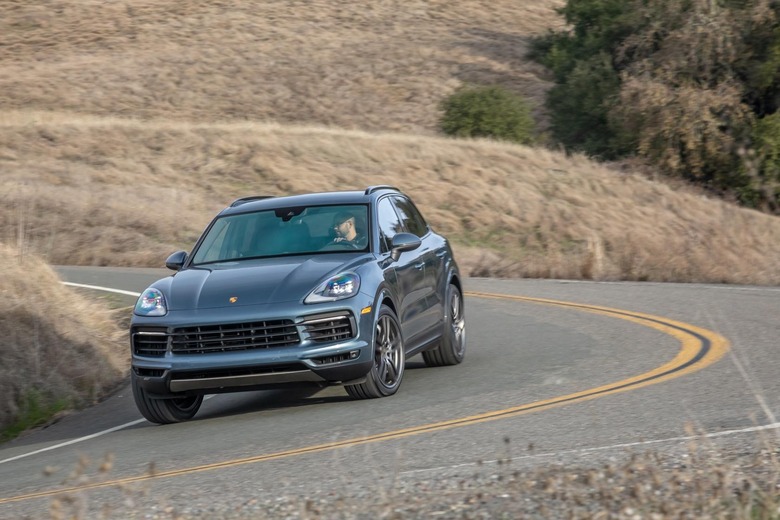 0-60 comes in 5.9 seconds, or 5.6 seconds with the Sport Chrono package added. Top speed has risen 9 mph, to 152 mph, and there's a new 8-speed Tiptronic S transmission with a torque convertor and an integrated front axle differential. Porsche says it opted for the torque converter versus the more performance-minded PDK for its higher towing and off-road performance.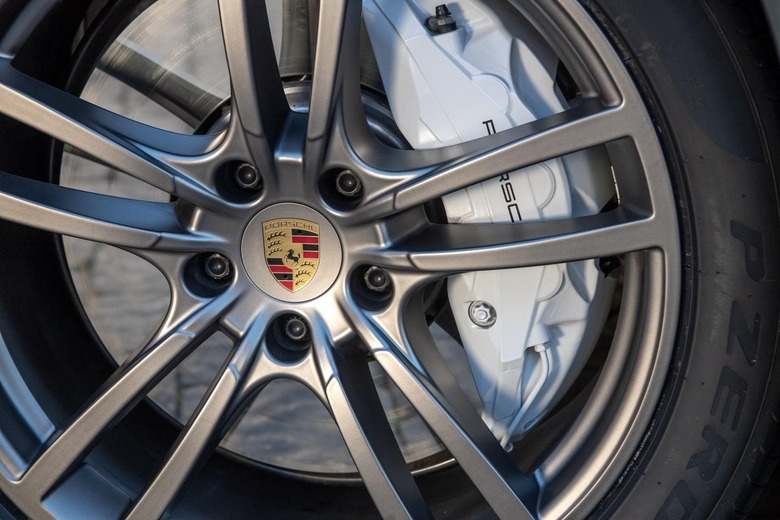 All-wheel drive is standard, with Porsche Traction Management and an electronically-controlled wet multi-plate clutch. It can direct up to 100-percent of the engine's torque to either the front or the rear axle, as conditions demand. If you checked the Sport Chrono package, meanwhile, you get selectable shift programs and a choice of four drive modes; cars without it get a more straightforward Sport button.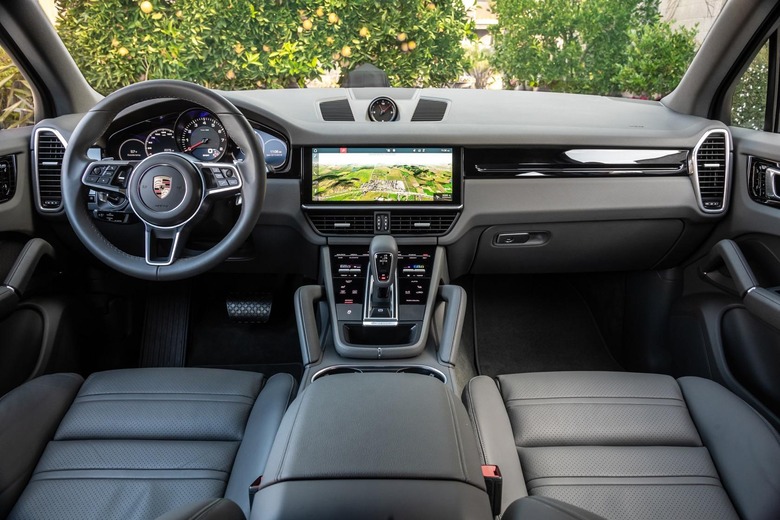 Sport Chrono is one of a whole host of options that will take the 2019 Cayenne's $65,700 starting price and send it spiraling upward. The average buyer, Porsche tells me, spends around $15k on extras, and they have plenty to choose from. That said, after driving several hundred miles in a couple of configurations, I know what I'd suggest.
The $3,750 upgraded interior is lovely, with extended leather among other improvements, but the standard cabin is more than sufficient. I'd save my money there, and spend it instead on the Porsche Active Suspension Management, a $2,000 option for active damping. It's less than half the price of the three-chamber air suspension – which now has more air volume to increase the range – but makes a vast difference to the poise of the car on its standard steel suspension. As well as carrying more speed into corners when it's fitted, the Cayenne rides flatter around them, too.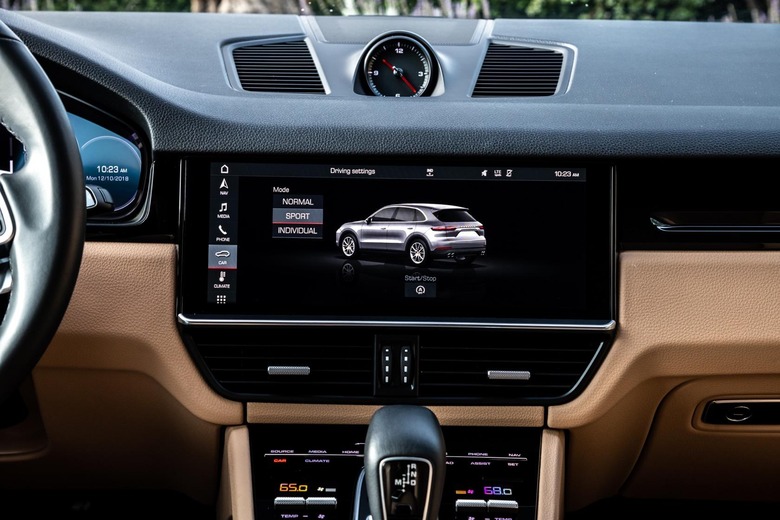 I'd also spend the $3,490 on the new Porsche Surface Coated Brakes (PSCB). Slotting in-between the standard iron brakes and the $9k+ ceramic composite versions, this new system gives a cast iron core a coating of super-hard tungsten carbide, in a patented Porsche process. The automaker says it's done with brake dust reduction particularly in mind: apparently that's a big complaint among Cayenne owners, and these PSCB brakes cut such dust by 90-percent.
However they also feel much better than the standard brakes. More grip and a more consistent pedal feel, though without the jerky, grabby feel that full carbon brakes can suffer.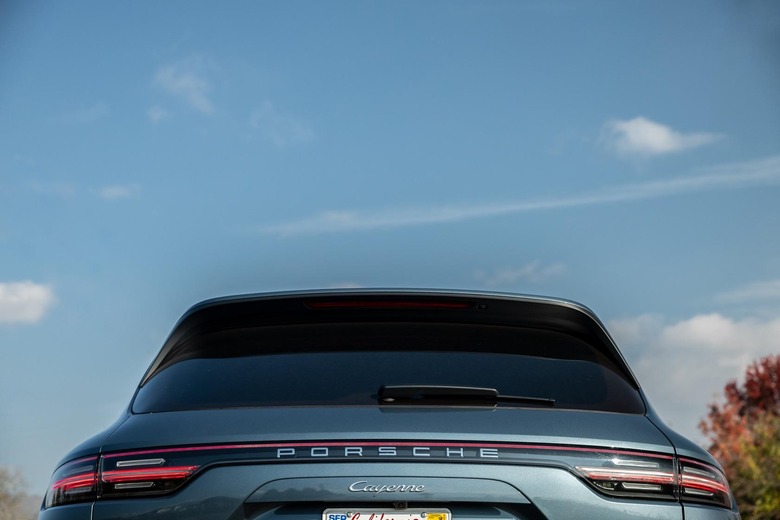 Finally, I'd add the $1,130 Sport Chrono package. As well as the improvement in performance, and the stopwatch mounted on the top of the dashboard, you get a Sport Plus mode alongside the standard Sport mode, plus an Individual preset which you can configure to your own tastes. They're all controlled with a handy little dial mounted at 5 o'clock on the steering wheel, while a center button there maximizes all of the performance settings for 20 seconds, perfect for taking advantage of an overtaking opportunity.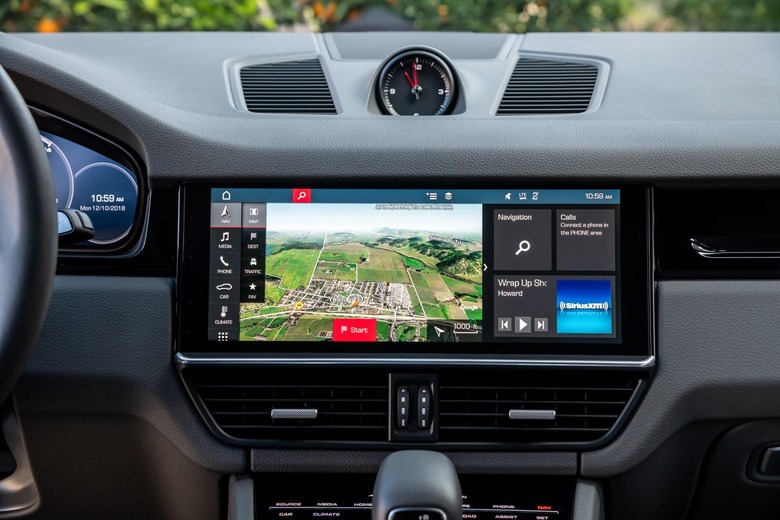 One welcome standard-fit item is the newest iteration of the Porsche Communication Management (PCM) infotainment system, which includes online navigation, Apple CarPlay, and 10-speaker audio. Its 12.3-inch touchscreen – now Full HD resolution – is joined by a pair of shaped 7-inch displays that flank the analog tach in the driver's instrumentation. It's quickly becoming one of my favorite infotainment platforms.
For a start it's fast and responsive, with no lag to the touchscreen. You can heavily customize the homescreen, too, with multiple resizable widgets for navigation, multimedia, and more. Porsche uses proximity sensors so that normally the UI is clear of most buttons, but they appear when your finger is near.
The rest of the dashboard has been pared back, with fewer controls in the center console leaving it looking less overwhelming. Porsche's decision to go with touch-sensitive buttons also means there are no key blanks if you're missing a feature; there's less chance of passengers noticing that this entry-level Cayenne is, well, entry-level. Instead they can enjoy the slightly larger cabin and 15-percent more cargo space.
Verdict
The Cayenne is a fiercely important car for Porsche, particularly in the US. More than 770,000 of the first two generations have sold worldwide, with the US accounting for a whopping 37-percent of that total. The arrival of the smaller Macan, meanwhile, allowed Porsche to nudge the Cayenne more upmarket – and more expensive.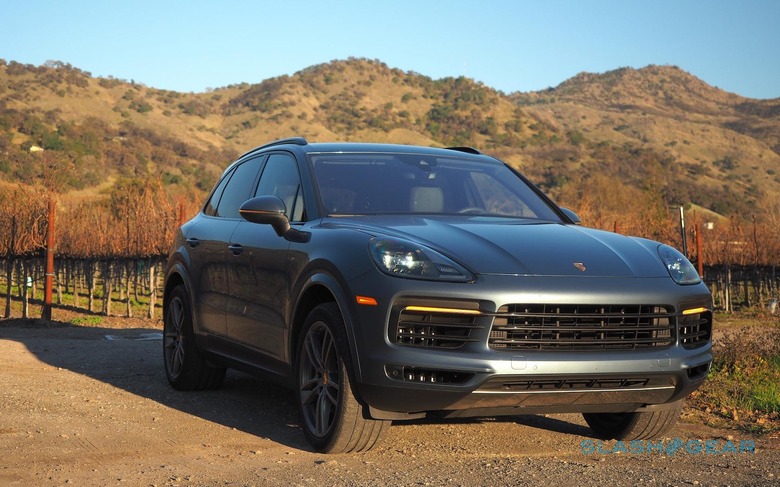 It's a welcome surprise, then, to discover that just because this 2019 Cayenne is the starting point in the third-generation range, it's in no way underwhelming. Indeed, while the 2019 Cayenne E-Hybrid may have wowed us with its electrified drivetrain earlier in the year, this turbo V6 model looks just as good, drives well, and needs an unexpectedly low amount of options box checking to make for an honestly compelling sports SUV.