Hennessey Velociraptor 6x6 costs $349,000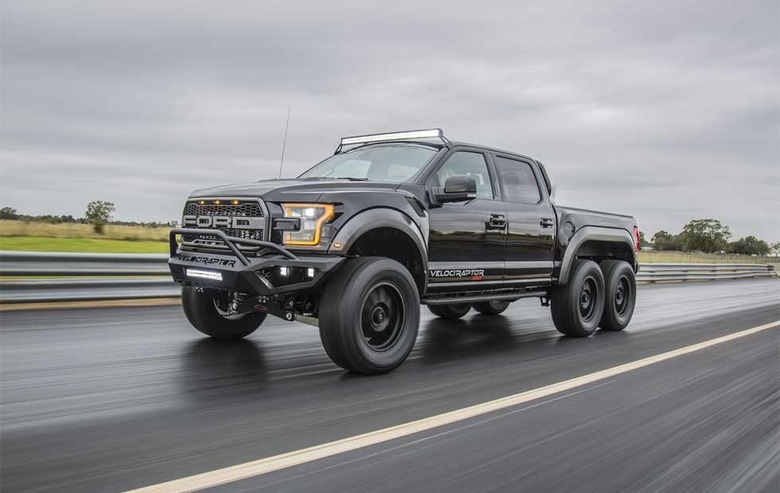 Hennessey has a long history of taking cars and trucks that are already cool and turning them into beasts of a different color. One of the vehicles that Hennessey famously upgrades is the Ford Raptor truck. This truck is already an expensive and high performing ride, but the new Hennessey VelociRaptor 6x6 takes that up five or six notches. The VelociRaptor is based on the 2018 Raptor truck.
The heavily modified truck gets an extra axle and two more wheels making it a 6-wheel drive off-road ride with over 600 horsepower thanks to greatly increased power. The base price for the VelociRaptor 6x6 is $349,000. That price tag includes the base 2018 Raptor 4-door truck, 6x6 locking rear axles, VelociRaptor 600 twin turbo engine upgrade, updated suspension, and upgraded 20-inch wheels. Those wheels are wrapped in Toyo off-road tires.
The front and rear bumpers are upgraded to special VelociRaptor units and the truck gets a roll bar and LED lights. If $349,000 is still under your budget, you can get more stopping power with a new Brembo brake kit with six calipers and rotors for $22,000.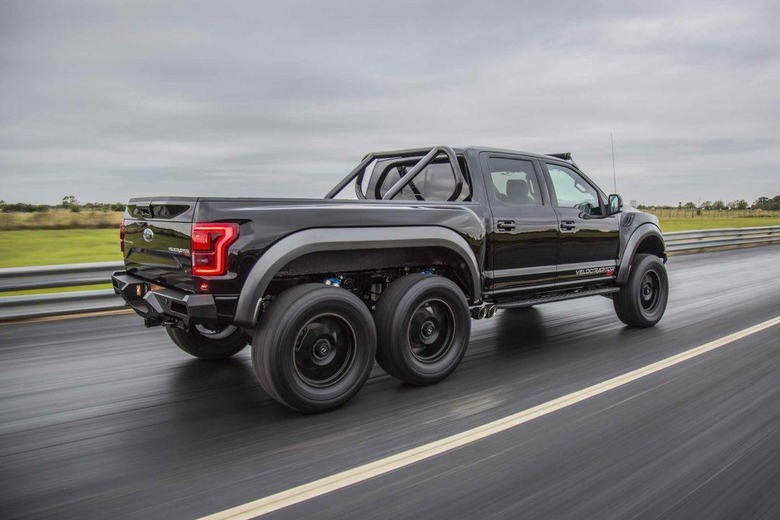 Yes, $22,000 for brakes alone. It's not clear if those are carbon ceramic Brembo brakes or just plain old steel rotors marked up to suit the wealthy sort who can afford this truck. Hennessey says that the VelociRaptor 6x6 can be ordered directly from it or select Ford dealers.
There are no performance numbers given for the truck. You would have to think that the weight of an extra axle, two more wheels, and two more tires would adversely affect performance. With 600hp on tap, presumably, the VelociRaptor 6x6 is still better performing than the stock truck.
SOURCE: Hennessey